First Band Announcement for Breaking Bands Festival 2023!
With just 2 weeks to go until hundreds of music fans descend onto the hallowed ground of Stoke Prior for the long awaited return of Breaking Bands Festival, it's time to put the wheels in motion for 2023!
With nearly 500 band applications already received, the BBFest selection team have had their work cut out to narrow down the list for the first announcement.
19 bands kick off the line-up for the 8th chapter of the award winning Breaking Bands Festival which will be held Thursday 25th to Sunday 28th May 2023 (going home on the traditional bank holiday Monday!).
As announced by live video, Festival Organiser Mucka Jay took a run through of the bands confirmed to play next year's event. Promising to top this year's extended 5 day event Jay said that the team have been inundated not just from grassroots bands but also bigger named touring bands who would all like to come and support the festival.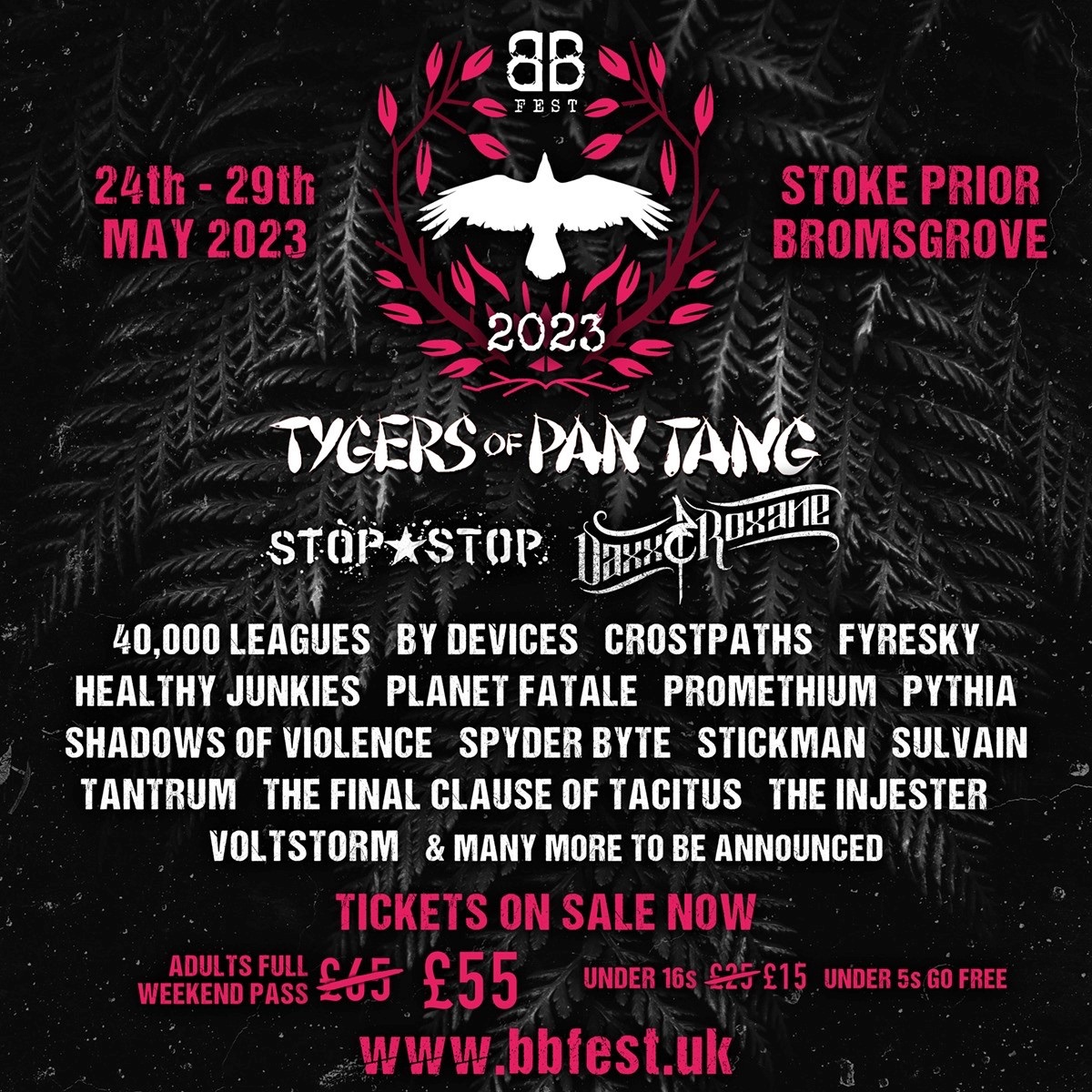 Firstly, a band who started way back in 1978 having released 17 studio albums and toured across the globe, very special guests of next year's festival is Tygers of Pan Tang. Barcelona Trio Stop, Stop! have been announced as headliners and they guarantee to bring the party to Bromsgrove!
So here is a list of the bands as they were announced:
VERY SPECIAL GUESTS: TYGERS OF PAN TANG
FOR FANS OF: Saxon, Diamond Head, Scorpions
www.facebook.com/tygersofpantangofficial

HEADLINE BAND: STOP, STOP!
FOR FANS OF: Steel Pather, Whitesnake, AC/DC
www.facebook.com/stopstopofficial

40,000 LEAGUES
FOR FANS OF: Trivium, Avenged Sevenfold, Dream Theater
www.facebook.com/40kLeagues

BY DEVICES
FOR FANS OF: Foo fighters, Editors, Bloc Party
www.facebook.com/mybydevices

CROSTPATHS
FOR FANS OF: Papa Roach, Fever 333, Linkin Park
www.facebook.com/crostpaths

DAXX & ROXANE
FOR FANS OF: Mötley Crüe, Airbourne, The Darkness
www.facebook.com/DaxxRoxane

FYRESKY
FOR FANS OF: HIM, Black Stone Cherry, Alter Bridge
www.facebook.com/FyreSky

HEALTHY JUNKIES
FOR FANS OF: Blondie, Sonic Youth, Hawkwind
www.facebook.com/healthyjunkiesband

PLANET FATALE
FOR FANS OF: Clutch, Royal Thunder, Slipknot
www.facebook.com/planetfatale

PROMETHIUM
FOR FANS OF: Metallica, Black Sabbath, Iced Earth
www.facebook.com/Promethiumband

PYTHIA
FOR FANS OF: Epica, Nightwish, Unleash The Archers
www.facebook.com/PythiaBand

SHADOWS OF VIOLENCE
FOR FANS OF: Slipknot, Machine Head, Cancer Bats
www.facebook.com/shadowsofviolence

SPYDER BYTE
FOR FANS OF: Def Leppard, Motley Crüe, Skid Row
www.facebook.com/spyderbyteband

STICKMAN
FOR FANS OF: The Buzzcocks, NoFX, Electric 6
www.facebook.com/stickmantheband

SULVAIN
FOR FANS OF: Down, Alice In Chains, Kyuss
www.facebook.com/SulvainUK

TANTRUM
FOR FANS OF Thin Lizzy, Iron Maiden, Judas Priest
www.facebook.com/tantrumscotland

THE FINAL CLAUSE OF TACITUS
FOR FANS OF: Red Hot Chili Peppers, Beastie Boys, Rage Against The Machine
www.facebook.com/TFCOT

THE INJESTER
FOR FANS OF: Ghost, Rob Zombie, Faith No More
www.facebook.com/TheInjester

VOLTSTORM
FOR FANS OF: Judas Priest, Iron Maiden, Helloween
www.facebook.com/VoltstormUK

Tickets are on sale now on the brand new website at https://bbfest.uk where you can secure a weekend ticket for a £10 deposit or pay in full and be entered into a monthly loyalty prize draw!