Breaking Bands Festival 2023 Full Line-Up Announced!


Going into the 8th year, Breaking Bands Festival team have spent the last month going through thousands of artist applications listening and watching their music and finding the ones to fit the bill for 2023. It's been a tough job but we are very proud to announce a full line-up for 2023. Not only that but day splits announced and day tickets on sale too.
For 2023 we have put together a bigger range of the rock, punk and metal genres bringing in ska, blues, aor, industrial, doom, stoner, nwobhm and more as that is what people have said they wanted more of.
Here is an A to Z of the additions to the festival:
Call To The Faithful
For Fans Of: Royal Blood, Idles, Rage Against The Machine
www.facebook.com/calltothefaithful
Drownd
For Fans Of: Nine Inch Nails, Marilyn Manson, Deftones
www.facebook.com/drownd
Era's End
For Fans Of: Paramore, In This Moment, The Pretty Reckless
www.facebook.com/ErasEndOfficial
Halusky
For Fans Of: System of a Down, Faith No More, Metallica
www.facebook.com/Haluskyband
Imperium
For Fans Of: Metallica, Testament, Megadeth
facebook.com/ImperiumSound
Kinstrife
For Fans Of: Guns And Roses, Whitesnake, Metallica
www.facebook.com/KinStrifeuk
Life Of A Hero
For Fans Of: Black Stone Cherry, Stone Broken, Those Damn Crows
facebook.com/lifeofaherouk
Old Glory & The Black Riviera
For Fans Of: Blackberry Smoke, Black Stone Cherry, The Black Crowes
www.facebook.com/oldgloryandtheblackriviera
Primitai
For Fans Of: Iron Maiden, Savatage, Judas Priest
facebook.com/primitai
Rhabstallion
For Fans Of: Iron Maiden, Saxon, Rainbow
facebook.com/rhabstallion
Scruffy Bear
For Fans Of: Rival Sons, Led Zeppelin, Janis Joplin
Facebook.com/scruffybearband
Second Cities
For Fans Of: My Chemical Romance, Sum 41, Underoath
www.facebook.com/SecondCities
Sellsword
For Fans Of: Iron Maiden, Sabaton, Dio
www.facebook.com/mercenarymetal
Spectral Darkwave
For Fans Of: Septic Flesh, Rammstein, Konvent
www.facebook.com/SpectralDarkwave
Walk In Coma
For Fans Of: Slipknot, Lamb of God, Architects
www.facebook.com/walkincoma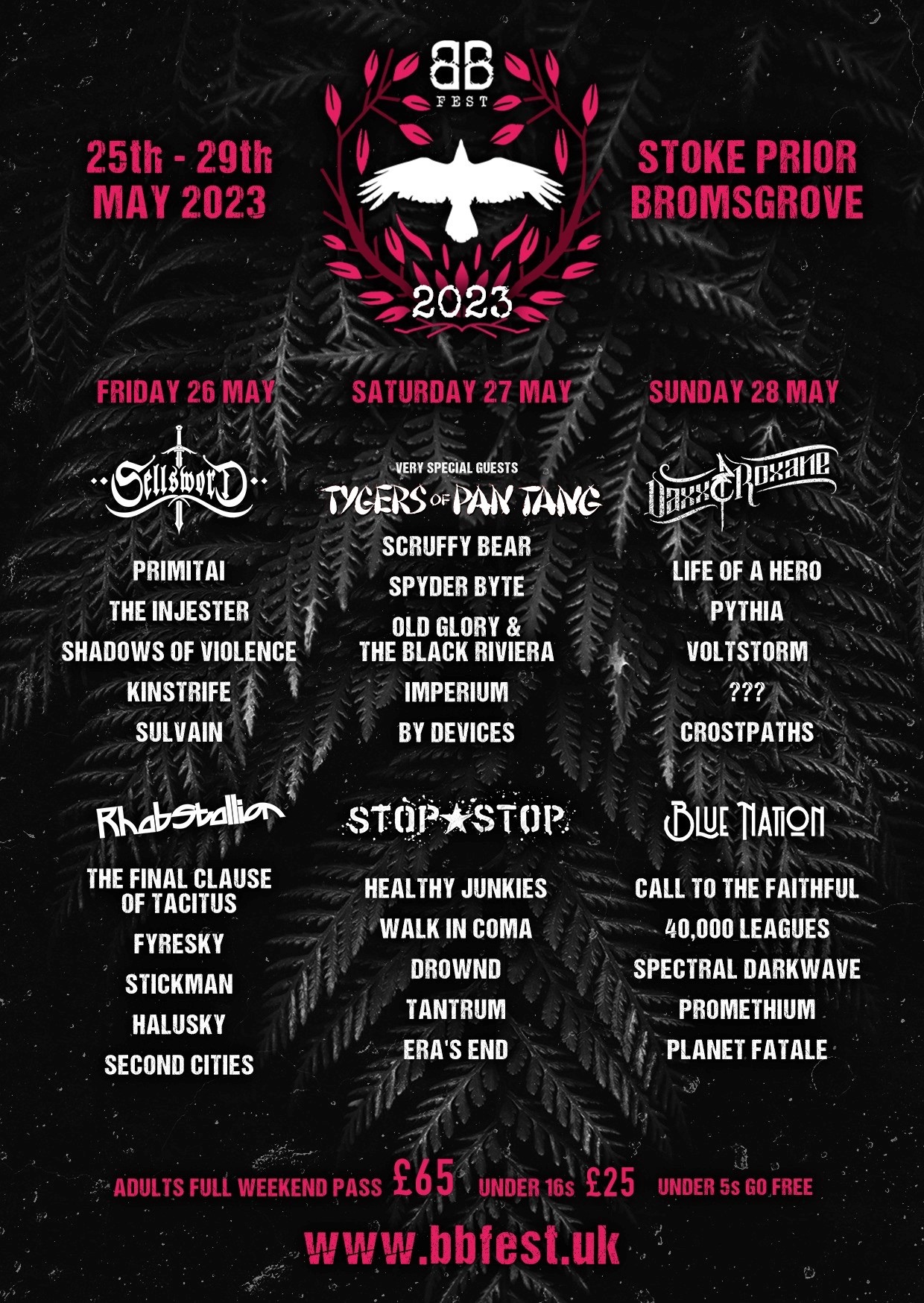 Breaking Bands Festival goes back to the traditional Bank Holiday weekend it has been accustomed to since the start in 2015 with a bonus party night on Thursday 25th May and then bands throughout the day Friday, Saturday and Sunday with everyone leaving on the Bank Holiday Monday 29th May 2023.
Tickets for the full weekend, for Saturday/Sunday (with camping) and day tickets are all on sale now from the website https://bbfest.uk or via the brand new app just launched which will keep everyone up to date on the goings on before and during the festival weekend. Grab the app from https://app.stms.uk (can be used offline as well).