Call Of The Wild Festival announce that there are "LESS THAN 200 WEEKEND TICKETS LEFT" for this years event at Lincolnshire Show Grounds, Lincoln.
Call Of The Wild Management :-

In response to the many messages & emails that we've received since the government announcement. The Call Of The Wild Festival management want to reassure everyone that we had already taken into account the many areas that required extra attention in order to deliver a Covid secure event.

We continue on this path on a daily basis and regularly seek advice from the local agencies.

If anything changes we will be in touch with everyone in the first instance. But for now, all is very good in Camp COTW.
Extra special thanks to all who have sent kind messages of support.

Don't forget that your ticket price includes car parking & camping. Over 50 bands! Amazing Food Traders & Bars.

LESS THAN 200 WEEKEND TICKETS LEFT!!!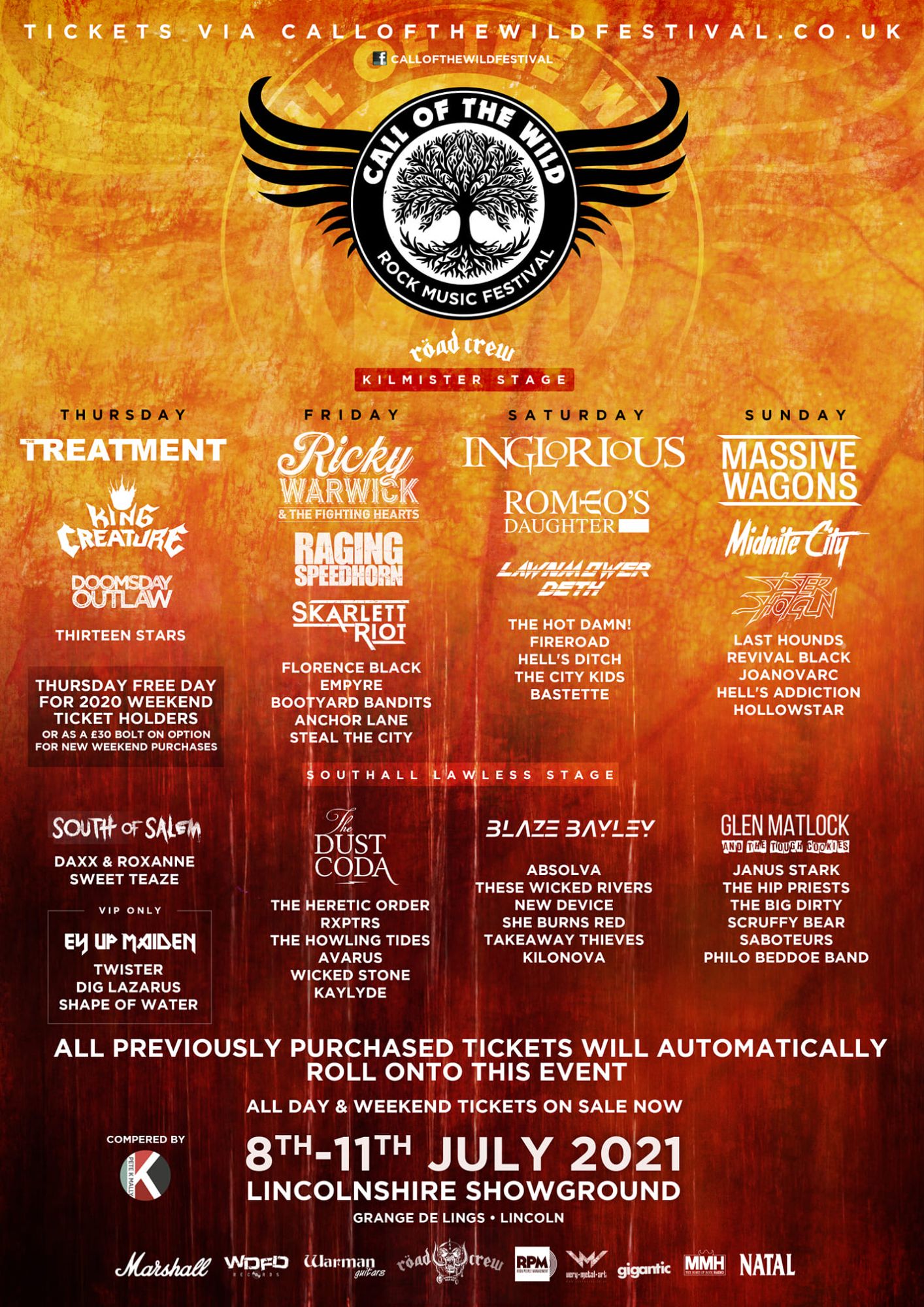 Call of the Wild Festival, which was nominated as Best New Festival 2019, based on its exceptional quality and friendly atmosphere, will now go ahead from the 8th to 11th July 2021 and the revised bill could easily be described as the Best of British Rock!

Inglorious are set to blow the proverbial roof off as they headline Saturday night. Recently releasing their phenomenal new album 'We Will Ride' to huge critical acclaim, they promise to be a very popular addition to the festival.

"The writing for this album was honestly the most pleasurable and relaxed experience I have had as a writer. We had so much fun and made sure to not force the songs that were not working. One of my favourite songs "she won't let you go" was actually written by Danny and myself before he was in the band" Nathan James

Friday night headliner is Ricky Warwick & The Fighting Hearts who will make their first UK appearance since releasing 'When Life Was Hard and Fast'. Ricky, also very well known as the vocalist in Thin Lizzy & Black Star Riders, and former member of The Almighty, is excited to see his UK fans in the flesh and it'll be the best Friday night singalong anyone has experienced in well over a year.

Call of the Wild Festival booker Raz White describes booking a band to headline an outdoor festival that he first worked with many years earlier on the pub circuit, is an absolute privilege and testament to any young band that if you genuinely work hard enough and write great songs - there is no ceiling on what you can achieve.

"Sunday night is going to be spectacular as we've been promised the biggest & most explosive Massive Wagons show to date".
The Lancashire based band, who are signed to Earache Records, topped the charts with their latest release House of Noise and have an army of the most loyal and supportive fans and this is undoubtedly a "must see show" for them. A warm summer evening singing along with your best friends to In It Together will be palpable. A memory to cherish.

The extra day - free to all those who hung onto their 2020 tickets as a thank you for their continued loyalty and support - is a treat in name as well as purpose, with headliners The Treatment. Well known for their high energy live performances, huge songs that effortlessly whip the audience into a frenetic sweaty mess. With the new album Waiting for Good Luck, on Frontiers Records receiving rave reviews already, this will be the best time to see the new songs aired live. Also, making his debut appearance with the band will be new bassist Andy Milburn.

The homegrown talent on display covers a vast spectrum of genres to please all musical tastes; Florence Black, Raging Speedhorn, Romeo's Daughter, Glen Matlock, Midnite City, Official Blaze Bayley, Lawnmower Deth, KING CREATURE, Skarlett Riot, The Dust Coda, The Hip Priests, South Of Salem, Absolva, Doomsday Outlaw, EMPYRE, Sister Shotgun, R X P T R S, Last Hounds, Revival Black, Bootyard Bandits, Daxx & Roxane, The Heretic Order, Hell's Ditch & many more, which includes the very exciting debut performance from former The Amorettes and Tequila Mockingbird supergroup The Hot Damn!

All Tickets & Glamping options on sale now from Gigantic.