HRH Punk II, Anarchy in Sheffield 2020 just went live with the first 15 bands.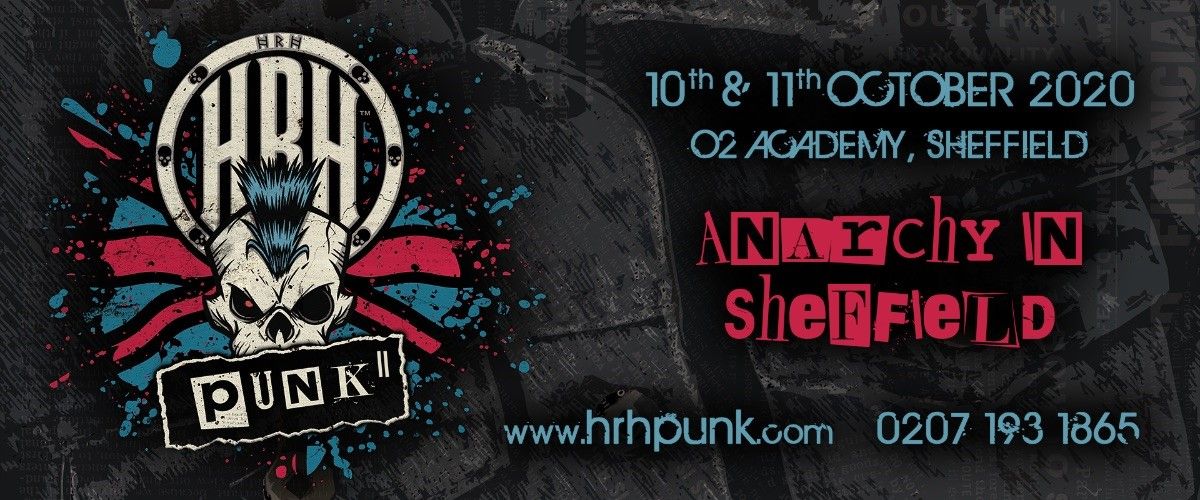 Here's what HRH HQ had to say :

This is just the first bang – there are plenty more bands to come very shortly!
HRH PUNK I sold out in record time and looks to be an absolute belter, next years will go up a gear and to make it all work we have some incredible early bird deals for the next 4 days.
The first tranche of bands next year include UK Subs – one of the pioneers of UK punk – formed in London in 1976 as UK Subversives. They had hit singles such as "Stranglehold" including a classic performance on Top of the Pops featuring the ever-present frontman Charlie Harper.

Also confirmed for HRH Punk II are Ruts DC – perhaps best known for their 1979 hit "Babylon's Burning", they bring their reggae-infused punk to Sheffield's O2 Academy next September. Since their reformation in 2007 Ruts DC have kept busy with gigs alongside Alabama 3, Rancid, Buzzcocks, Public Image Ltd and many more.
Another alumn of the original UK punk scene, The Boys bring us their power-pop-punk which has influenced the likes of Die Toten Hosen and The Exploding Hearts. The Boys also enjoyed a new-found spike in popularity in Japan thanks to Japanese garage rock band Thee Michelle Gun Elephant covering their song Soda Pressing.
Ska legends The Toasters from New York have one of the more interesting band backstories – singer-guitarist Robert 'Bucket' Hingley was the manager of the NYC branch of comic emporium Forbidden Planet, and formed the band with other staff members. Their first-ever live performance was with Bad Brains in 1981.
From the punk class of '76 are London's 999. They were signed to the United Artists label on the back of their debut single "I'm Alive", and have released dozens of studio and live albums since, the latest "Emergency in Darlington" as recently as 2018. Still featuring 3 of the 4 original members 999 re a fitting addition to the Anarchy in Sheffield line-up for HRH Punk 2.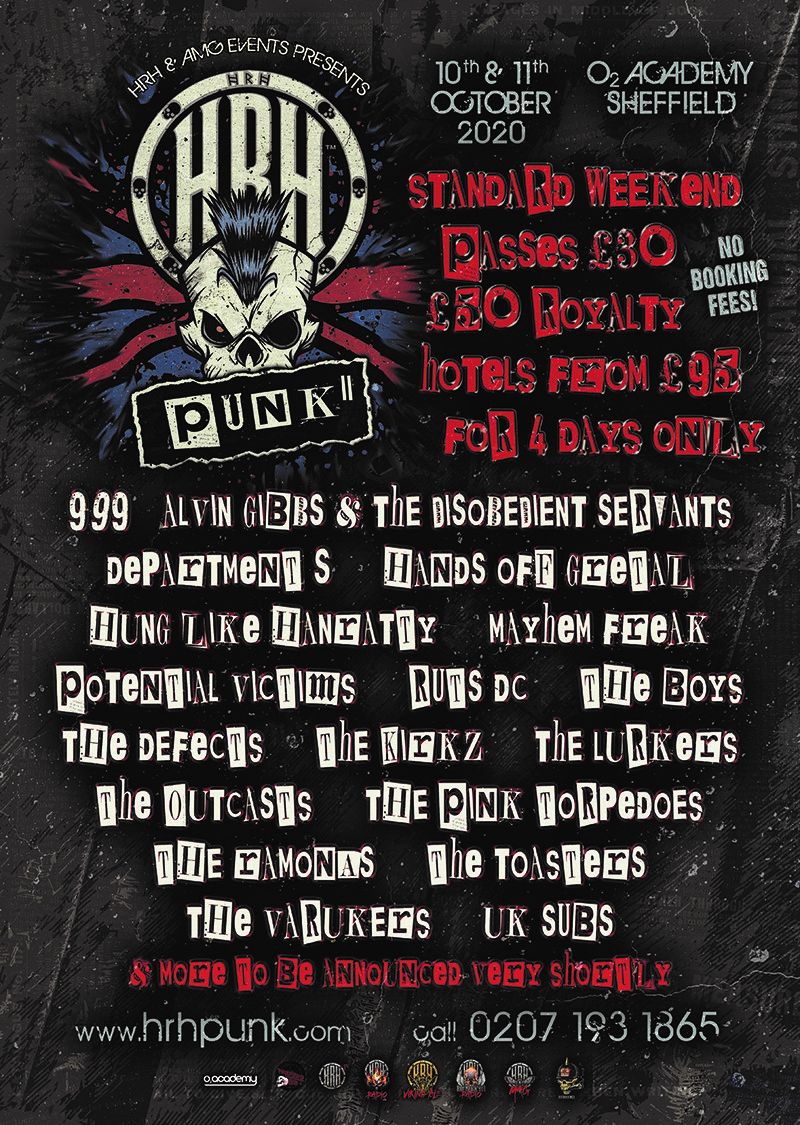 We know what you love - give us the genre, vibe, camaraderie n a killer deal and we're rocking! Well, it's "all in the pipe" as they say and here it is... For Attendees Only... Flat Rates to make it all beautiful!
For 4 days only, all standard weekend passes will be £30 no booking fee and Royalty passes £50 no booking fee as they last.
Now listen up because this is really Killer... Our HRH Hotels (we love 'em) have given us a real Killer Early Bird Incentive too. There are only 50 rooms per hotel that never last long, but for 4 days only (or until they sell out - as we think this will fly), this is how it rolls...
Standard HRH Hotel with breakfast & standard weekend ticket will be £95 a person & Royalty HRH Hotel with breakfast & weekend Royalty ticket will £120 a person
WTF
Remember 2 minimum sharing, but what a friggin deal! As we're saying loud n clear - this is only available until the end of the event, but please remember we only have 50 rooms per Hotel which won't last long, especially at that price!

HRH PUNK 2 goes on sale Thursday 3rd October @ 11.00am UK time, but only lasts until the end of the event 4 days later (midnight Sunday 6th October to be exact).
Everything is subject to availability and as you've seen HRH PUNK is one of the hottest, fastest selling city events we do. It will be a scream as usual, so get onboard. Attendees have early picking until Friday 4th October then it's on General sale over the weekend. Can't be any clearer, so get aboard
Book online @ www.hrhpunk.com - if you need any assistance, grab us on the Live Chat service on the website or call Charlotte on 0207 193 1865
HRH HQ