British rising metallers Deified will release their new ep 'Anthrobscene' on 29th May 2020!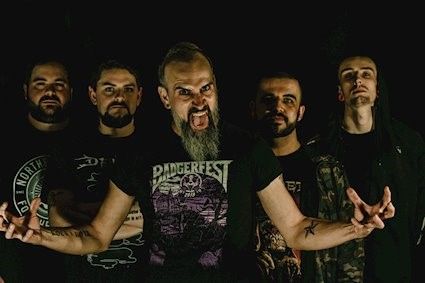 British rising metallers Deified will release their new ep 'Anthrobscene' this May!

The razor-sharp metal five piece have dug deep and produced their most creative studio effort to date.

A time capsule discussing modern times; 'Anthrobscene' doesn't hold back with its commentary on social media, the digital revolution, mental health, climate change, politics, and more. The safety is most definitely off with this visceral EP.

Dark, angry, philosophical and downright nihilistic, Deified reflect on some of the worst parts of today's status quo, all the while immersing listeners in a brutal and innovative sonic landscape.

'Anthrobscene' is a potent and powerful display of metal, as the Bloodstock M2TM 2015 winners (Merseyside) deliver their best performance to date. With powerful production, mixing, and mastering courtesy of Deified's guitarist Matthew Pike (MA), this is a contender for British metal EP of 2020.
Check out the video for "Dark Desires" :-

TRACKLIST -

1. Prelude
2. Dark Desires
3. Broken Matrix
4. Enemies Within
5. Intermission
6. Apotheosis - Rebirth
7. Blood Under The Bridge
8. An Ode to Armageddon
Anthrobscene – about the songs

Dark Desires -

Sometimes in life we lose sight of what's truly important to us. Whether it be commitments, family or our sense of duty to ourselves and one another.
Things can become overbearing and manifest into a harbouring of dark thoughts, feelings and desires that become toxic and cause a great deal of pain. This song takes aim at how we should never give up hope. Everyone has it within them to find the strength to change; pull through and embrace a better perspective.

Broken Matrix -

Broken Matrix explores one of the many fractures in our increasingly digital world. Each day we're plugging ourselves into more devices that track you and listen to almost every word you say. Where each day online celebrities, mass advertising, fake news and unrealistic standards dominate us more than the last. It's propaganda 2.0. and, its spawn…, a world where character dominates over knowledge and wisdom.

Enemies Within -

Enemies within is about how the gap between the rich and the poor is larger than it's ever been before. It's about how our new gods, CEO's and bankers, are sucking up and destroying all that we care about. It's about how we have to fight back - It's got to stop. But it's up to us to do something about it.

Apotheosis/Rebirth -

Apotheosis draws on the idea of an AI apocalypse, through the lens of a dream. We've willingly created our own demise and given ourselves to our own creation. It's the end of one era and the birth of another. But it has no need for us anymore. However, at the core of the song, it's message screams a truth we all know, change is inevitable. As we pass from one age and into another, there will always be dangers ahead.

Blood Under The Bridge -

Blood Under The Bridge is a straight up statement about how the current political climate is in a dire mess. People are angry, yet abuse of power by leaders has become, and continues to be, the norm. Death, destruction, segregation, disease, racism and inequality - you can't just brush these things under a rug. There are consequences to your actions.
BAND LINE-UP -

Jamie Hughes – Vocals
Matt Pike – Guitar
Alistair Blackhall – Guitar
Tom Simm – Bass
Jordan-Stanley Jones - Drums