FURY Collaborate with Kim Jennett in new single tackling sexism in the music scene. Out for release on Friday 2nd 2021 at 8 AM.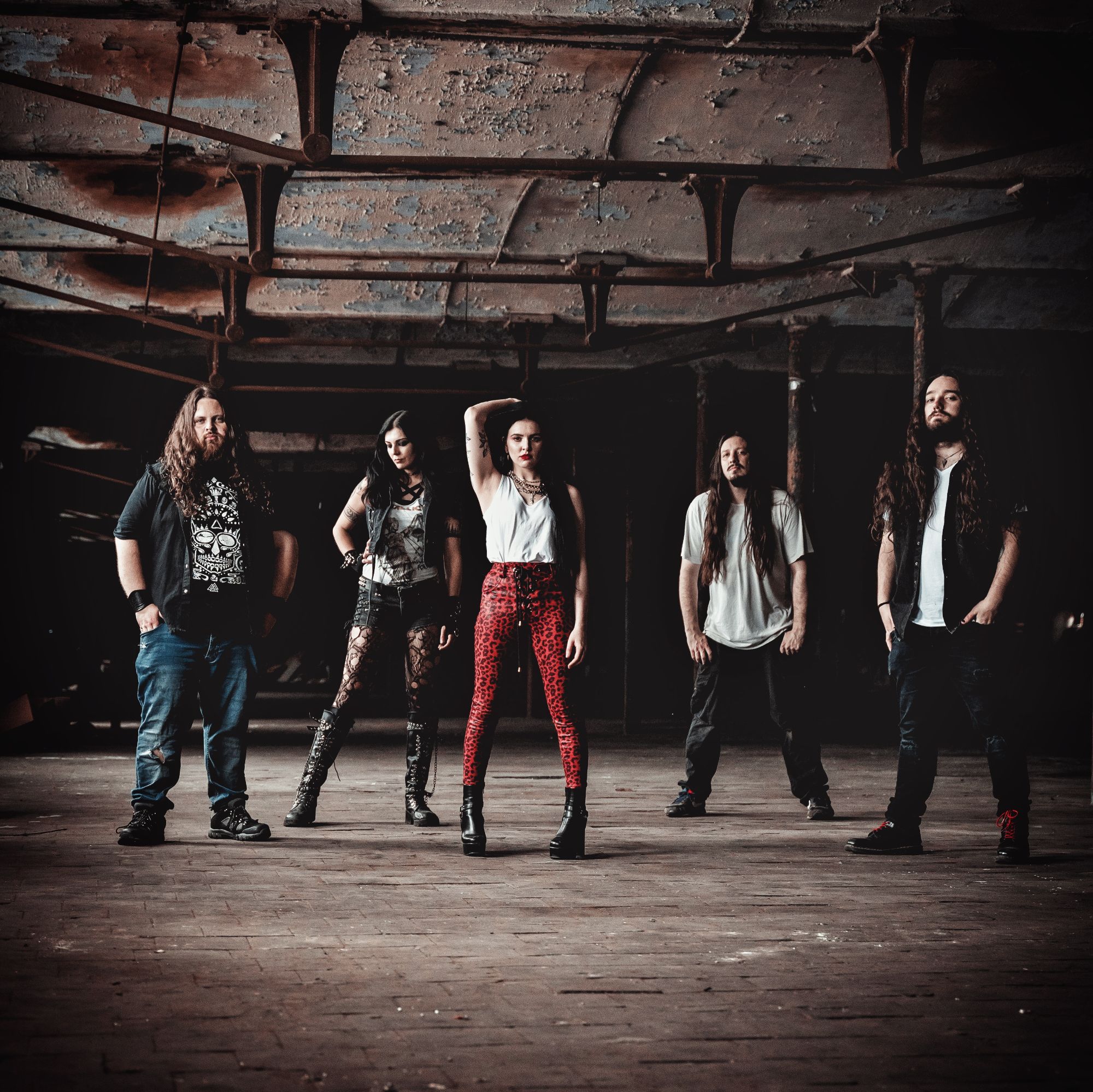 Heavy metallers FURY have taken a break from fantasy lyrical content for their latest single 'Rock Lives In My Soul'. The song, featuring guest vocals from Kim Jennett, tackles a much more serious and real issue of common attitudes towards women in the rock music scene.

References to the type of elitism and harassment many women receive at venues and online are not only included in the song, but also in the hard hitting video by Lion Island Media.
On the subject of where the inspiration came from, lead vocalist Julian Jenkins explained "Musically this song is a little different for us, usually I write songs with an idea in mind of what they will be about from the very beginning, but this time I wanted to write the music without thinking too much about what topic the song would end up being.

Once the song was complete musically, it was clear it wasn't going to be the usual storytelling narratives that we've tended to favour in the past. The idea of an original collaboration is something I'd been wanting to do for a long time, Kim was one of the first names that sprang to mind as I'd seen her perform a couple of years prior and knew she had an incredible voice and a larger than life presence. I got in contact and she was up for working together!

As the song was effectively now going to be a duet it was important to me that the lyrics should have defined parts specifically for two people. Duets often tend to be love songs but I thought that would be a bit naff, so I thought about the idea of mine and Kim's different experiences in being a musician and getting into bands etc. I pitched the idea with some placeholder lyrics andeveryone liked it.

Having worked a lot closer, and becoming good friends with female musicians over the past few years I've been absolutely shocked, appalled and deeply saddened at the treatment a large percentage of women face on a near daily basis. From being sent unsolicited sexual advances and unwanted explicit pictures online, to their credibility as musicians and metalheads being continually questioned and so much more. So it seemed right that we should at least attempt to highlight this with the lyrics.
I was, however, extremely conscious about trying to mansplain my way through sexism in music with these lyrics, so I asked one of Fury's backing vocalists, Nyah Ifill, if she'd like to co-write the lyrics. Nyah wrote all of the female perspective lines, which makes up a large percentage of the overall lyrics and we both worked on the antagonistic male lyrics (the parts I would end up singing).

I'm extremely proud of how the song has turned out. I can't wait for people to see and hear it. It has an important message and I can only hope that it at least makes people aware of just how much of an issue sexism in music and in society is."The music video puts weight behind the message, featuring quotes of real experiences from women in the music industry. Fury bass player Becky Baldwin adds "I am glad we found a way to include so many womens' experiences in the music video - we asked our female friends in the scene for any examples of ways they are treated differently, and we ended up with so much to use! It didn't surprise me at all that this was so common, the same things have happened to me and female band mates in my 10+ years of touring. It felt necessary to include as many experiences as possible, because some people have the view that there isn't really an issue, that women are exaggerating or making things up, or that actually women have it too easy! I want this release to challenge that attitude, to show that we have so often been treated as an 'other' in this scene, requiring extra scrutiny, being belittled, harassed, and if we won't put up with it - simply left out. This is not the case everywhere in the scene, but these women have proven it is far too common.

I was ecstatic that Kim Jennett agreed to perform this song with us, she has an incredible voice and energy that these kind-of-cheeky and kind-of-badass lyrics absolutely needed."
The song is a stand-alone single that is not expected to become a part of Fury's next album, but for fans of the physical format, it is available on a CD in a collection of 8 tracks. Find the CD, t-shirt and more on the Fury webstore www.furyofficial.co.uk
The track is now available to purchase via CD Baby, iTunes and Amazon mp3. Stream the songfor free on Spotify, Deezer, or watch the video on Youtube here:
'Rock Lives In My Soul' was recorded, mixed and mastered by Pete Newdeck of PNP Production.

Fury Tour dates 2021

30/09 - Ivory Blacks, Glasgow, UK
01/10 - Whittles at Tokyo, Oldham, Manchester, UK
02/10 - Mulberry Tavern, Sheffield, UK
14/11 - Urrock Festival, CH
22/12 - Exchange, Bristol, UK
23/12 - Palladium Club, Bideford, UK

2022

31/04 - The Globe, Newcastle, UK
01/04 - Waterloo, Blackpool, UK
02/04 - Bannermans, Edinburgh, UK07/04 - The Hare and Hounds, Birmingham, UK
09/04 - The Komedia, Brighton, UK
14/04 - The Cobblestones, Bridgwater, UK
15/04 - Firehouse, Southampton, UK
16/04 - The Black Prince, Northampton, UK

Contact Information
Official Website
Facebook
Youtube
Instagram
Twitter