Luke Appleton releases a new single called 'Before Your Eyes', from his forthcoming EP 'Forever Viking'. Which is out on 14th April, via Rocksector Records.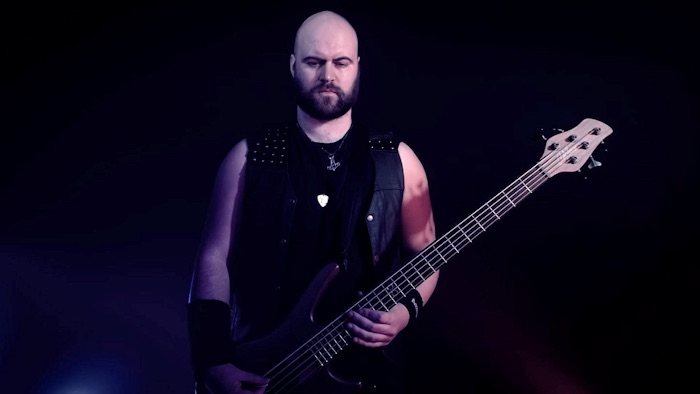 Prolific bassist / guitarist / songwriter / singer Luke Appleton releases a brand new EP 'Forever Viking' on 14th April. A single from the EP - 'Before Your Eyes' is available to stream/download now on the usual digital platforms, alongside a music video which can be viewed below.

Luke is well known as rhythm guitarist with Absolva and Blaze Bayley (Iron Maiden singer 1994-1999). He was also bassist with American metalheads Iced Earth from 2012 until 2021. He has previously released a solo acoustic EP 'How Does It Feel To Be Alive' (2018) and a full album 'Snake Eyes' (2019).

'Forever Viking' was written in 2022 / early 2023. Drums and guitars were recorded at Capsarx Studios, Birmingham (England), engineered by Matt Jones (Dakesis), whilst the bass and vocal recording took place at Rocksector HQ in Manchester (England), engineered by Luke's brother and colleague Christopher Appleton (lead guitarist with Absolva and Blaze Bayley). Christopher took care of mixing and the two brothers co-produced. Mastering was done by Ade Emsley (Iron Maiden / Tank / Voodoo Six).

Luke performed lead vocals, bass and rhythm guitars whilst former Babylon Fire guitarist Rishi Mehta played lead guitar and Adam Harris (Dakesis) played drums. Backing vocals on 'What Heroes Do' were added by Becky Baldwin (bassist with Fury, Hands Off Gretel, formerly of Triaxis and more recently live session bass player with Mercyful Fate).

'Forever Viking' is dedicated to Wayne Turnbull, a dear friend who lost his life to Covid-19 on 18th November 2020. Luke adds this... "I first started writing these songs with the intention of making another 'acoustic' release. However, back in the summer of 2022, I decided to play a short run of shows as a full-on electric 3 piece called 'Luke Appleton Power Trio' with Rishi on guitar and Adam on drums. The sound we created was monstrous and it seemed just natural to transform these songs into electric, grooving, catchy hard rock/metal stompers!
Losing his friend Wayne was a big blow. Luke continues... "It hit me like a ton of bricks. Wayne was such a wonderful human being and I couldn't help but feel that he was stolen from us all! I sat down one day with a song that was mostly finished apart from the lyrics. Suddenly I had this strange feeling and it was as if the lyrics had written themselves - the title 'Forever Viking' was born. People that knew Wayne will be aware he was always referred to as 'The Viking' as he was a mountain of a man, yet as mean and strong as he looked, he had the purest of hearts and a loving soul! This one is for you my friend!"
Luke is looking forward to a busy 2023. Although there will be minimal 'power trio' shows to announce, they will play SOS Festival on 1st July, whilst he will be extremely busy touring UK and Europe with both Absolva and Blaze Bayley. He has recently been co-writing with Blaze Bayley and Christopher Appleton for the next Blaze Bayley studio album and work will soon begin towards the next Absolva release.

For more information visit ​www.lukeappleton.net​​​
Also www.absolva.com and www.blazebayley.net for touring commitments with those bands