Jono Moulds checks out the new album from Anchor Lane for The Rock & Roll Circus. Call This A Reality?, due for release on 27th January.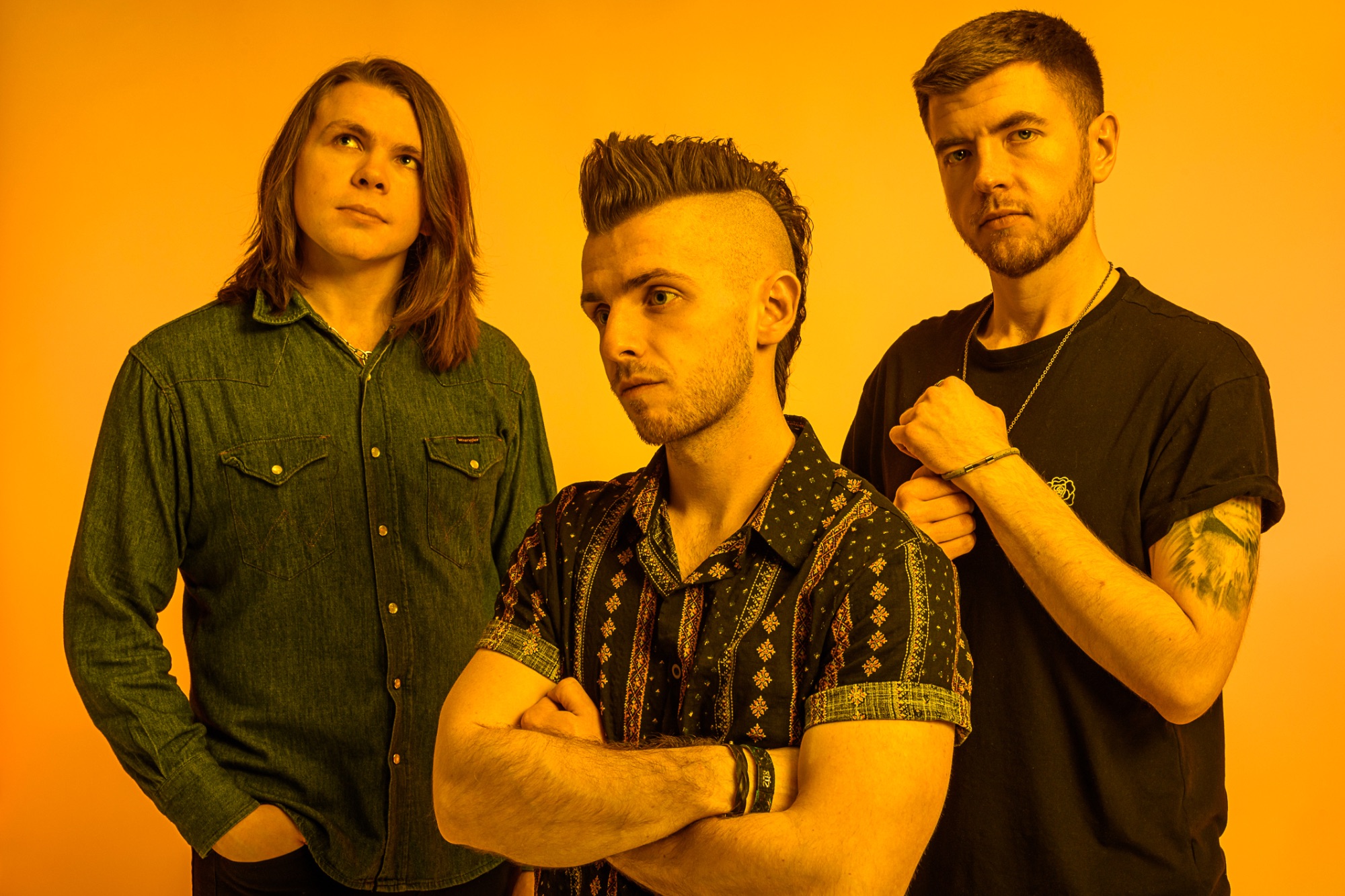 Rock trio Anchor Lane return with their captivating sophomore album Call This a Reality? due for release on 27th January.
Prior to the release of their debut album Casino in 2020, Glasgow-based Anchor Lane had been building a following with to their relentless gigging schedule. The album garnered rave reviews across the board and went straight into the Official UK Rock Albums Chart at Number 9, scoring the band their first Top 10. It was also Top 20 in the Official Scottish Albums Chart and Top 50 in the Official UK Independent Albums Chart.
Appearing at festivals such as Download, Isle of Wight, Stone Free and Belladrum, along with notable guest spots with acts like Eagles of Death Metal, Tremonti and Cheap Trick, Anchor Lane were denied the opportunity to tour the release of Casino due to the global pandemic. The band turned this into a positive when, amongst several live streams for their fans, they used the time to dig deeper into the song writing process, which has resulted in a brand-new collection of songs.
Whilst citing a wide range of influences including Nothing but Thieves, Royal Blood, Don Broco, Bring Me the Horizon and Band of Skulls. Conor, Lawrence and Graeme have been recording their new material in Glasgow with producer Bruce Rintoul (Twin Atlantic, Fatherson, Vukovi). The results of which will see the release of their sophomore album Call This a Reality? out on 27th January.
A welcome return to the road this year has already seen the band wow fans on the festival circuit, including a triumphant set at Download, debuts at Steelhouse Festival and Call of the Wild, as well as a tour with The Virginmarys and two sets at Planet Rockstock.
Review by Jono Moulds.
OK, let's do this, up first is 'Stutter' which 'scratches' into life until it's overtaken by a precise and crisp riff takes up residence. This leads into the opening verse, with well-timed, 'punctuated' guitar chords laying down the main rhythmic foundations, while the drums keep the tune 'persisting' forward, with the occasional change in percussive technique which follow the guitar nuances to a tee. The chorus takes on a sonic variation as 'Gaffney's' vocal utilises a distorted effect to sing over this mightily played section, helped in no small way by the drums 'Hanlon's' drumming where he creates fills with ease, especially as we move out of the chorus and into a simple musical bridge that epitomises the songs' structure, solid riffage that flows with high gain electric guitar. An awesome start where the influence of Royal Blood and Muse come to fore.
'Ministry' jumps into play with a haunting blend of synth line support and a catchy lead break added over that electronic keyboard run (I think it's keyboard?). 'Gaffney' once again decides to utilise a synthetic effect for his vocal, as he backed up by just a solid drum pattern and some blanket synth chords, as we start off in a mid-tempo kind of mood. The reluctance to 'push the power' button is relinquished as the chorus arrives, which is set up by a neat little synth break, before the forcefulness of the band takes over the song. The chorus certainly has a hook, as the second round of it really hammers home this point. An equally strong bridge brings the first guitar solo into play, which doesn't try to do too much, but has an anger about it that suits. Broody and commanding – great track.
A clinical and clean start to 'Call this a Reality', where the guitar is dominant, playing guitar chords so precise in their execution, that it really beggars' belief, but gives the tune a unique sound. The verses start off in a similar vein to the intro, yet the guitar is replaced by more of a synth sound or effect that softens things, well only for a spell, as we hit an early chorus, where that intro is reprised to great effect. Moving into the second verse, I love the way the band have arranged the conduit from the chorus to verse – clever and works brilliantly. In amongst all the hi-tech sound on this tune, there lurks some commerciality and I can see this becoming a fans favourite, made even more palatable by a crazy and 'left-field' solo – wonderfully inventive stuff and you'd be hard pushed not nod your head along to this beauty.
Another splendid, yet simplistic guitar riff brings forth 'Nitro-glycerine' that begins with a strength and purpose that has yet to be demonstrated within the first three tracks, but relents as we move into verse one, where the song is left with just vocal, drums, the occasional highly effected guitar, and a sprinkle of synth. Now we've hit a third of the way through the album, it's time to mention 'Gaffney's' vocal, which for the most part remains somewhat restrained, but fits effortlessly within the band's vibe and song structure, setting the mood against each soundscape produced – well, to this point of the proceedings, at least. There doesn't appear to be any chorus of which to speak of, but what might be considered as one, once again has a smart hook to it, where guitars change from riff to power chord just to mix things up. The song produces an almighty climax, and for the first time, 'Gaffney' goes from understated to possessed, with a top tier vocal outburst, full of emotion and immaculate range. I tell you what, this has been worth waiting for – incredible end to an immense tune.
A fleeting, 'glassy' sounding synth lick greets us at the start of 'I've been Waiting' that's very quickly buoyed by a sonic wall of statically charged electric guitar. Change is afoot though where verse one mellows considerably with just vocal, a solitary kick drum and a light keyboard layer holding things down. Considering what's come before, there is a high expectation that the tune will 'surge' at a given point. And so it came to pass that a sweet sounding and 'raised' chorus emerged, that was by far the most chart friendly song thus far, that has a musical positivity all the way through the track – great example of flexibility within their writing. 'The Mischievous Song' has quite a funky, off-beat vibe from the word go, with its steady percussive rhythms and palm muted guitar lick. Nothing too heavy, much lighter in sound as we 'skip', fleet of foot, through the songs opening course. An extremely appealing chorus is made even more likeable by some inventive support vocal that sounds as if it's being 'mirrored' by the guitar – which gives it a 'poppy edge' but works so, so well – almost 'Blur' inspired. Nothing over complicated about this tune, but who cares. I'd say this is up there as one of the best tunes so far – cracking job.
'Choke' kicks in with 'Gaffney' once again using that distorted vocal effect to good measure, as he sings the opening line, with a venom and anger to his vocal, almost 'Green Day' like – 'See my coins at the bottom of the wishing well'. Just from the opening vocal, you know that this tune isn't going to hang about, which is 'rubber stamped' by some aggressive guitar, that's formed out of more of that high-gain sound. This track simply 'buzzes and accelerates' with an ever-growing excitement. Still there are still pockets of refinement to be found, no more so, than that 'Foo-Fighters – All my Life' bridge section, which allows the song to take a well-earned breather, whilst building to further climatical madness. Outstanding.
The opening guitar riff, and indeed rhythmic support to 'Electric Karma' gives the opening a kind of 60's musical charm about it. That opening riff repeats itself right up until the chorus, as it 'bounces' along with a nicely balanced mix of 'rock/pop', which is made even tastier with some crowd pleasing, sing-along sections added in for good measure. A stronger and slightly elevated bridge gives the tune a little more of a 'rockier' feel as the solo is then executed over that infectious guitar riff. A tune that doesn't outstay it's welcome and is over in a flash. A bit different to what's been presented so far, but most enjoyable.
'Bitter' has a depth and darkness about it from the word go, with a lamenting and resonant guitar part setting the scene perfectly, as 'Gaffney' backs this up brilliantly with a heart wrenching and emotional vocal. The tempo of the track reflects the songs' theme and vibe, as the drums further dictate the slow and meaningful pace of the tune. The chorus brings forth a far more aggressive passage, as the band utilise that slow build up to maximum effect, as cymbals crash constantly throughout as the stakes are raised with a power and melody that blend into a controlled and hostile harmony – superb. This is easily one of the stand-out tracks on the album – sullen and ominous.
Some graceful and delicate piano introduces us to the brief, yet tasteful musical piece that is 'The Static'. I'm always intrigued as to the reasons and purpose of adding a piece of music onto an album that is so short-lived. I guess only the band will know that, but suffice it to say, the tune is pleasant enough and may well act as the bridge into the next tune – will it? let's check it out.
And the answer to the last question is, well, not to these ears, as 'Sycophant Disorder' is musically about as far removed from the graceful 'The Static' as you could possibly get. A synth layer and lone vocal entre is quickly overtaken by the band dynamically kicking in, ensuring the tunes momentum through the initial verses and into what I can only presume is the chorus, which by the way, is taken up several notches on the frenetic scale (does such a scale exist??) as the touch paper is well and truly lit and the song goes into controlled frenzy!!! The bridge is a far calmer affair, as 'Gaffney' once again uses that distorted vocal effect, interspersed with some clean support vocal, no doubt taking the tune down, only for its climatical ending to smack us around the face. And yes, that is indeed the case as 'Hanlon' produces a proper and resounding snare drum roll that will have you quivering in your boots to set up the tune's finale. Coming just under 7 minutes, this is a monster track and well worth the wait.
'I don't have another Soul to Pour' starts with what can only be described as a quite unusual, but oddly addictive and original sounding guitar riff, but this only the set-up, as a far more standard riff replaces it, as the tune starts off quickly. The verses are easy on the ear, the vocal coming through clean as a whistle, supported by a solid backbeat of both drum and bass, with the occasional 'scattering' of guitar to added here and there. The song continues to motor along at the same speed and directly into the mouth of the chorus, but, as you'd anticipate, this ramps up considerably, as some meaty power chords are offered up for our delight, providing the enterprise and intensity. After a frenetic, well-conceived and superbly arranged bridge, the track eases off the pedal a bit, 'Gaffney' quietly sings atop of some light guitar before the band explodes into action for one last hurrah, to such a degree that you'd think they were squeezing every, last drop out of the song, ensuring that the tank was completely empty.
Given the influences detailed at the start of this review, I was little apprehensive on how this review was going to pan out as I'll be the first to confess, this area of the rock genre is somewhere that I seldom tread. In saying that, I am always open to new music, and having not heard the band before, I was intrigued to check this album out and give them a spin – and I am so glad that I did.
Yes, their tunes are produced (excellent work by the way – great sounding album) in the style and influence as described, but at the core of it all we have some top tunes that hold skill, musicianship, and melody throughout all 12 tracks. As a three-piece, they have been able to produce a thick, wall of sound within each of the songs balanced with a high level of creativity.
The influences have been noted, but don't just check this album out not expecting originality, as the band and the songs hold up all on their own deserved merit. Impressive.
Links to Anchor Lane, Music etc > https://linktr.ee/anchorlane
Check out the official video for "Stutter" here :-

SOCIAL MEDIA LINKS:
Facebook || Twitter || Instagram
Links to Anchor Lane, Music etc > https://linktr.ee/anchorlane
FORTHCOMING GIGS/TOUR DATES:
28 Jan: Glasgow, Garage G2
02 Feb: Bradford, Nightrain
04 Feb: Newcastle, St. Doms
05 Feb: Manchester, Retro
07 Feb: Grimsby, Yardbirds
09 Feb: Plymouth, The Junction
10 Feb: Bridgewater, Cobblestones
11 Feb: Birmingham, Asylum 2
12 Feb: Stoke-on-Trent, Eleven
14 Feb: Chester, Live Rooms L2
15 Feb: Milton Keynes, Craufurd Arms
16 Feb: Nottingham, Rescue Rooms
24 Feb: Aberdeen, Krakatoa
25 Feb: Edinburgh, The Mash House