Jono Moulds checks out the latest album from Elles Bailey for The Rock & Roll Circus. Shining In The Half Light - Deluxe Edition is due out on the 17th March 2023.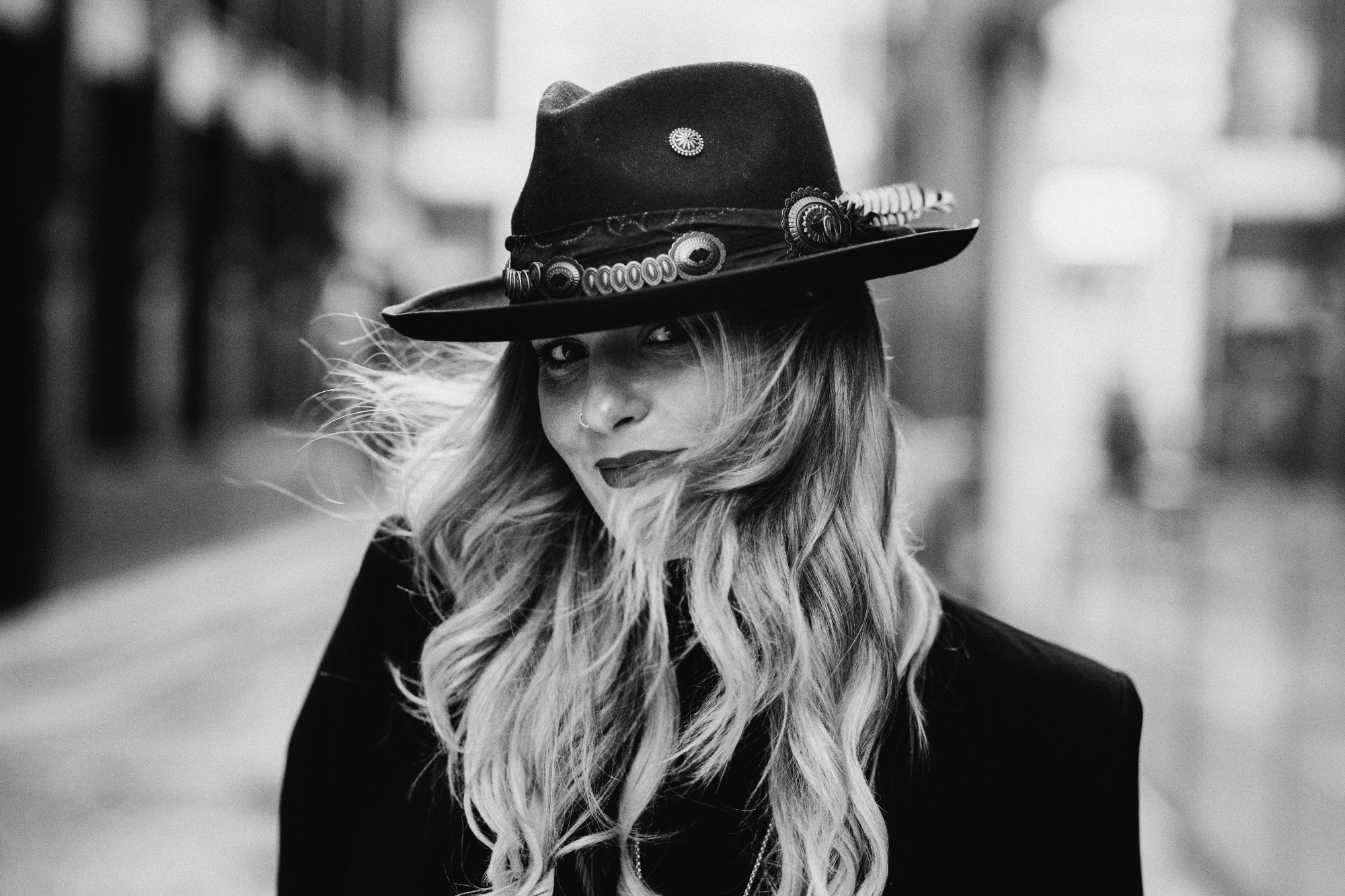 Photo - Rob Blackham.
Review by Jono Moulds.
With its guitar twang intro and general overtones of a song born out of the old Wild West, we are instantly 'corralled' into track number one, 'Cheats and Liars'. Keeping with the songs theme, 'Bailey's' vocal comes in all 'sultry' like, with a warmth and underlying whiskey huskiness that suits this laid-back opener. The tracks tempo remains 'measured' as it trudges towards the chorus, where there is an inevitable lift, as some extra strength is added to the arrangement, but without the songs pace moving one iota. The bridge offers something a little different, especially some great support vocal, but rarely allows itself to move too far away from the tunes core structure. As an opener (where you would usually get something 'in your face') there's not many that would start off in this fashion, but hey, the song works on its own merits.
'The Game' is a far more upbeat affair, built in the 'Blues' there is a nice spring in the step of this baby, with its basic drum intro leading into a lovely crunch guitar riff. Once more, 'Bailey's' vocal is 'smooth and easy' on the ear, like the first sip of a fine red wine, it flows and warms your soul. This is a real 'toe-tapper', with that riff holding court throughout, never relieving itself from the track for too long, without jumping back in whenever possible. That 'blues' vibe is enhanced even further with some lovely slide work before the band comes to a halt, and we are left with chorus, supported by just some keyboard and a host of handclaps, before it's all back on board to its climax of more slippery, slide guitar. Easy listening at its best.
Some further 'slinky' slide guitar smoothly introduces 'Stones', along with a stripped back drum beat and a slathering of smoky keyboard fill. This is another tune that 'meanders and crawls' into being, as if the song is being 'dragged back' it has that slow and emotive vibe to it. Undoubtedly drenched in Blues, this is made even more authentic by that weighty tempo. A nicely constructed pre-chorus made up from the vocal and slide coming together on the same melody line eases us into the chorus itself, which as with the track that precedes this, has well-placed support vocal, which 'lifts' the tune out of the midday, sweltering heat and gives it far more of a gospel feel. 'Bailey's' vocal remains smooth and understated, always with the promise of her keeping something back in reserve to unleash at any given point. Expectedly, the guitar section is full on bottle slide, which only makes a short visit to the front of this full-on blues tune – Excellent stuff.
With a simplistic bass line, we enter the confines of the heavily influenced R&B sounding 'Colours Start to Run'. From the outset, the steady, yet underplayed drumbeat is accented by some sparse, but well-placed guitar licks and Hammond organ like runs, ensuring that the star of the show is 'Bailey's' vocal, which maintains that ongoing warmth throughout the opening section. The extended chorus is a joy, which has a great melody line stitched within it, as 'Bailey's' voice ventures a little outside of what's come before, and you hear a little 'croakiness' creep in as the emotion of the song takes over. As gentle as the tune started, there is a more expressively charged surge to be heard as we progress through to the guitar solo, and then one more round of the chorus and the tune reaches the finish line, but this has been the highlight of the album so far, full of heart felt playing and vocal performance.
An infrequently played snare rim shot, some lightly enhanced phased guitar and a simplistic bass line dreamily introduce 'Different kind of Love'. This lingers just long enough before 'Bailey' opens with 'Won't you whisper something kind' – the melody line itself reminding me a little of 'Jealous Guy' by 'Roxy Music'. This eloquent love song begins really exposed, but given the songs tender theme, then surely, this is a prerequisite, if nothing else other than to set the romantic mood. A chorus that see's 'Bailey' hit some sweet falsetto phrasing, the laid-back arrangement remains firmly in-tact (as per the opening verses)– with no real charge toward something a little more energised. The quick pause before the songs second act brings forth a key change, which is pretty much the only revision from where this tune began. The pleasant introduction of an electric piano led bridge adds a different element to proceedings, which lends itself (I think?) to yet another key change. The introduction of some gospel like support vocal fits in perfectly behind the lead, giving it even more gravitas. This is one seriously mellow track.
Speaking of mellow, 'Who's That' certainly arrives on the scene with a 'brooding, slow-burner' feel about it, encapsulated by the opening lyric 'The whiskey won't drown my demons' – this is going to be 'that' type of tune, full of brow beaten, remorseful memories that can't be shaken, not matter how hard you try. It's hard to label where the songs core lies, as there seems to be a bit of everything going on from Blues, Gospel (without doubt down to the increased and superb support vocal that features all the way through this track), R&B and even some Country here and there. The chorus has a likeable repetitive structure to it, one which will have you singing it from the first spin – another triumph of a tune. 'Sunshine City' starts off in a far more forceful manner (certainly in comparison to what's come before) as the song simply 'skips' along, to a point where I fully believed 'Chris Rea' was about to take control of the lead vocal, it just has that style and production to it. Once again, the framework of the song is born out of the Blues, as plenty of slide guitar (filling the gaps brilliantly between vocal) enhances this theorem. The tracks title aligns seamlessly with the general fun, that this tune brings (as it washes over you like warm rays of sunshine, with car top down, cruising down the freeway without a care in the World) and is a welcome offering after several slower songs. As mentioned, the slide guitar work on this tune is there for all to see, and is a constant flavour all the way through this beauty. This has been worth the wait.
'Halfway House' has another relaxed and easy going feel to it, but as the lyrics pour forth and the thematic line is revealed, then it's hardly a shock to the system that the arrangement is as it is. With the predominant acoustic guitar being the stand-alone instrument, it creates a faultless platform for 'Bailey' as she is right 'in the pocket' from the off, with that husky tone relaying this sorry tale. With just vocal and acoustic starting this off, we have much more of a Country influence taking place, which doesn't really deviate, even when that now well mentioned support vocal arrives. Travelling through the mid-point, creamy, slide guitar slips gloriously in, along with some light, percussive rim shots, that give some rhythmic enhancement, but the song still glides effortlessly along. Like all sad songs, the accompaniment is a textbook foil- well we weren't going to get anything crass, were we?
Pacier and far more upbeat, we take a chance on 'Riding out the Storm'. All the main ingredients from previous tunes have been added (e.g., slide guitar, organ, support vocal etc.), but as with any good creation, it doesn't necessarily mean that we end up with the same result. This track has a much more positive tempo to it, but keeps its feet firmly planted in the Blues – that can't be denied. From verses through to the harmonious chorus, the song 'jumps' along with a spring in its step, which is once again refreshing and well placed in the album order, if only to offer up something a little different. And just when you think the song has completed its lap, we get a reprise surprise, which is both uplifting and sprightly. Cracking tune. 'Shining in the Half Light' has its own evocative mood embedded into it from the off, enhanced by a great bass run and an uncomplicated, yet well thought out drum pattern, that are no doubt the predominant backbone to this track. Fundamentally, another tune that leans on a slow and easy Blues vibe, there is also a bit of Psychedelic wizardry going on too, which for me, is sprung from that slumbering and hypnotic drum shuffle and some clever changes from minor to major key, just prior to the chorus. I love the way the second act of this tune initially relies solely on just vocal and piano, but builds superbly, which gives the track far more interest – brilliant. This is up there as one of the best tunes on the album – love this.
Pastoral sounding acoustic guitar is the gateway into 'Spinning Stopped' as the mix between this 'ethereal and delicate' sound balanced with the gentle finger style playing, creates a song with its roots clearly entrenched within traditional folk music, almost a medieval feel to it. This evocative track forms an instant feeling of long, warm summer days, walking along dusty country lanes, without a care in the World. Until we reach the midway stage, the song is just vocal and guitar, until there is some light percussive support added, that's simple, but effective in equal measure. A short, but beautifully crafted song that will take you back to a simpler time, in an instant.
A 'smooth, creamy' bass run, coupled with an imaginative drum pattern quickly establishes 'Hole in my Pocket', which is essentially another venture into the land of the 'Blues', but has a mellowness built around it that makes this a real easy listen from the off. This is made even more appealing by a scattering of electric piano and the deep and reverberating crunch guitar that all adds to overall vibe. Although the verses have that classic blues movement as it's springboard, the chorus is an absolute delight, as a snare drum build up releases both 'Bailey' and support, administering a series of 'Woo's with an uplifting and sweet execution that gives us one of the highlights of the album – well, for me at least. There is even time for a total release, come the last section of the track, where some pent-up frustration appears to be released, as the band, starting with the guitar and then quickly followed by a serious drum roll, go into overdrive, akin to an Elvis finale at a Las Vegas residency – Stunning tune.
'Over the Hill' has a distinct, upbeat Country/Bluesy feel about it as soon as you hear that bright, light crunch guitar lick. 'Bailey' sets the scene for the tune by calmly, yet directly relaying 'I'm going away to leave you, going to leave you in disgrace' – so you can plainly see the path where this song is heading!! With that in mind, the musical support itself is far chirpier an affair than the lyrics would have you believe, as it agreeably glides along, with more than a smidge of pace and rising positivity within its melody. Outside of the smoky vocals, both in terms of lead and support, that crunch guitar and Hammond style organ play central roles throughout the tune, so much so that both are offered solo spots, albeit quite brief. The bridge gives chance for the song to get 'laid bare' and taken back a notch, only for it, in time honoured fashion, to build back up, giving rise to 'Bailey's' vocal moving up a gear, adding little more rawness to her normally smooth vocal. Extremely pleasant track.
And to finish things off we have the piano led 'Long as I see the Light', a song, very much in the same mould as a number that feature on this Blues inspired album. With only vocal and piano leading things away from shore, the song once again has a 'peaceful flow' about it, with those augmented piano chords playing no small part to this overall feel. Even with the introduction of drums and bass, the track keeps a total faith and honesty, never really feeling the need to expand and develop too much, as the tempo remains on an even keel. The addition of a spaciously played piano solo at the halfway mark, is diverse as it is giftedly executed - simple, but well placed. Not to be outdone by the initial solo piece of the track, the guitar slide piece is equally enthralling, with hits high gain effect causing an emotional element, that was unexpected (making the guitar almost weep, to coin a well-known song title). This blues, and in smaller parts, jazz inspired song is one mighty fine way to tie things up in a bow and complete the album.
Obviously, I listen to Rock Radio, and I've heard 'Elles Bailey's' name being mentioned regularly as a show host, but not until I checked this album out have, I heard a single tune by her (I know, crazy), so I was totally unsure what to expect. As the review unfolded, then it became quite apparent as to where her heart and musical influence lies.
The album is superbly produced, with some outstanding musicianship littered all the way through it (as I've already touched upon). Although the identity of the songs is predominantly set within the 'Blues' confines, there are still enough variety that she does venture outside of these parameters and offer up some other musical options for your listening delights.
A warm and emotive voice, a 'heap' of great songs (14 tunes on this bad boy!!!) and if you want an album to just kick back with, then you are certainly not going to go too for wrong with this.
Shining In The Half Light' Deluxe will be released and available on all digital platforms and on CD on 17th March, 2023
Pre-order Shining in the Half Light Deluxe Edition - www.ellesbaileypreorder.com
Check out the video for Hole In My Pocket here :-

Catch Elles Bailey on tour :-
MARCH 2023

9th – O2 Academy 2, Liverpool
10th - The Social, Hull
11th – The Firestation, Sunderland
14th - KK's Steel Mill, Wolverhampton
15th - The Crescent Arts Centre, York
16th - The Caves, Edinburgh
17th - The Brudenell Social Club, Leeds (co-headline with Chantel McGregor)
21st - Komedia, Brighton
22nd - Junction 2, Cambridge
23rd - 1865, Southampton

APRIL

1st - Lafayette, London
14th - Arlington Arts, Newbury
15th - Trinity Centre, Bristol

MAY

18th - Rescue Room, Nottingham
19th - Sheffield, Corporation
Links to Elles Bailey :-
Website: www.ellesbailey.com/
Twitter: twitter.com/EllesBailey
Facebook: www.facebook.com/ellesbailey/
Instagram: www.instagram.com/EllesBailey/
Youtube: www.youtube.com/EllesBailey
Spotify: https://open.spotify.com/artist/4NPMwh3kDwi6uVCNtmeUvU