Jono Moulds checks out the highly anticipated new album from Gypsy Pistoleros - 'The Mescalito Vampires', for The Rock & Roll Circus.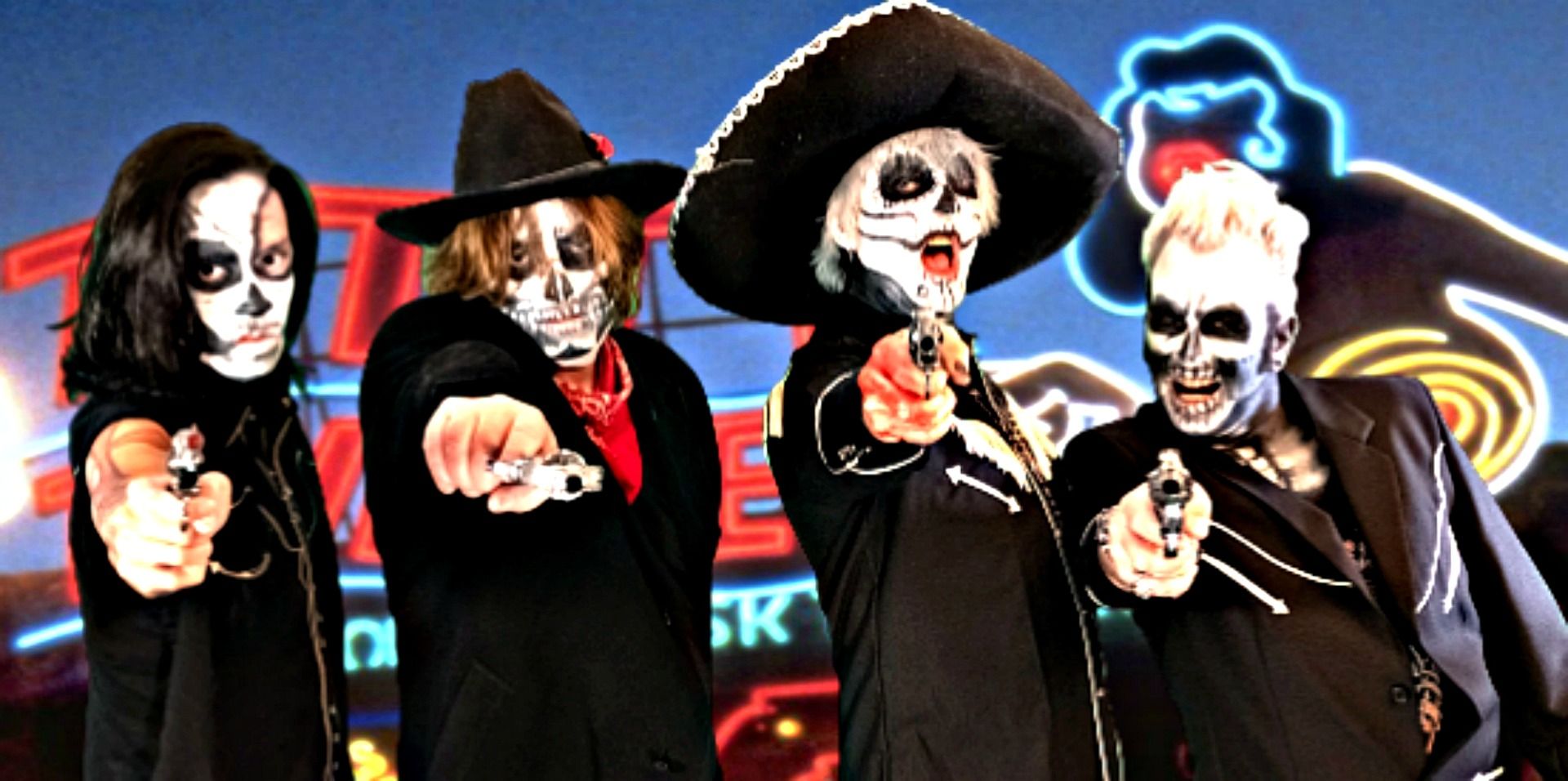 The Gypsy Pistoleros are best described as being the ideal house band for the fictitious Titty Twister bar of Rodriguez's 'From Dusk till Dawn'. Between the nods to Morricone's tense, tumbleweed atmospheres and the Gypsy Kings' manic Mediterranean energy, a New York Dolls raw glam spark, and a surplus of prime G 'n' R attitude.

Now this is going to be something a little bit different. Ladies and Gentleman, here are the Gypsy Pistoleros.

The album opens up with 'Lost in a Town called Nowhere', and as anticipated, crunching guitars and melodic lead runs interweave their way through the song accompanied by trumpet, yes trumpet!! (A shape of things to come methinks).

And so, starts the sound of the Gypsy Pistoleros. WOW!!!

'Viva la Revolution, Viva Zapata' is up next, which starts off with some polished Spanish acoustic guitar, but that's quickly left behind and we are back into some serious punk vibe Flamenco Rock 'n Roll!!! (It's not clever phraseology, but it works for me ). There is a lovely, almost 'Spaghetti Western' type vocal bridge, which works a treat. Very catchy tuneage.

Track three and we are about to come face to face with the 'Mescalito Vampires (Welcome to the Hotel de la Muerta)'. Which starts off, well, with chopping guitars and some Latino screams, before,hang on….. is that an obvious bent towards 'Hotel California' which has been given an outrageous South of the Border make over?? Absolutely, there is no doubt. Very cheeky, but a nice touch.

'Soho Daze, just another Friday Night', starts off slowly, with a mixture of acoustic guitar and vibrato electric. I'm now four songs in, and still trying to establish how to describe Gypsy Lee Pistolero's vocal. On first spin, there's a bit of Anthony Newley (for those old enough to remember who he was), David Bowie and Axl Rose, all thrown in for good measures. No doubt, this guy has a great vocal range and energy.

And so, onto 'Roses, Gallows and the Wild Preachers Daughter' (great song title BTW), which is a tale of woe, as the title suggests. The song doesn't stray too far away from that melancholic, Latin American vibe. 'The Forsaken' quickly follows, with its opening acoustic picking, until bursting into life with Ariba's aplenty. There is 'great guitar' work here by Mark Westwood.

Another slow-paced start to the next track, where acoustic guitar and trumpet once again kick things off. 'The name's Django' could easily be taken off a Tarantino film soundtrack, as it certainly has that feel to it, but then, the song comes alive (imagine a gang of Mexican bandits riding and screaming their way on horseback, all guns ablaze, through a small village – not a bad summation of it).

And so, onto 'Cisco Kid'. A bass led riff leads the way through the verses until we head into the chorus and straight back into some high-speed Flamenco frenzy. A quick-fire track, that doesn't outstay its welcome. 'Wild is the Wind' starts as a slow, acoustic based ballad, with gentle vocals until a sustained cry moves it to another level, before a standout solo brings it to a crescendo. Some impressive vocal range on this song.

'Alone again' once more, opens up with a gentle acoustic, picking its way through the melody of the song. There is a lovely exchange mid song, where the vocal part and guitar follow each other. The boys are not shy to call upon the trumpet once again for support.

Now, I was expecting something a bit left field, but I was not expecting an 8 minute plus song (based on what's gone), but here we have it 'Sangre on the Roses' has arrived. In the world of the Gypsy Pistoleros, this is their Free-bird or Stairway to Heaven, a slow burner that escalates into the full-on classic rock outro, full of lead guitar breaks, as pace builds.

And finally, the album closes with 'Gonna die with a Gun in my Hand'. That familiar Latino twang starts the track off, accompanied by sustained guitar and vocal chanting.

OK, so not only I have never heard this band before, but I've never been exposed to such an eclectic mixture of influences. From the very obvious blend of Latino/Flamenco musicality, through to Punk and Rock power and angst, this album is not for the middle of the road rock fan.

If you fancy a change to the ordinary and you want to try something very different, give these guys a go. After one spin, you'll be out in the street, drinking tequila and screaming Ariba before you know it!!!

Review by Jono Moulds
Check out the Gypsy Pistoleros "Website" for more info.
The band consist of: -
Gypsy Lee Pistolero – Vox, Bad Rumba Guitar
Mark Westwood (Shadowland, Clive Nolan, GLP) – Great Guitars
Gaz Le Bass – Double Bass (The Delray Rockets)
Jan Vincent Vellazco (Pendragon, Ghost, PIG) – Drums
Kris Jones – Trumpet

Check out the official video for "Lost In A Town Called Nowhere".