Jono Moulds checks out the self-titled debut album from The Karma Effect, for The Rock & Roll Circus. Due out on TMR Rock Records on Fri 18 March 2022.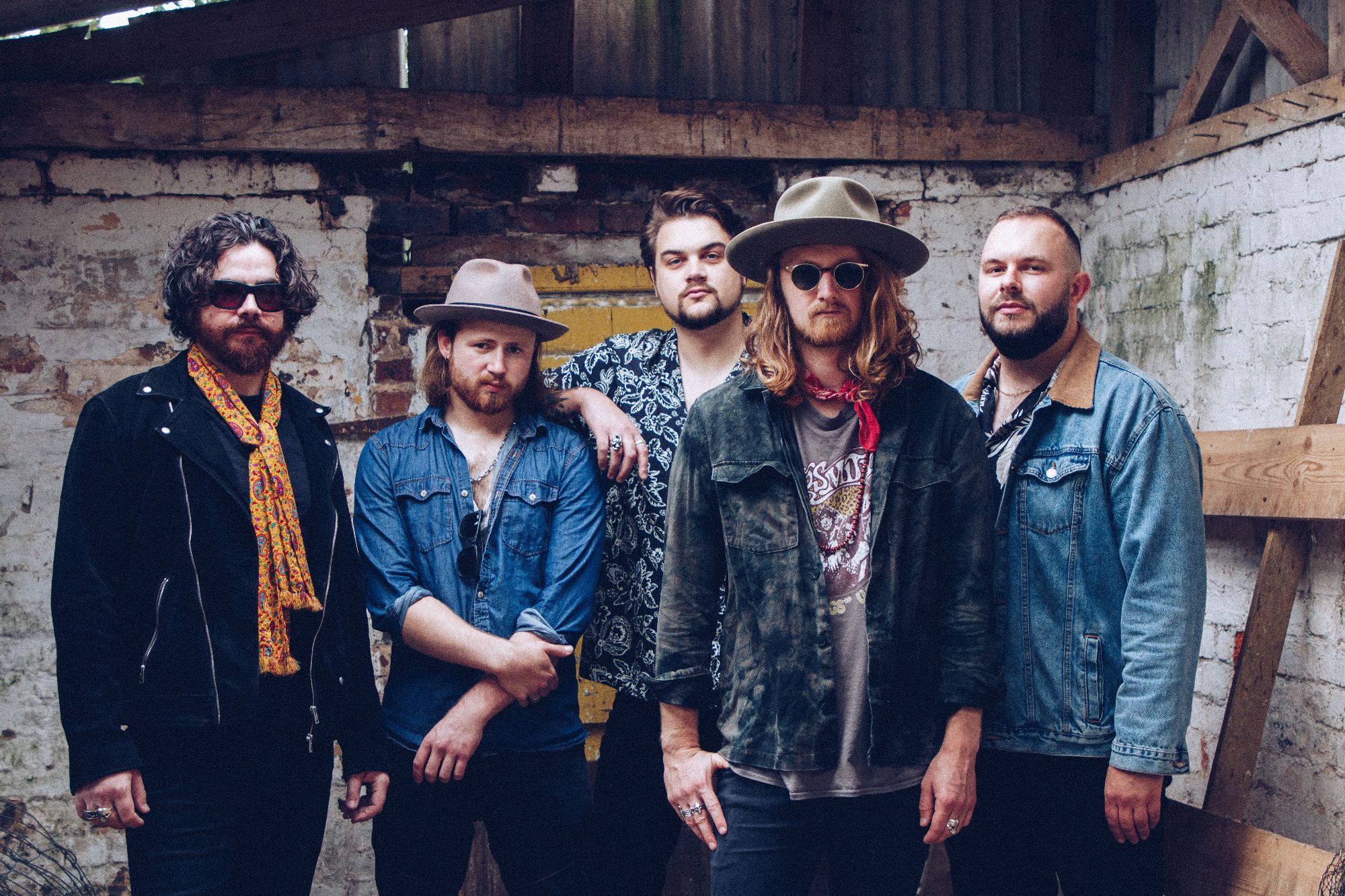 Formed at the start of the Covid pandemic by a bunch of long-time school hood friends and musical acquaintances, The Karma Effect, are a 21st Century take on a classic 70s rock, roll n soul sound; big on keys, guitar riffs and huge vocal melody, all combining into a grandiose sonic soundscape that draws upon the best of yesteryear. First single, 'Steal Your Heart' epitomises this philosophy. It's a no-nonsense throwback, encapsulating the energy of good time, arena, rock n roll, brought bang up
to date.

The lyrical theme is the age old one of unrequited love, of a relationship that's destined for that love cul-de-sac but a path that simply cannot be ignored, with every attempt made to 'Steal Your Heart'.

The album, The Karma Effect, features 8 scintillating songs, written in solitary bedrooms and over zoom calls as the world tackled (and continues to tackle) a desperate viral pandemic. Songs that have only recently seen the light of day via a handful of live UK shows.

Main man, Henry Gottelier, said, "Obviously, we didn't know it was a pandemic at the time we discussed forming a band together, but I had a few songs that I was planning for a solo release and as lockdown continued in one form or another, the solo project morphed into a band and those few songs became an album's worth.

"We released a few early singles, and these attracted the interest of TMR Management, and they signed us without even seeing us play live - because the whole situation meant we had no gigs! But they bought into what we are trying to achieve, and you just need to adapt to whatever the world throws at you. You get out, what you put in… The Karma Effect.

"Now we have a new variant, threatening to scupper things again but you just have to do what you have to do. We're a band, we make music and if we can find a way to get that heard, then that's what we will do. We, as a band have, quite literally, not known anything else.

"We believe we have a great sound and write a decent tune or two and if that can brighten somebody's life or even just their day, then we have done a good job!"

Joining Henry on lead vocals and guitar, are Robbie Blake (guitar), Seb Emmins (keyboards), Liam Quinn (bass) and Ash Powell (drums).
So, we start off this 8-song album release with 'Doubt she's coming back' and we are literally straight into the mix as there's an immediate, 'bluesy' guitar riff on repeat, supported by some 'Hammond style' organ, that keeps hold of that one note and locks it in. It's at this point that 'Henry' opens with the first line; 'Because I'm all caught up again-Doubt she's coming back'. Immediately, I'm drawn into this tune, with its blues/R&B infusion. By the time the drums/bass kick in, there is also the addition of a female support on backing vocal, that enriches the whole vibe of the track. As we move toward the next phase of the tune, there is a musical change, where a different guitar
riff/section is introduced as a preface to the chorus (well, I think it's the chorus, at least). The second round keeps to the same formula, but there is some extra effect added to the guitar riff, just to give things another dimension. We also have a great bridge within the song, that leads the way for the tune's guitar showcase, that doesn't disappoint. This is a real upbeat, groovy blues tune, and a great way to start the album off.

Tune two is 'Mercy', as a quick scratch across the strings of the guitar makes way for yet another great blues riff. Once more, this has a top-notch groove to it and if the opening song didn't
completely demonstrate the strength and range of 'Henry's' vocal, then the first couple of verses of this will remedy that – a quite outstanding vocalist. As we hit verse two, the riff 'splits' as one guitar breaks out and starts to add some imaginative licks on top of it all. The pre-chorus builds with 'cool and swagger' as it gives way to the chorus itself, which is just superb, and has some great sing-along qualities in-built into it. It's sometimes unfair to compare, for various and obvious reasons, but with
that female support vocal and 'Henry's' lead, there feels to me like we have elements of 'Skynyrd' and 'Bad Company' rolled into one. This tune just moves with a rhythm that you can't help but 'bop' along to. Terrific stuff.

'Save Me' starts off with a delightful guitar intro with some full-bodied organ helping to give it the space and time needed for that soulful, bluesy tone. As the first line of the song unfolds, things are 'stripped back', where we find its just 'Henry's' vocals, guitar licks, laid back drums and bass. This already sounds seriously good, as the warmth of the arrangement floods through. The song is slow and full of emotion, as the chorus rises like a phoenix from the ashes, that being, strong and
powerful. There's plenty of tonal quality to be found within this track, as we move through with sensitivity and dominance in combination to create what is, an absolute beauty of a track. If I had to use one word to describe this song it would be 'soulful'. If I wasn't impressed enough with 'Henry' as a vocalist, during the opening songs, this has just blown me away. This is one talented singer.

A lovely sounding guitar riff acts as a great entrance into 'Stand', which, right from the beginning of the song, shapes a mellow and chilled vibe, as we hear snare 'rim shots and some super 'silky' lap steel type slide that adds some further 'blues brew' into the track. I certainly hear 'The Black Crowes' influence, as the first bars of the tune develop, which, for me, aligns itself closely to the classic 'She talks to Angels' song (which is some comparison). As we enter the second batch of verses (again led by the initial guitar intro), there is a slight change of direction, as drums fully kick in, which takes the song up a gear, but without losing that 'laid-back' feel. Without fixating solely on 'Henry's vocal, here is another fine example of just how flexible his range is, as he goes from keeping some
'tasty' electric piano company along the way, while also lifting the song to even higher levels. Some find this. What a beautiful and well-arranged song this is. Quality work.

'Steal your Heart' is up next, and from the first note played, this tune has an upbeat, positive, and joyous vibe to it. There's absolutely no doubt, that you are going to get hooked on this with immediate effect, as the band sound like they are having so much fun, that you'll just want to join in. Things get underway with yet more outrageously catchy riffage and before you know it, you're hitting the first lines of the song 'I've been rolling on for so long – Got no place to call my own', which is sung over a basic 'kick drum' led beat, and some delicate guitar/keyboard for companionship, but this is short lived, as things start to wind themselves up again, all the way to the chorus, which explodes into life with commercial mastery. It really is that good. The bridge is cool and punctuated, just to sprinkle some additional 'sugar' on top of this sweet-sounding song. There's another chorus to look forward to before the song's sunset, but wowzah, this is some song. Love it.

A classic sounding blues guitar riff and thick, layered organ/keys unlock the opening to 'Testify'. Only a few bars into it and we are already hearing some lovely rhythm guitar, covered with a cool groove of a guitar lead line, as this tune starts to develop with a very laid back (not too fast, not too slow) vibe about it. The opening has several elements going on, where riffs are 'peppered' about, along with the 'scant' drum pattern, which allows for plenty of space for the rest of the band to demonstrate their skill and techniques. As we move through the track, those opening spaces diminish, as gaps are blocked with varying 'riffs and fills', that leads us 'smartly' into the chorus itself, which is another 'toe-tapper' and will get you up off your feet to dance the night away. Verse 2 heads in the same direction as the first, but there are some little 'add-ons' here and there that ensures more listener interest. The bridge holds a different kind of feel to it, as a 'psychedelic' effected guitar is brought into the mix, which certainly pours something 'left-field' over the track. There's a clever little 'Jimmy Page' sounding guitar break just after this, which teases for a short while before we are back into the swing of things. Great tune.

Based on the title of the track, and for some reason (no idea why?), I perceived this tune would be a mellow and chilled affair, full of acoustic guitar and slide, but not for the first time, I'm completely wrong, as 'The river' cracks into action with further riffs, and all set-up by more solid drumming by 'Powell'. This is yet another cracking R&B, high-energy tune, which crackles with life from the out-set (basically, nothing like I initially envisaged). On top of the usual awesome production, there lays
more interest tucked away within the 'nooks and crannies' where there are some outstanding 'funk' style keys thrown into the mix, which just gives it so much character and style. I say gents – well done!!!

'I believed every word you said' 'Henry' states, without a moment's hesitation, along with the guitar riff and keyboard kicks off 'Wrong Again'. This has got a cracking feel to it, almost 'Zeppelin' like for a short period, before verse one arrives, and we move slightly away from the heavy guitar line to
something equally effective, but in some respects a 'wee bit lighter' in touch and feel, with a resounding bass line in tow by 'Quinn'. This 'lighter' feel drifts away through the next phase, as the sound of more guitar and enhanced keyboard 'swarm' all over it as the song starts to motor along with more power and conviction. The pre-chorus has a 'Foreigner' style about it, which is classy and acts as a brilliant conduit to the chorus itself. As with everything I've heard on the album so far, the chorus does not disappoint, and has all the 'R&B' DNA you'd expect and more. There is a great and inventive bridge thrown in for good measure, which has an 'unconvoluted' guitar break, all before things are taken on the 'down-low' for a while. But, things soon build up to an almighty crescendo, as the lead guitar takes centre stage, and we finish with another chorus and that opening riff. Awesome.

Firstly, how on earth do I sum this batch of songs up. Well, I can't find one of them that didn't have me nodding my head or tapping my feet. They show some top-level song writing skills, which the band have in spades. The production is outstanding and captures, with some aplomb, the sound that the band are undoubtedly aiming for, that is, covering every facet, both collectively and individually, whenever the song structure demands it.

Then there's the band itself. I've waxed lyrical about 'Henry's' vocal throughout this review (and quite rightly so), but each member plays their part to the same degree/level, where they have come up with something extremely special, of which, they should not only be proud of, but will surely propel them to greater things, sooner, rather than later. Listen, it's a simple musical equation, if R&B/Blues rock is your thing, then do yourself a favour and leave whatever you're doing and go get
this. Straight away. Excellent!!!!!!!

Review by Jono Moulds
DEBUT ALBUM THE KARMA EFFECT OUT 18TH MARCH 2022 VIA TMR ROCK RECORDS PRE-ORDER HERE!
STEAL YOUR HEART - VIDEO. TAKEN FROM FORTHCOMING DEBUT ALBUM THE KARMA EFFECT.


ALBUM LAUNCH SHOW FRI 18 MARCH THE CROWN INN, OLD OXTED - TICKETS!