Jono Moulds checks out the new album from Kira Mac for The Rock & Roll Circus. Chaos Is Calling was released on 18th November 2022.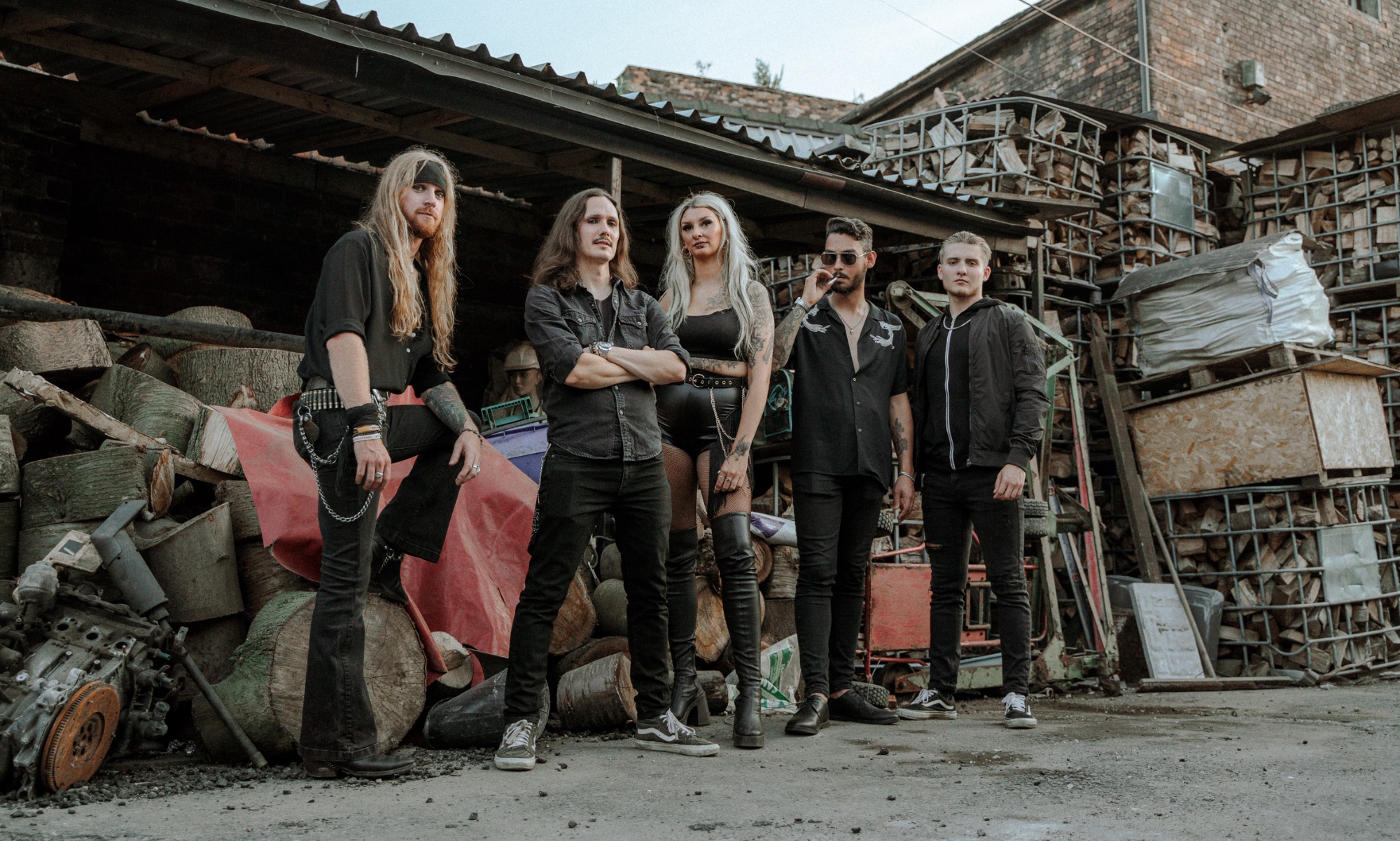 And off we go then, literally, as the album opens with 'One Way Ticket'. This is my first encounter with 'Kira Mac', and one which I've been looking forward to since the album dropped across my desk. A 'bluesy and distant' guitar riff is soon displaced by its angrier and effervescent brother, as the band then arrive as one, to motor the tune along this lonely road. 'Mac's' vocal is pretty much how I'd envisaged it, that being, 'sultry and dominant', and sits perfectly in front of the vibe of this opening track.
Moving from verse into the wonderfully addictive chorus (which features some fantastic supporting vocal by the way), there is already a feeling that vocally, 'Mac' has more to offer in terms of range and flexibility. A vocally weighted bridge (hearing 'Mac' in the raw, there is a 'Beth Hart' flavour to her vocal – WOW!!) brings forward the albums first opportunity to showcase some guitar prowess, which has an 'old school' feel to it, which is great to hear – not too fancy, and with great tone. Superb opening song.
An altogether faster feel as we kick off 'Hit me Again', as once again, a very short-lived guitar intro makes its leave for a fuller blown version to take over the reins. The strong and pacey opening fades into the ether, as verse one is taken over, albeit briefly, by 'Mac's' 'smoky' vocal and 'Casey' ensuring that the beat never strays too far away. A lone guitar re-enters the fray a little while later, as things start to steadily build, and the expectation grows for a bombastic chorus, which inevitably it does, and what a chorus it is, as it brings a mixture of power and little sprinkling of melody, all coming from the cleverly woven support vocal, adding a syrupiness of commerciality to the tune – brilliant!!
After a further combination of verse and chorus, we get a stripped back segment, that once more, is predominantly drums and vocal, until such time where 'Mac' produces an almighty vocal blast, which is the siren call for further madness to result – Oh my days, what a start!!
A typical automated answering message - 'I'm sorry, but the number you called…………' dials up the start to the title track 'Chaos is Calling', which has more of a harder edge feel to it, than the opening two tracks (almost a thrashier sound to the guitar riffs – a few steps away from that initial bluesy edge). The song rattles along and has great tempo to it as we swept promptly through the songs opening gambit. The chorus has a unique juxtaposition to it, as it begins full of melody, which then quickly 'turns on a sixpence' by returning to that hard hitting 'Thrash laden' guitar riffage!! That's not to lessen its impact, as this most definitely stands out in its distinctive feel. Tucked away, there is a 'Nu-Metal' sounding bridge, where the vocal is fully disguised within a highly distorted effect, as statically charged guitars add to the feel. A different vibe to what has come before, but this shows the bands flexibility to move away from their core sound – Solid tuneage!!!!
And we are most definitely 'Back for More' as the feel from the start, instantly reveals a return to the earlier sound of the opening tracks. The pace and musical vibe remind me of 'Tom Petty and the Heartbreakers' it has that instant 'coolness' to it, helped in no small measure to some great lead breaks over the top. Verse, one has a punctuated arrangement, where 'Mac' and 'Casey' lead the way, only for the guitars to 'crunch' in sporadically with some toneful chords. As we move out of the verse (I think?) we either have an extended pre-chorus, or chorus section, which has the bonus of some ingeniously and well-placed support vocal (you'll know it when you hear it – woo-hoo, woo-hoo) that certainly 'piqued' my interest – loved it. Hats off to the guitar riff that sets up another top-notch solo, again, well played guys, I love that minutia – works a treat. There's even time for a 'clap-along' section, as the song winds itself down. A down and dirty, solid rock tune – and I for one bloody loved it.
The formula is kept very much intact as things quickly develop at the front end of 'Imagine what we could have been'. That's to say that well-constructed guitar riffage is at the forefront of the tune, which from the off, has a mid-tempo, yet powerful blues feel to it. There's a solid and familiar atmosphere to the verses, which is derived from the power-chords that lay the foundations to this section of the track. However, as simplistic as the start is, one thing it does is to showcase just how natural 'Mac's' vocal is, but in saying that, I've already found out that these tunes are far from keeping things 'simplistic'. This is more than evident as we make our merry way through yet another fine example of mixing blues rock and adding in some 'commercial sugar'. This comes in form of some great, melodious backing vocals that have been added in all the right places and takes the song up several notches in my book. The songs guitar solo (which once again is never overstated yet fits like a glove) comes and goes far too quickly and should have stayed at the party a little longer.
Hearing the very first notes from the opening riff, you get the instant feeling of a guitarist playing said introduction, sitting on an old, rickety rocking chair, feet up and watching the World go by in some juke joint, as the opening strains to 'Mississippi Swinging' come to life. This 'Delta' inspired start is quickly dispelled though, as the band crash in with power and a laser focus on ensuring that the tune is ramped up into the rock sphere. This is particularly evident as soon as 'Mac' comes in with a big and welcoming vocal outburst. The track does fall back into more of a 'bluesy groove' as the verse arrives, as the band ably support 'Mac' by keeping it simple and allowing 'that' voice to lead the tune onwards. What comes next is up for debate, not sure if it's a chorus or not, but one thing is for sure, the song is taken through the 'power' gears, as 'Mac' declares that she's 'Heading West, don't got my name on his list' – love this vibe. As we move into the second act of the tune, that initial guitar riff is resolved, but this time the band play it in full, and moves from a traditional blues sound and wanders across the borderline into 'rock'. After the semi-anthemic bridge (you can imagine the band requesting some crowd participation at this point when it's played live), there's another great example of a guitar solo that fits into the song's groove. Top song, in every way.
Quite a lengthy guitar and drum fuelled 'stomp' opening brings us 'Hell Fire and Holy Water', that gives it an instant identity of 'smouldering blues infused rock'. This is enhanced even more, as the that simple, yet infectious start, takes on a far more powerful feel, as we drift from opening into verse. There's a familiar feel to the arrangement during verse one, as the band 'lay low' allowing 'Mac' the freedom of space to sing with clarity and ensure that each word of this tune can be picked out with ease. Where verse one had the band 'skip' in and out, only leaving in their tracks the occasional power cord, verse two is 'driven' by the guitar 'chugging' away, and in so doing so, build the tune to the next stage of its evolution, that being of course, the chorus, which delivers big, but retains that 'smouldering' vibe, which the song is ultimately assembled on. In amongst the chorus is some great support vocal, that isn't lost and adds that certain 'magic' to proceedings. The same pattern of verse /chorus follows suit, until we hit a classic sounding and anthemic lead-in to the tune's guitar piece, that yet again, is effective and 'hangs it's hat on the door' just long enough for it to make its mark without outstaying its welcome (by the way – love the guitar tone!!).
Up next (or should that be down??) is 'Downfall', that if it's initial 'grunge' like sounding guitar is anything to go by, 'could' mean we can expect something a little 'off the beaten track' with this bad boy. Let's find out then. As slow and menacing as the start was, the increased tempo change that 'Casey' brings to the party, seems to emphasise this may not be the case, as all things halt, just for a lone guitar to play a simple riff. 'Casey' is once again, the main 'rhythm conspirator' as the song takes on a different stride (and we're only 27 seconds in!!). As the tune begins to move frantically, a familiar pattern emerges leading into the first verse, as most of the band excuse themselves, and we are left with just vocal, drums and a solitary guitar. The pre-chorus brings a nice change in direction, where it begins to 'snarl and growl' its way through to the ever-expectant chorus, which is 'meaty' and certainly lies on the 'rock' side of the musical tracks. Moving just past the mid-section, the song briefly reverts on itself (more of that 'grunge' like guitar), but this is momentary, and is only there to open the road to a stand-alone guitar and vocal bridge, all this before further mayhem ensues, with that strong, punch you in the gut sound that band have conjured up. A nice change of style and pace, showing that they can mix it up with the best.
'Never going to Stay' starts off with quite a commercial sounding hook, that has a sweetness to it that is difficult to describe but is pushed by unassuming melodic guitar and a simplistic drumbeat. From the off, the track sounds like it could easily sit within the AOR genre – it has that ambiance to it. This thought is cemented firmly into place as we head through the early stages of the track, as both verse and then chorus, are musically bereft of that 'command and angst' we have heard within all the other songs on the album and in its stead, has been replaced with a more subdued and lighter feel, which is further enhanced by the support vocal, that harmoniously provides the sweetness, that I alluded to earlier. In saying that, you'll be hard pushed not to like this song on the very first play, it's about as catchy as the common cold and will have you 'tapping your head and nodding your feet' in no time. Does the tune fit in amongst the songs so far on this album – 'No', does it sound like it's a 'fish out of water' – 'Yes', does it matter at the end of the day – 'Fuck no'. Truth of the matter is, this is a great song, and it would have been a shame if it wasn't included, just because it doesn't 'fit-in'. Just proves again that the band have some great song writing chops.
To quote a line from 'Dire Straits, Sultan of Swing', the time bell has unfortunately rung, and its, very nearly time to go home, so what last treat has 'Kira Mac' lined up for us, well, 'Dead Man Walking' returns to familiar 'hot and dusty' ground, with another smoking intro, as guitars 'scowl' away with a thick and chunky sound and drums pound out that mid-tempo groove. And as we 'saunter' through the track's initial stages, it's that tempo/beat that dictates the songs arrangement in every way, allowing 'Mac' to deliver more 'fire and brimstone' within her lyrics. As the chorus knocks on the front door and demands entry, there is a great balance between retaining it's 'grittiness' yet, adding in some melody, but this is carried out to perfection, as that often written about support vocal keeps delivering just at the right time to ensure that the song 'fuses' together as one. I've waxed lyrical enough about the guitar playing all the way through this superb album, but it's not going to hurt to reemphasise this once more, as I've loved both the sound created and the easy way that all solos have flowed within each tune - take a bow boyos. An excellent way to end the album and solidify what has been a pleasure to review.
As I stated at the front end of this review, I've never heard 'Kira Mac' up until this point. So, what have I learned. Firstly, the lady has been blessed with a sensational vocal that this album proves without a shadow of a doubt. I would go as far as to say that it sits perfectly within the 'Blues/Rock' genre, but maybe this is 'Pidgeon-holing' it, as I'm convinced, she could sing in any style she chose, and it would be outstanding.
However, such an exceptional vocal is all well and good, but without a talented and technically astute band and the song writing skill to go with it, then we would all be losing out. Fortunately, all the pieces are in place and what we have here is one of the best Blues/Rock albums I've heard in a long, long time that I'm sure is going to project them on to bigger and better things.
Now I've heard them, now I'm looking forward to hearing more. Some album this – WOW!!
Review by Jono Moulds
Check out the official video for "Dead Man Walking".

ALBUM LINE-UP
Joe Worrall - Electric Guitar/Drums
Alex Novakovic - Electric Guitar
Bret Barnes - Bass
Cal Casey - Drums
Kira Mac - Vocals

CURRENT LINE-UP

Joe Worrall - Electric Guitar (Hull)
Alex Novakovic - Electric Guitar (Manchester)
Bret Barnes - Bass (Manchester)
Max Rhead - Drums (Newport)
Kira Mac - Vocals (Stoke>Manchester)

DMW Production:
Bob Mackenzie at Motor Museum
Mastered by Loic Gaillard
Mixed by Tom Peters/Bob Mackenzie
Backing Vocals - Rachael Langtree/Rhiannon Hill
11-date Tour (inc. Planet Rockstock)
20th Nov Bannermans, Edinburgh
22nd Nov Trillians, Newcastle
23rd Nov Yardbirds, Grimsby
24th Nov Waterloo, Blackpool
25 Nov The Rigger, Stoke-on-Trent
26th Nov Asylum, Birmingham
27th Nov Patriot, Crumlin
29th Nov Nightrain, Bradford
30th Nov Bullingdon, Oxford
1st Dec Grace, London

2nd Dec Planet Rockstock Festival

Links to Kira Mac :-

Website: www.kiramac.com/
Facebook: www.facebook.com/kiramacmusic/
Twitter: https://twitter.com/kiramacband
Instagram: www.instagram.com/kiramacband/
YouTube: www.youtube.com/channel/UCsS_yLfsiaGlA5ZFRne1DVw