Jono Moulds checks out the debut album from Slyder Smith & The Oblivion Kids, for The Rock & Roll Circus. "Charm Offensive" was released on the 19th August 2022, through Ray Records.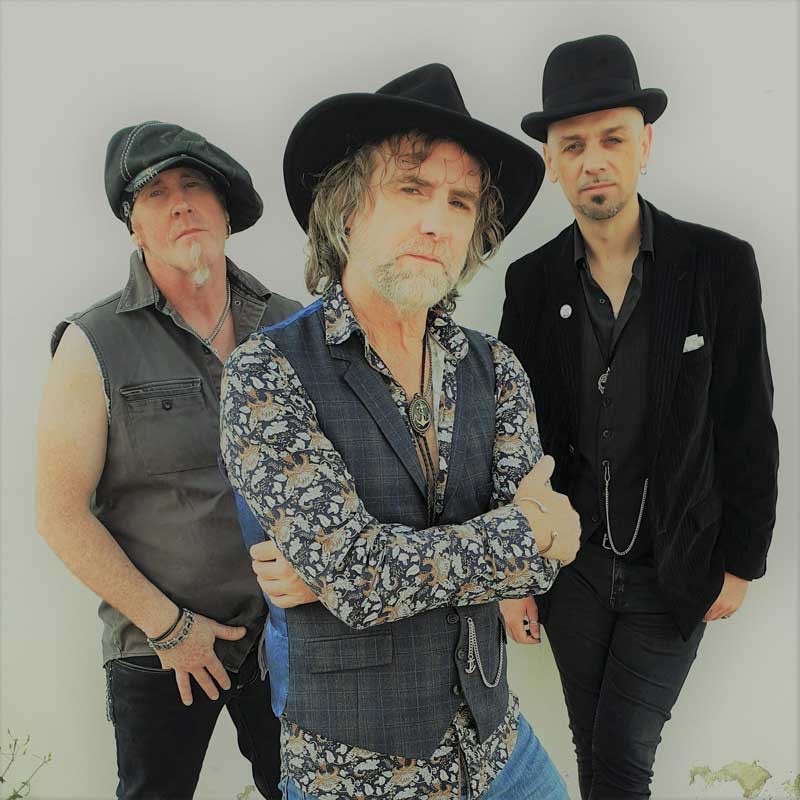 Slyder Smith first swaggered onto the stage as lead guitarist with glam-tinged power popsters, Last Great Dreamers. After releasing four studio albums and one live album on Ray Records, Slyder has toured extensively throughout the UK & Europe with LGD headline shows and special guest slots to The Quireboys, The Wildhearts, Terrorvision, The Darkness, Enuff ZNuff, and more.
Slyder now takes centre stage leading his new power trio, Slyder Smith & The Oblivion Kids (featuring Tim Emery on bass and drummer Rik Pratt) in an honest outpouring of grit, glamour, and emotion.
Stepping out of the shadows and into the spotlight, the self-confessed 'frustrated lead singer' has been forced to delve deep into his own psyche, carefully crafted lyrics and melodies that speak from the heart. Slyder's emotive vocals are powerful, yet melancholic, the perfect balance of light and shade sitting effortlessly within the sonic landscape of his varied rhythm guitar sounds and highly melodic & anthemic lead lines.
The debut album from Slyder Smith & The Oblivion Kids is no ordinary guitar-based rock album. Together with legendary producer Pete Brown (George Harrison, Siouxsie & the Banshees, Marc Almond, The Smiths and Sam Brown), Slyder has allowed the songs to dictate the direction they have gone in, discovering melodies and hook lines along the way. Making use of Hammond organ and piano with the help of Neil Scully (Richard Davies & the Dissidents), a 1950s Phillicord organ, lap steel guitar and even a bit of banjo.
'Charm Offensive' is a chocolate box of sonic sensations offering up a little something for everyone – from heavy riffage with walloping drums akin to AC/DC to the anticipated sleaze rock shades of Hanoi Rocks.
However, this band is not afraid to step away from their rock roots, instead, with nods to the likes of The Doors, Velvet Underground, The Stranglers and The Kinks from the past and the alternative rock sound of Manic Street Preachers, The Oblivion Kids have reimagined an 80s synth pop classic and mastered singalong pop, gothic, dark Americana, and dare we say it, funk rock?!
There are a few firsts for Slyder on here too in the form of an instrumental track with a western feel to a duet featuring the ethereal vocals of Nina Courson (Healthy Junkies). The result is an idiosyncratic 14-track album of outstanding versatility that takes risks but at the very beating heart of this new album is a love of music and a passion for songs.
"This album has been a real labour of love for me, I've really put my heart & soul into it. Over the last year or so I've been working very hard developing my guitar playing, music & lyric writing pulling myself in all sorts of directions, and really stretching myself. I feel I have accomplished what I set out to do, create songs from the heart in no specific genre & perform them to the best of my ability on the record. I guess for years I have been a frustrated lead singer so I have relished the opportunity to showcase what I can do vocally too." – Slyder Smith.
Charm Offensive by Slyder Smith & the Oblivion Kids will be released through Ray Records on 12" black vinyl, digipak CD and digital download on 19th August 2022, and is distributed worldwide via Cargo Records.
Pre-order the album here: cargorecordsdirect.co.uk/products/slyder-smith-and-the-oblivion-kids-charm-offensive
Charm Offensive Review

'El Encantador' (or 'The Charmer') is a very brief opening tune, which is predominantly guitar driven that has more than a hint of 'Spaghetti Western' melody interlaced within its 39 seconds. This leads us straight into the 'Calico Queen' (which apparently is an old western slang term for a prostitute – who knew??) which starts off with a solid snare drum pattern from 'Pratt' that quickly develops as cool guitar licks bring some up-tempo, good 'old Rock 'n Roll' vibes into play. From the off, the song certainly has a feelgood vibe to it, and given the song's title and subject matter, it makes sense. Travelling through the chorus, it's not lost on me that 'Slyder's' vocal takes on an almost 'Anthony Newley/Mick Jagger' feel in places, which just adds to the songs flavour. Given the three-piece set up, the song sounds very full, especially in those spaces between verses, where some well-placed licks and tricks have been strategically placed, with solid layered backing vocals. A bright and energetic start to the album.
'I'm Done' is next up, which starts off with a run of crunch chords that inspires a bluesy WAH infused guitar solo layered atop it. The track kicks off with an interesting, yet extremely effective drumbeat, that pushes the song both in pace and style. I love the vibe on this already. The chorus section moves into more of an expected rhythm structure, but that's not to say there's anything wrong with this, as it has a great melody line running right through its core. The bridge section stays around just long enough to give the song the respite it needs, which leads us into another 'bluesy/neck pick-up' sounding lead break (lovely guitar tone). Note – some great vocal range from 'Slyder' during the latter stages of the bridge – Tidy!! My kind of tune this, with a top rhythm feel and melody throughout.
OK then, 'When the Rain Comes' pours through my speakers, where the band start this one off in unison, as a guitar line is played with immediate effect (a little Manic Street Preachers about the beginning of this – not a bad thing at all). The verse is played out simply (The Ramones anyone??), that being, chugged chords and a very tight drum/bass combination. One thing is for sure, the band certainly build their songs around melody, and that's quite apparent during all areas of the opening songs so far – and long may it continue. The chorus has that 'feel good' factor about it, coupled with a sound/feel that just accentuates what the band have developed. The bridge works well, with a reliance on some nicely placed minor chords, here and there to help it along its way. As the bridge completes itself, there is a clever, commercially driven change in key that heaps more likeability on the tune and where the songs guitar solo is featured. Surely a song that must make their live set and hopefully, some radio air play.
'Crash Landing in Teenage Heaven' is the first significant change in tempo and feel, with a simplified structure, as chords are strummed and allowed to 'ring out' all the while backed up by a steady yet stripped back rhythm arrangement. It certainly has a 'Quireboys' vibe about it. Outside of a short-lived bridge, the tune never deviates away from its main melodic backbone, albeit from the subtle slide guitar that fills in the spaces behind the dissolving guitar. Of note, there is some beautiful support vocal throughout this melancholic song that add to its mood. Just when you think you've got the sound 'pegged' 'I Don't Want to Run' kicks off slowly, aided by the introduction of a banjo – unusual, but why not. As we cover the tracks initial instalments, there is a feeling that it will follow the same musical path as its predecessor, but this is quickly dispelled by the metronomic beat that's laid down by 'Pratt' – which certainly gives the song more of a progressive movement than I'd anticipated. The chorus has definite hook about it which has a clever melody line played, just to re-enforce it. Another tune that you can get to grips with on first play – great job boys.
And so, onto 'Maya' a song that sets its stall out with a few crunch chords before 'Slyder' quickly launches into the first verse by stating 'Maya, would you say we're going nowhere – you said live for today, but I can't go there'. The song has much more of commercial/poppier feel to it than what has come before, in particular as we get to the chorus, which once again, you can't help enjoying with its instant harmonies and sing-a-long ability. There are some great bass lines interwoven by 'Emery' that fit in perfectly. An interesting climax to the song, which is a mixture of almost 'Britpop' guitar lines layered with a guitar solo, that gives the song a great deal more interest and flavour. Another tune that easily deserves some radio airtime.
A good old fashioned guitar riff leads the way as we get to meet the 'Pleasure Victim', that, from the get-go, moves with some serious rock 'n roll purpose. There's no need to re-invent the wheel here, as this tune most certainly has all the required ingredients to get your feet a tapping away. The track is full of some excellent traits, where guitar notes sustain and fill, accompanied by some creative backing vocals that hit, then disperse at the right time. A stomping tune that would be another top addition to the live set. Great song. With the opening lines of 'Take a drive and don't behave - don't go fast, but don't come last', it doesn't take you too long to realise that 'Road Love' is another song (in a long line from a variety of other bands) that dedicates itself to that of the automobile. There are plenty of classic reference points built into the lyrics for you to 'dive under the bonnet' and pick up on the theme. Musically, the song is strong and punchy, which, easily 'mirrors' the tracks 'overriding' journey. The introduction of that 'smoky' organ really binds the tune together and gives it a distinctive 'bluesy' vibe.
Coming in at well over 5 minutes, 'Hope Without Warning' is by far the longest track on the album, of which, the first minute of the song is an instrumental prelude, consisting of series of 'sparkling and jangly' guitar hooks and prominent bass lines. As the first verse arrives, the guitar takes a backseat and is replaced by some layered organ, as 'Smith' opens with - 'On each night I lay awake - beneath the shadows of my mind'. This ballad has a haunting '60's quality about it, as 'Smith' sings in a low and meaningful register that brings out a very emotive feel to the vocal. Along with this, the support vocal once again hits all the right spots and the right time. A beautifully constructed song that has been delivered with sensitivity and elegance.
Now here's a bit of a curve ball, as the band have reworked the 80's pop tune 'Never Ending Story' (I did not see this coming). For those of you who aren't familiar with the back story to this, the song was originally recorded by 'Limahl' (of 80's pop group – Kajagoogoo fame) and featured in the film of the same name. This version stays faithful to the original, especially in the vocal department, but the strong drum and bass combo takes it from 'electro pop' and fills it with a rockier edge. A brave decision to take this on, but the guys have done a grand job with it.
And so back to familiar territory, as 'Oblivion Kids' buzzes in with raw crunch guitar and has a bit of a 'Green Day' feel to its start. A simple riff takes into the first verse, that's full of power chords, that carries the tune forward with snarl and bite. Saying that, within all the rawness on display, there is melody throughout, which gives the song balance between rock and pop. The chorus is straight forward enough (basically, 'I wanna be with the Oblivion Kids' is sung on repeat), but once again, the boys have crafted a chorus section that will have you chanting along without any worries. A fundamentally arranged track, but packs in a load of punches and fun along the way.
'El Encantador' is reprised once again, before we get to the final tune on the album 'No more Mr Bad Guy' which, in essence, takes on the same flavour, but adds a little more 'spicy hot sauce' into the mix, making it sound more like the ending to a 'Spaghetti Western' film than its predecessor (imagine this being played as the end credits roll). Another instrumental that bookends what has been a treat of an album to review.
'Charm Offensive' offers up quite a diverse array of soundscapes throughout the 14 songs listed, including rawness, melody, riffage and variety. There's some classic sounding rock 'n roll around every corner, which have a commerciality built into each one, along with ballads and instrumentals too. They've been bold enough to also throw in a '80's pop song, that they have done justice and then some.
All in all, this has been another one of those times where I've been fortunate to check out a band that ordinarily I wouldn't, and where I've been more than surprised at the musical ride that they've taken me on. Awesome stuff.

Review by Jono Moulds
Check out the video for "Pleasure Victim".

Slyder Smith & The Oblivion Kids are:

Vocals & Guitar - Slyder Smith
Bass - Tim Emery
Drums - Rik Pratt
Connect with Slyder Smith & The Oblivion Kids:
. Official website
. Facebook
. Spotify
. Instagram
. YouTube
. Twitter