A group of Abertillery music fans and musicians have started their own concert promotion team so that they can help encourage a wide range of bands to visit the area. This will be launched at the Dolls House, Abertillery on 17 January.

The Abertillery Live Music Alliance (ALMA) aims to put on a regular series of shows in the area and introduce local audiences to bands from across the various genres which make up the punk and rock scenes.
"Our base is the The Dolls House which is already known across the UK and large parts of Europe and the US, and has an ever growing reputation as a great live music venue. It already brings bands and fans to the area from far afield. We want to help build on that by encouraging even more to include visits to the area as part of their touring schedules by arranging a series of gigs which become a regular feature." said Kristian Johanson (also known as Pud, singer with local hardcore punk band Social Experiment) "Importantly, this is a not-for-profit group and any monies from door receipts etc will be used to support future bookings. We hope that this can include raising enough to bring some of the bigger bands to the area so that fans do not always have to travel to Cardiff or Bristol to see them. It will also expose these bands to the potential audiences in the Valleys".
Cornwalls' Rash Decision will headline the inaugural gig, supported by Monolithian and Meathook. "We're honoured to be returning to the Dolls House to celebrate the launch of ALMA" said vocalist and guitarist Dave Decision "it represents our punk rock family, fun times and an inclusive atmosphere supported by some incredible people who put a lot of time and energy into booking great quality live music. Long live ALMA!"
The first ALMA concert will take place on 17 January at the Dolls House and entry is £5 on the door.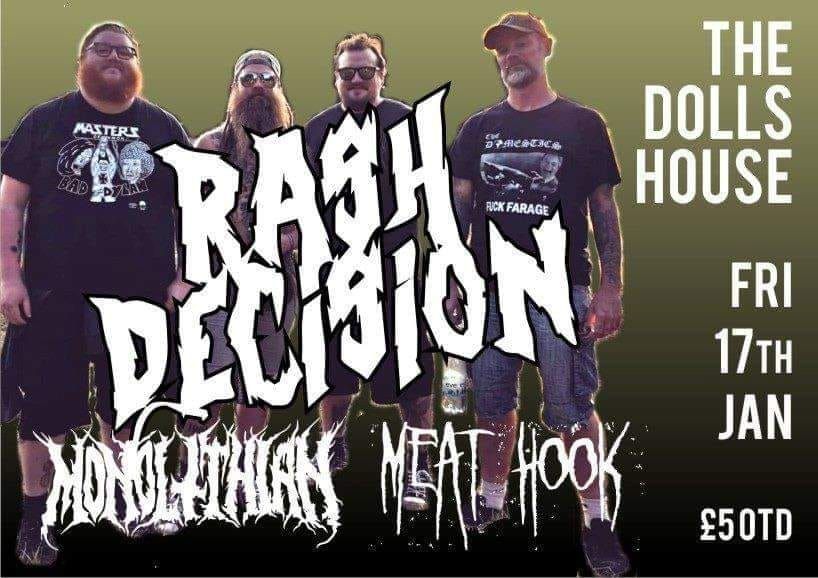 Report by Dave Long for The Rock & Roll Circus.