Our good friends at Upstaged, announce Those Damn Crows as their Sunday Headliner for Call Of The Wild Festival 2023.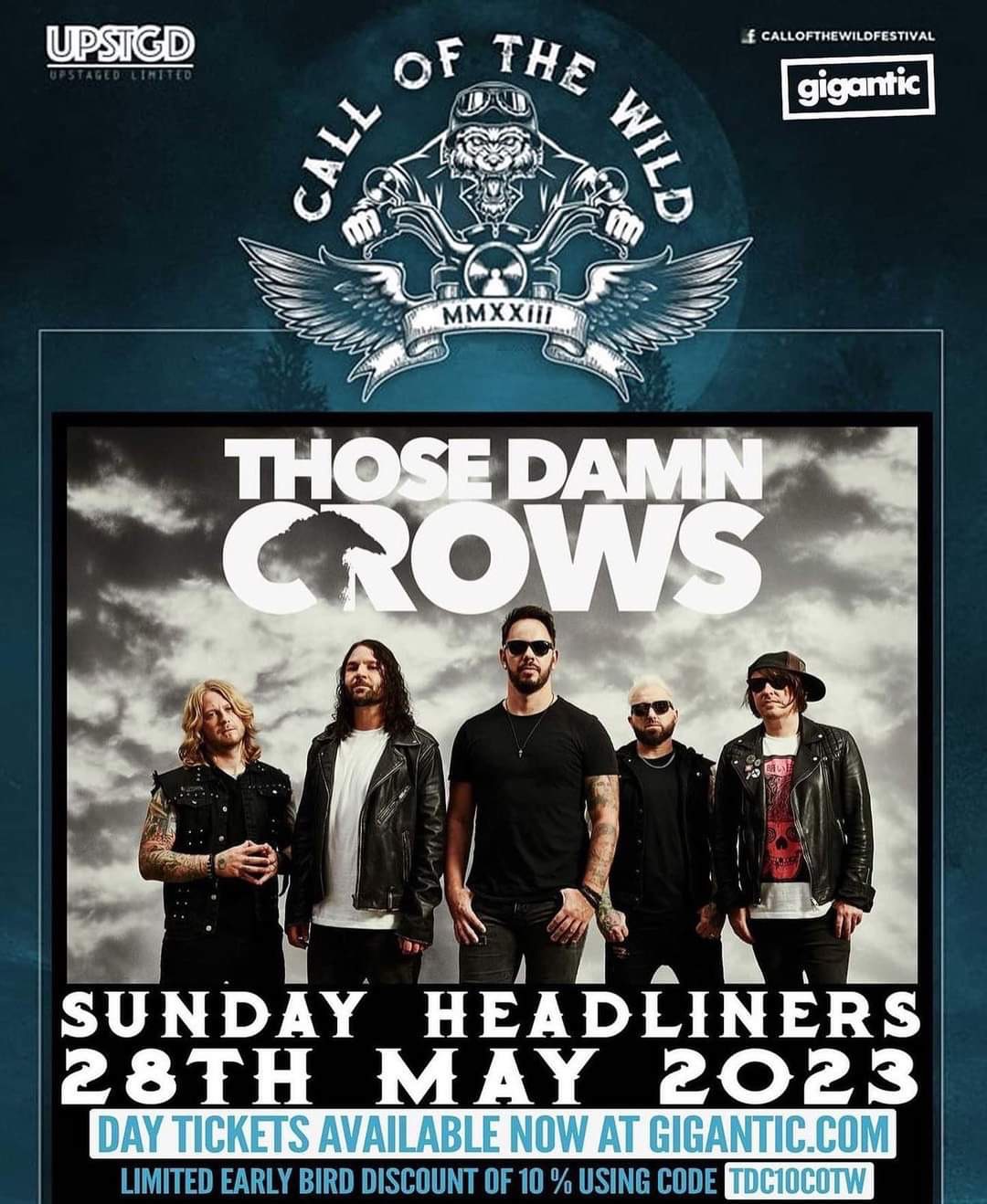 Here's what they had to say!
We are very pleased to announce our first Main Stage headline band.
They have stormed TWO castles, Cardiff & Chepstow (Three if you include Castle Donington!)
They're number one on Planet Rock's playlist!
They've almost sold out their 2023 UK tour!
And they're on track to have a UK number one album with the release of their third album 'Inhale/Exhale' in February 2023.
Oh! ...add to that they are confirmed to headline the Sunday night at Call Of The Wild Festival (shortlisted for 2 UK Festival Awards this year).
We are, quite frankly, absolutely delighted to announce the hottest band in the UK at the moment.
Those Damn Crows !
Since forming in 2014 these Welsh warriors of rock have gone from strength to strength and it's not looking like its going to slow down any time soon. Having played at our inaugural event we were really excited to get them back as worthy headliners and more importantly to bring our 2023 festival to an exploding climax. Here's what Frontman Shane Greenhall has to say about it.....
"It really is an amazing feeling to be asked back to any festival we've played before, but to be heading back as COTW headliners this time around is a really big deal for us. We can't wait to play our brand new songs in a full length 'Crow Show' on the COTW stage, in front of the people who continue to support us and this brilliant and unique festival! The fans!... Rock n roll ain't dead! Let's go COTW!!!! X"
Sunday Day tickets live at 4pm Friday 4th November.
For those who are quick to purchase these tickets, there's a special 10% discount for Those Damn Crows Fans. Simply use code: TDC20COTW *ONLY AVAILABLE FOR A SHORT PERIOD*
Even if you're only at COTW for one night you can still stay in the Luxurious Glamping Bell Tents. Discount also applies to these & they're great to share with friends.
Tickets are on sale now....
https://www.gigantic.com/call-of-the-wild-festival-tickets
Call Of The Wild 2023. Dare To Be Different.