These Wicked Rivers, announce Gorilla Riot as tour support for their March UK Tour.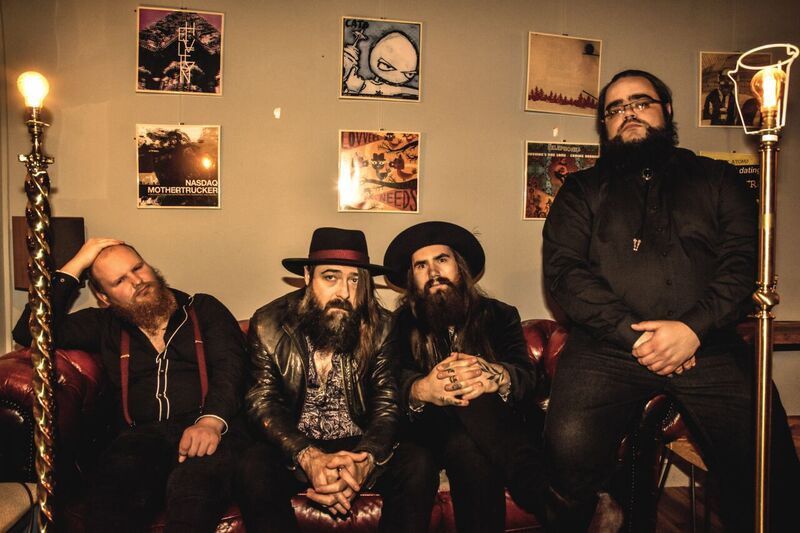 Rising Derby rockers These Wicked Rivers have announced that they will be joined by Manchester-based blues-rock outfit Gorilla Riot as special guests on their upcoming 'Calm Before The Storm' tour in March.
The tour takes in some of Rivers' favourite spots across the UK including Cardiff, Gravesend, Nottingham, Huddersfield, Galashiels and Blackpool. Gorilla Riot will be appearing at all dates except Blackpool, where Blackburn alt-rockers Bastette will be performing instead.
Speaking of the news, These Wicked Rivers' frontman John Hartwell comments:
"We're stoked to be taking the 'Riot boys out with us on this run of dates. When they played with us at our recent Crowdfunder celebration show it was such a wonderful vibe between the bands and the crowd and we just want to repeat that up and down the country to as many people as possible. It's a pleasure to be going on the road with such wonderful dudes, make sure you get involved - get your tickets now to avoid being disappointed!"
Gorilla Riot's bass player 'Deggy' adds:
"The tour brings a perfect package as both bands have a similar sort of vibe but bring a totally different force to the stage. Every city on this tour best watch out as this is going to be shit hot. Great lads, good boys! We cannot wait!"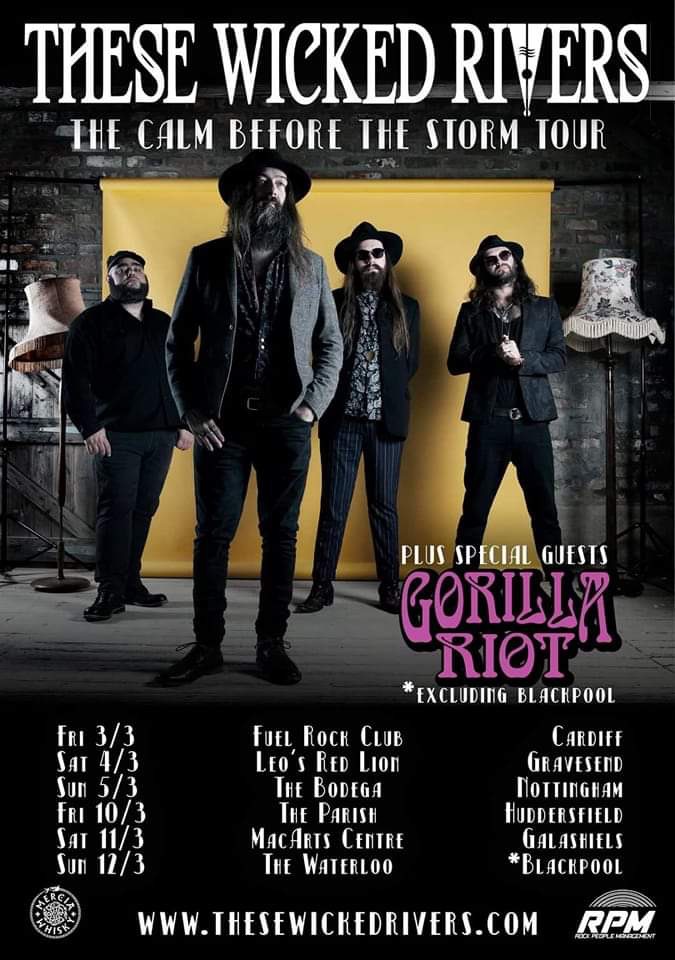 The announcement follows a hugely successful year for These Wicked Rivers, having played standout shows at Steelhouse and Stonedead Festivals, as well winning over new fans night after night during their 23 date Autumn tour supporting Hayseed Dixie. In between touring commitments they have been busy in the studio working on the follow up to their critically acclaimed debut album 'Eden', due for release early 2023.

The band have recently shared a new recording of fan-favourite bluesy-rock anthem'Testify' which will feature on the new record. The original version of the track was recorded for an early EP, but has since been taken to the next level thanks to the addition of harmonica, organ and vocal harmonies along with slicker production.
With new music currently being road-tested at live shows be sure to catch the band at one of the following dates next March:
Friday 3rd March - Fuel Rock Club - Cardiff w/ Gorilla Riot
Saturday 4th March - Leo's Red Lion - Gravesend w/ Gorilla Riot
Sunday 5th March - The Bodega - Nottingham w/ Gorilla Riot
Friday 10th March - The Parish - Huddersfield w/ Gorilla Riot
Saturday 11th March - MacArts Centre - Galashiels w/ Gorilla Riot
Sunday 12th March - The Waterloo - Blackpool w/ Bastette
The band will also be playing their final show of 2022 this Saturday 17th Decemberat the RPM Rock n Roll Christmas Party at The Alhambra in Morecambealongside Massive Wagons (acoustic), Laurence Jones, The Hot Damn! andBastette.
Tickets to all shows available via www.thesewickedrivers.com/shows
THESE WICKED RIVERS ONLINE:
Facebook | Instagram | Twitter | TikTok
Watch the video for 'Testify' (Full 2022 version) here: