Eulogy Announce Dark New EP, Plus Supporting Tour Dates.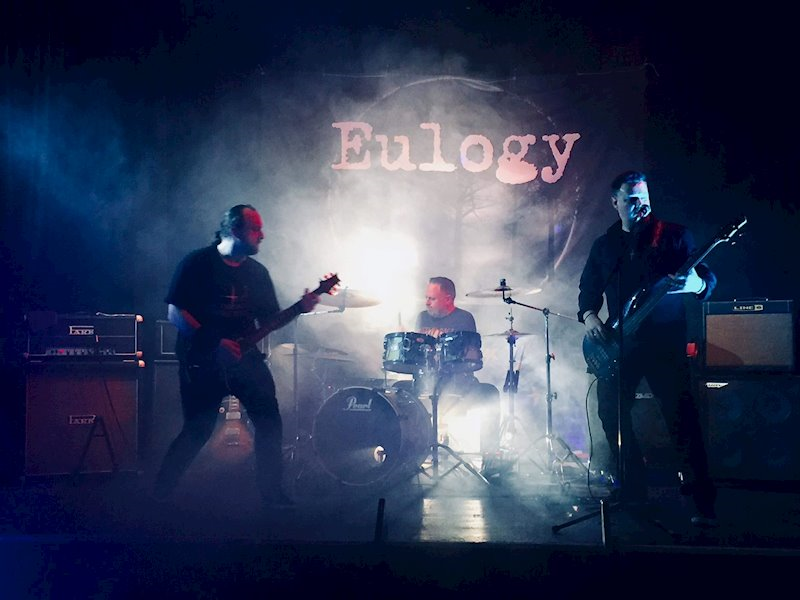 Eulogy are a hard rock band from Cardiff,UK, formed in early 2017; performing original music with a dark, lyrical twist. The band released EP 'Back To Life' in late 2017 - listened to more than 200,000 times worldwide on Spotify alone,it showcases the multitude of influences and musical variations inspiring the members of the group. Fast forwarding to the end of 2019 (after a highly successful 2018 performing to audiences across Wales and beyond); the band released their single Blood Red Skies - shortly after, signing to One Eyed Toad Records to release their hotly - anticipated second EP 'Memento Mori' on February 21st.

Eulogy is :
Neil Thomas - Vocals/Bass
Mike Williams - Guitars
Darran Goodwin - Drums

'Remember (That You Have) To Die'. This is the meaning of the phrase Memento Mori - the title of the latest EP from Welsh hard rockers Eulogy.

The follow up to 2017's wildly popular Back To Life, Memento Mori features more dynamic writing than ever - "We wanted to create something heavier and darker while maintaining our melodic sound," states lead singer/bassist Neil Thomas.

Lead single 'Blood Red Skies' has accrued over 15800 plays on Spotify alone since its release in November 2019, and has been played on a number of rock radio stations globally with great reviews across the board.

The four tracks were written and refined over a period of 5 months before being recorded, mixed and mastered at Coda Recording Studios by Neil Garland.

Track Listing :
1. Cross To Bare
2. You'll Die Alone
3. Corvid
4. Blood Red Skies

Eulogy are set to hit the road in support of Memento Mori throughout 2020, performing alongside The 501s (featuring Darran Smith of Funeral For A Friend), among others.

Eulogy Memento Mori Tour

29th February - Call Of The Wild Festival Trailblazer Heat - The Dolls House - Abertillery
14th March - Fuel - Cardiff
20th March - McCanns - Newport
3rd April - Hanger 18 - Swansea
4th April - The Firehouse - Southampton
25th April - The Woolpack - Doncaster
2nd May - Scruffy Murphy's - Birmingham
8th May - Portland Arms - Cambridge
15th May - Fuel - Cardiff
5th June - Rough Trade - Nottingham
1st August - The Drunken Monkey - Worcestershire
25th September - McCanns - Newport
16th October - Rigger - Newcastle under Lyme
7th November - Ilfracome Rocks - Ilfracombe
18th December - Rhondda Hotel - Porth

Memento Mori is available on all digital platforms from 21st February 2020, via One Eyed Toad Records.
Check out the video for Blood Red Skies :-

Catch Eulogy at The Call Of The Wild Festival Trailblazer Heat at The Dolls House on the 29th February 2020.