Following the sad news that Brother Pain and Princess Luxury are to depart the band. EVIL SCARECROW Announce line up 5.0, Plus UK tour in October/November 2020.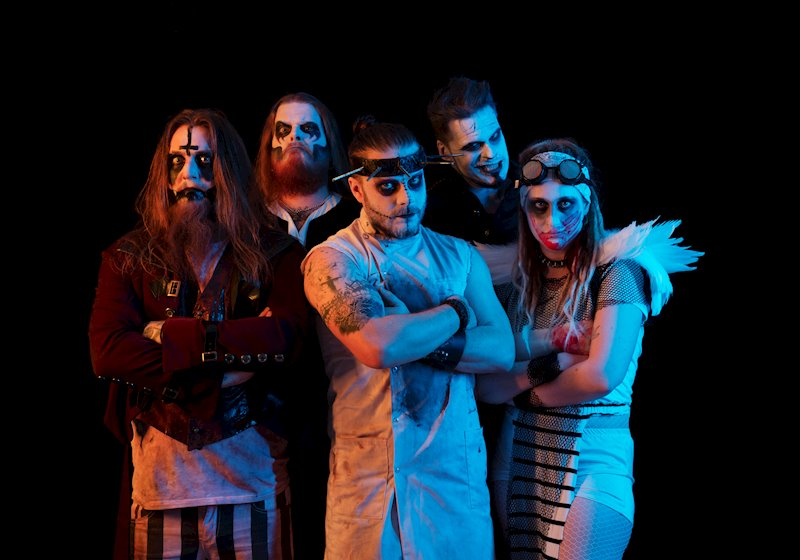 We are delighted to unveil the new Evil Scarecrow line up following the sad news that Brother Pain and Princess Luxury are to depart the band. Joining existing members Dr. Rabid Hell (vocals and guitars), Kraven Morrdeth (bass) and Ringmaster Monty Blitzfist (drums) will be Count Gravedïga (guitars) and Alice Babylon (keys). Version 5.0 of Evil Scarecrow will be hitting the road in October/November 2020 with dates the length and breadth of England culminating in a huge hometown show at Nottingham Rock City.
Count Gravedïga:-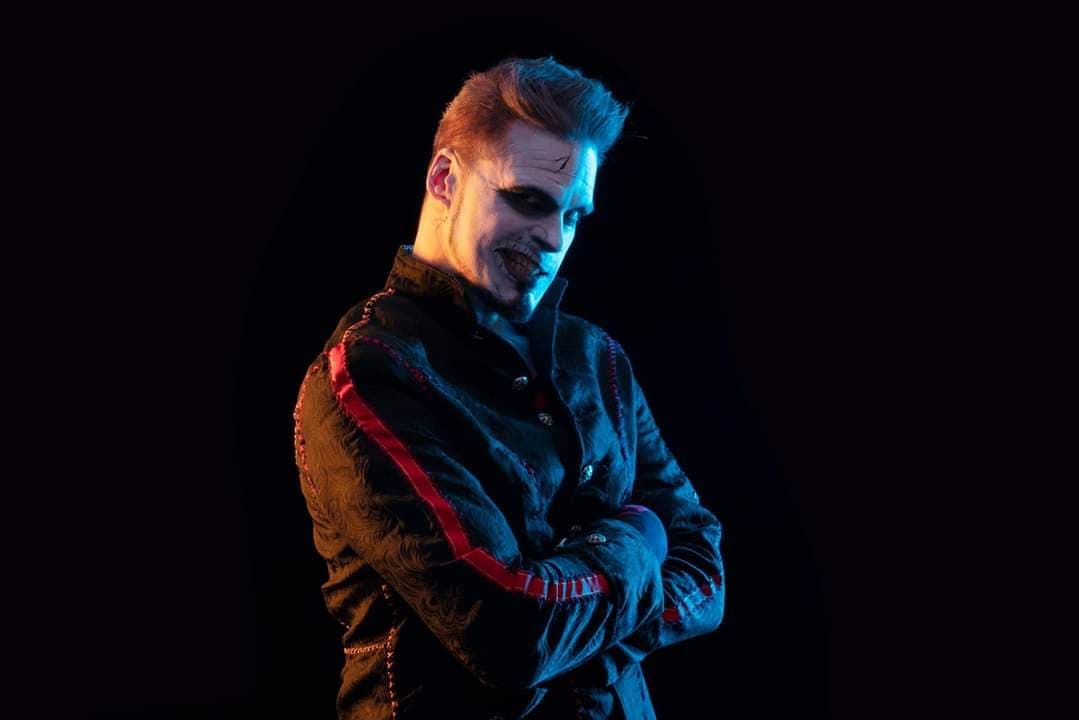 Is it a man, or a beast, that stalks the night? What wanton depravities fill those moonlit hours? What unnatural rituals, what terrible appetites? He walks through the graveyard, they say, shovel in hand - but is he there to put the dead to rest, or to awake them to feed on mortal flesh? He lingers in the shadows, just out of sight, and no-one living has seen his face or the horrors that glint in his monstrous eyes. We know only his name, and to utter it is to summon all the untold terrors of the night. Call at your peril, for he is Count Gravedïga.

Some of you will already have caught a glimpse of our new guitarist as he cameoed on a couple of songs with us during the "Evil Scarecrow ... In Space!" tour in February 2020. We had no idea at that time that we would be looking for a new guitarist so soon, but when the opportunity arose it made absolute sense to offer him the job. He's been a member of the Scarecrew for a long time so it's about time he got his fair share of the limelight! Welcome to the front of house Count Gravedïga!

Check out his Facebook Page here: Count Gravedïga

Alice Babylon :-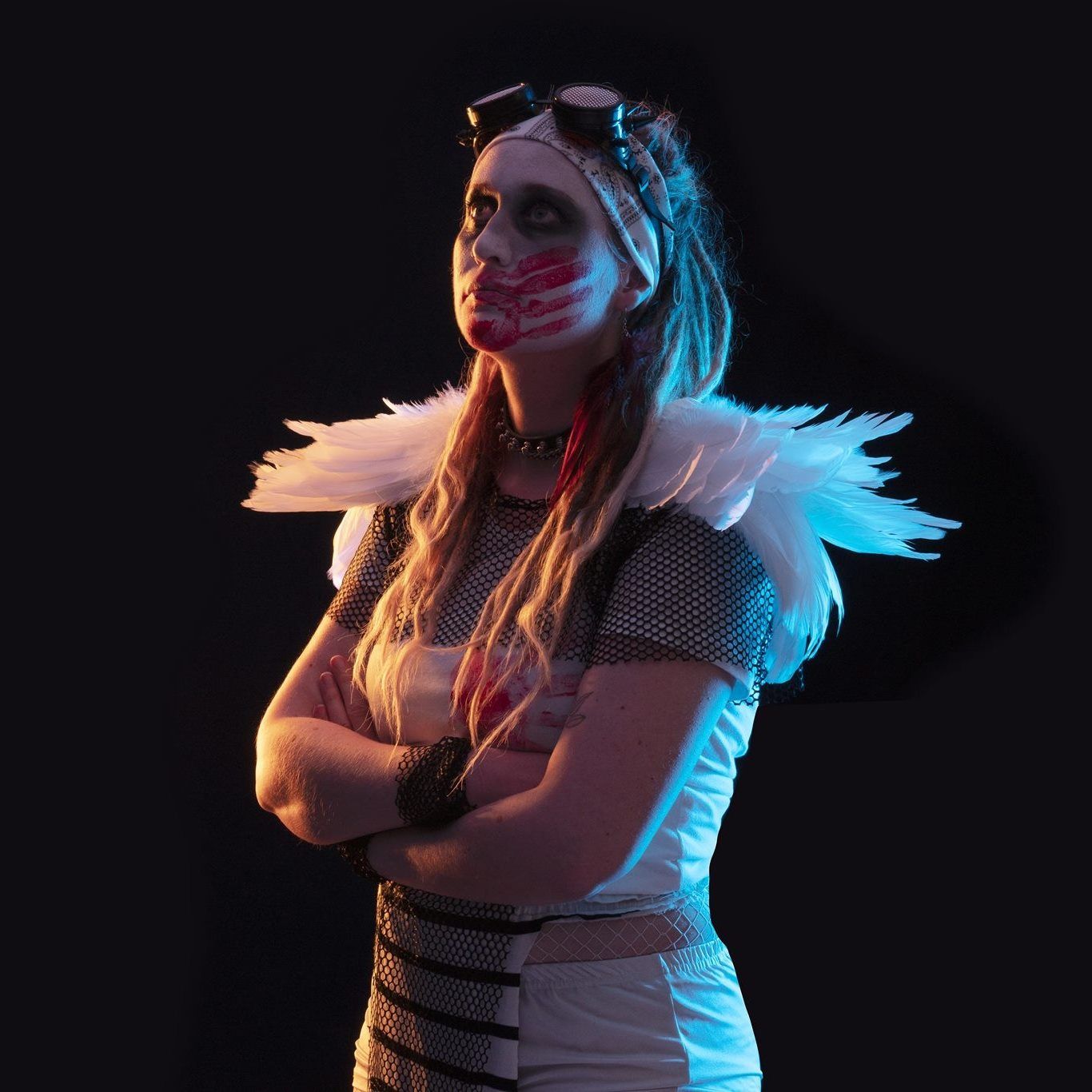 Found wandering in the wastelands of the year 3087AD, Alice Babylon is a child of the apocalypse, a ghost, a survivor. The wasteland was the only home she knew until one surprising morning when a monk clad in a black cowl stepped out of a swirling portal and pulled her back in time to the year 2020. What wonders! What delights for the senses! She found it hard to believe that this world full of life would one day become the desert of the future. She and her new-found friends must ensure that something of this world will survive the coming disaster, and that something will be… METAL.

You'll have to have been paying close attention to have spotted Alice's face on stage with us before, but she has been there. Another long standing member of the Scarecrew emerging from the shadows to claim her place on the stage. We're very excited to welcome Alice Babylon!

Check out her Page here: Alice Babylon

2020 Tour Dates:
The band will tour through October/November 2020 with support from Witch Tripper.
Tickets go on sale on Friday 1st May.
Wednesday 28th October - 02 Academy, Oxford
Thursday 29th October - The Sugarmill, Stoke
Friday 30th October - The Tivoli, Buckley
Saturday 31st October - Academy 3, Manchester*
Sunday 1st November - The Crescent, York
Monday 2nd November - The Cluny, Newcastle
Tuesday 3rd November - O2 Academy 2, Sheffield
Saturday 7th November - The Craufurd Arms, Milton Keynes
Sunday 8th November - The Junction, Plymouth
Monday 9th November - Thekla, Bristol
Tuesday 10th November - The Old Fire Station, Bournemouth
Wednesday 11th November - The Forum, Tunbridge Wells
Thursday 12th November - The Waterfront, Norwich
Friday 13th November - The Garage, London
Saturday 14th November - Rock City, Nottingham
*Witch Tripper not performing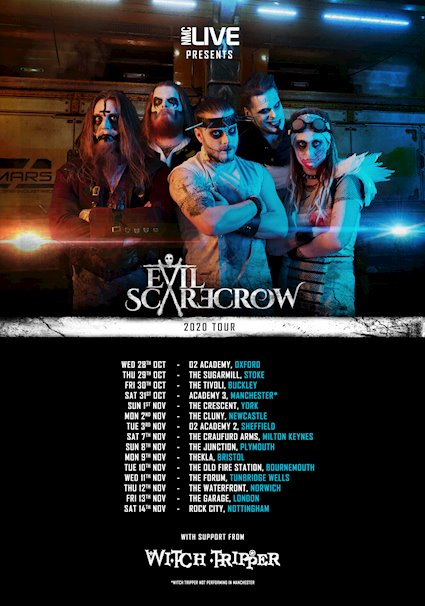 Evil Scarecrow Links:
Facebook
Twitter
Instagram

Witch Tripper Links:
Facebook
Twitter
Instagram