Jono Moulds checks out the new album from The Big Deal for The Rock & Roll Circus. Their debut album, "First Bite" was released on May 13, 2022. Via Frontiers Music Srl.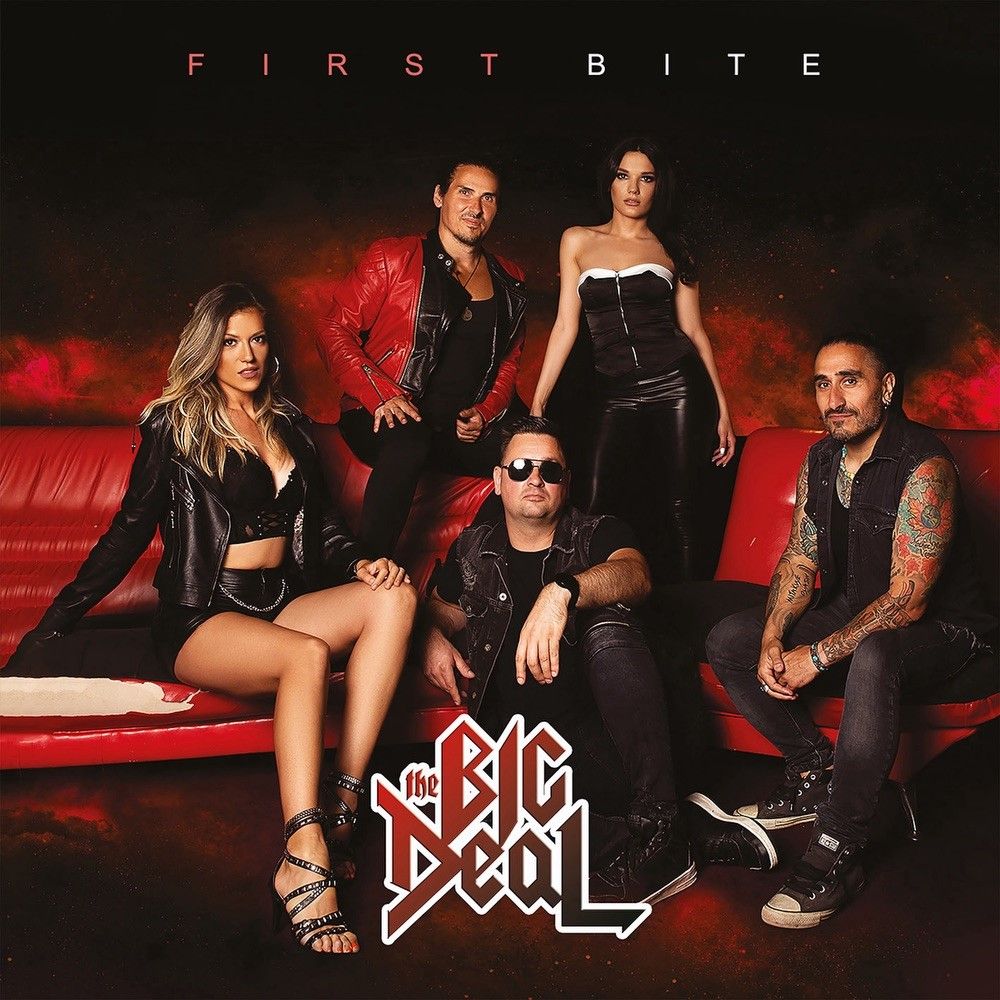 The Big Deal, featuring two outstanding vocalists, Ana Nikolic and Nevena Brankovic (who is also a highly skilled keyboard/piano player), offers up a catchy, driving sound that will appeal to both melodic rock and hard rock fans. "First Bite" is an absolute tour de force showcasing the outstanding talents of the individual members over the course of 11 tracks of infectious, hooky, memorable songs.
The Big Deal first came together when guitarist, composer, and producer Srdjan Brankovic and his wife Nevena Brankovic, who is an academic pianist and singer, met singer Ana Nikolic. Ana had spent the past few years fronting local bands, but after meeting Srdjan and Nevena, they started collaborating in the studio together. While working on some new ideas, Srdjan thought it would be interesting to include Ana's vocals in addition to Nevena's in the recordings they were working on. After a couple of songs were finished, they were overjoyed with the results and thus some of The Big Deal's first demos were born. These would eventually morph into the music that was presented to Frontiers and ultimately got them signed. To round out the line-up, the band brought in drummer Marko Milojevic and later, Alessandro Del Vecchio (Hardline, Revolution Saints) on bass (who was instrumental in introducing the band to the label).
Both Srdjan and Marko are members of the most successful Serbian progressive metal band, Alogia. Throughout his career, Srdjan has played on many festivals and tours, recorded, and collaborated on countless studio and live albums, and opened for some well-known bands such as Whitesnake, Ian Paice, Apocalyptica, Savatage, and more. He was also a member of Michael Matijevic's live band in Bulgaria. On his "Expedition Delta" and "Alogia" albums, he collaborated with names such as Tim 'Ripper' Owens, Mark Boals, Erik Norlander, Gary Wehrkamp, Fabio Lione, and Hansi Kursch, among others.
Brankovic states, "I am happy to say that we signed a deal with the premier rock and metal label Frontiers and I am very excited that my priority in the forthcoming years will be cooperation with them. I seem to have found my music a home in the best place in the music universe, since I believe that Frontiers is a label with the best ideas and fantastic projects and releases, which have made the rock scene look far more beautiful and powerful. We started the collaboration with a newly formed band, created in a combination of ideas with Frontiers. Next to me on guitar, a very exciting line-up will feature piano-virtuoso-lady who sings at the same time, Nevena, who I would characterize as an original appearance on the rock scene. Beside Nevena, another rock lady is involved, as a singer. Her name is Ana and she is a R'N'R lover, with a very authentic and beautiful voice. Marko, a friend from my parent-band, will oversee the drums, and Alessandro Del Vecchio will oversee the bass lines. We're absolutely thrilled about this. Cheers and stay tuned!"
'Never Say Never', hits hard and fast with its strong and impactful opening. There is no intricate and understated build up to this song, as it's 'all in' from the off, as drums pummel away and guitars go to '10' with the level of gain used, crunching out that main riff. As the first line comes in, there is just enough space for the vocal and keys to introduce themselves, but this is very brief, as we 'steam' ahead into the pre-chorus, as it's 'all hands-on deck' in readiness for the chorus, which as promised, certainly has a melodic and catchy rock edge to it. Vocally, the band are spoiled for choice with two outstanding female vocalists in 'Brankovic' and 'Nikolic', both in terms of the power of their voices, but the marriage of the harmonies that they can produce. Within bite size pieces, guitarist 'Brankovic' has already demonstrated his technical ability, which is further enhanced during the tunes solo. The tune is all wrapped up with a fleeting piano run to finish things off.
An orchestral sounding synth momentarily starts things off in 'I Need You Here Tonight', but this situation soon changes, as the tune 'cranks' into life, in a similar vein to the opener, where the band come in, 'En masse'. This is no-nonsense, up-tempo rocker, of that, there is little doubt. I particularly like the punctuated pre-chorus and the change of arrangement/groove, which gives the song something a little different and is a great lead into the chorus itself. Speaking of which, lets discuss that very thing. Once again, the chorus entraps you on the first listen, especially the lovely guitar line that almost echoes the vocal melody itself. The guitar solo has further melodic lines, that are a combination of subtlety and some serious speed, and there's a synth solo that comes directly after its guitar counterpart, which also isn't short of some hot playing keys.
With the synth pulsating, then, opting for a statically charged chord pattern, it welcomes us into 'Sensational'. From this point, both the guitar and synth 'play around' with the hook, until a small piano 'surge' brings us to verse 1. Straight away, my thoughts are this has 'radio play' written all over it, with its undoubtedly captivating vocal melodies and chord progressions. Another silky-smooth pre-chorus has me licking my lips for what's to come within the chorus itself, and I'm not disappointed. This is by far the most commercially viable song on the album, thus far, with a chorus that is a mixture of pop/rock thrown in for good measure, with that keyboard sound adding the pop and the guitar 'chuggage' bringing the rock to the party. The solo that accompanies the track has a similar structure to what we saw in the previous, that is, there's a very 'inventive' guitar section, followed closely by a synth – very nice. More pop/rock to finish things off with a lone piano and vocal having their moment, before one last chorus to round things off. Excellent stuff.
'Top Heaven' comes at you with some pace, as guitars scream with some whammy bar madness!!! What a start!!! From here, there is an up-tempo, familiar sounding guitar chord sequence, that certainly doesn't want to hang about. The 'girls' are on top form here, with some piercing vocal and super harmonies, making this another very alluring start. Where the last songs balance was leaning more toward that pop/rock sound, this certainly leaves you no doubt that you are about to rock out. The chorus is much more, fist pumping, chant along rather than the subtlety and melody we have found with first three tracks – and I like that it's been mixed up. This will be a great crowd pleaser, when surely, they play it live. And yet again, we have a very sweet and classical sounding keyboard solo, before the guitar makes a very brief appearance and carries on the pattern of both keyboard/synth solo parts, with the guitar having small solo sections within the tune. The song concludes with another round of choruses (and why not).
This track takes off with immediate effect, as 'Wake the Fire' has an instantaneous charm, with its infectious guitar lick, that has a Bon Jovi feel to it. From there on in, the song once again rides between pop and rock, as the verses are built around clean guitar and layered keyboards. The added advantage that 'The Big Deal' have is that the girls (vocally that is) have the dexterity to ease between both genres. This is a considerable advantage, and they obviously write their songs around this fact, having singers who can 'dip' into both camps with a softer, AOR, pop style and then ramp it up and to bring on the rock!! This song encapsulates this superbly well, not only with that balance, but also with some clever phrases throughout, especially within the chorus, which is another insatiable listen. There is some lovely piano and keyboard along the way, which sets up the guitar piece nicely. Great commercial sounding track – keep them coming please!!!
Quite the juxtaposition, as we move 'In the Dead of the Night' as a piano and vocal start things moving, only to be interspersed by the jagged crash of drums and guitar – an unusual, but welcome beginning. With an almighty drum roll configuration by 'Milojevic' this song is coming at you with an intense speed, as guitars and keyboard once again, work brilliantly in tandem, keeping this locked in nicely. The band have already shown that they are more than capable of crafting and arranging some mouth-watering chorus sections, and this is no different, as it will 'cast' you under it spell on the first spin and is another prime example of that AOR/Rock fusion that they have bracketed themselves into. There is a lovely change of tact less than a minute in, as the intensity of the song drops, as it makes way for a far more chilled/softer segment, where the second verse starts off as we did at its opening, but this time, obviously with a vocal to boot. Another classical based synth solo is added as a musical bridge. I like the way that the band have no fear in bringing the synth into the spotlight in nearly every song so far, and as with the those that have come before, the guitar then 'swoops' in and plays an exceptional piece. Great all round tune this.

Another huge commercially sounding start to 'Rebel Lady', as we once again arrive at the gates of AOR, where we find some 'Heart' influence hitting you straight in the face, almost as if the tune could easily have been pulled from their 'Bad Animals' opus. A solid and progressive tempo, full of 'glassy' sounding keyboard runs and effective supporting guitar, hit the mark as they both lay down the foundations to this immediately catchy, radio rock friendly hook. Once more, the 'ladies' provide some excellent vocal, as we sweep with ease through the first verse and into the pre-chorus, both having great melody lines 'stashed' within. The chorus does not disappoint one iota, with its big hitting tunefulness that ascends what has come before it. Another batch of verse/pre-chorus and then chorus, brings one mighty, high-pitched scream, as that same vocal note is sustained into the guitar/synth solo (yes, once more my friends, we have that clever combination/mix to look forward too). And to finish things off, we have the obligatory rising 'key change' that so many AOR tracks bring to the table. Another smartly written track, and an obvious single choice for me.
OK then, if the opening guitar outbreak is anything to go by, then we have moved the AOR and are heading bang smack in the middle of some serious ROCK!!! with 'Power On'. This is further enhanced by one serious lung busting scream from 'Nikolic', as the track moves with a fervent intent. Indeed, all the initial promise is realised as we race through verse one, as at first, there is a broken section (just vocal here folks), but it was never going to be the case, as the band crank back into life and its down the 'ROCKY' road we move!! A change at the pre-chorus stage, but without losing any momentum whatsoever, as this neatly sets up the chorus, which again, has crowd participation written all over it, with its anthemic feel, yet another beast of a vocal is unleashed as the bridge between chorus and the verse. In fact, if you thought the vocal was strong within the previous sections of the tune, the outburst that brings in the solo goes up another notch or two WOW!!!!!! As for the solo, you've guessed it, there is yet another immense collaboration between guitar and (I think Hammond organ this time) which, just here and there, has some serious inflections to that of Deep Purple's legends - Blackmore and Lord, especially that organ run which reminded me of 'Highway Star' in patches. Great to see the band have this within their locker. Great rock tune this.
A surging guitar chord progression, quickly followed by a harmonised lead line over the top of it takes us into 'Bad Times, Good Times'. However, this 'brisk' initial burst is halted by the introductory verse, which is 'taken down a peg', where a kick drum (plus associated percussive touches), bass and a clean guitar combination come into play, if only for the initial verse section, as before you know it, the re-introduction of that surging guitar and a thunderous drum roll (as a pre-cursor to the pre-chorus) gestures the shift change that was undoubtedly going to occur. As with most of the tracks on this album, pre-chorus sets-up the chorus to a tee, which is as forceful as it is likeable, with another strong hook that sucks you in. As we move away from the second chorus, there is a surprise when we get to the bridge, which features some very chilled and laid-back piano runs, supported by some super cool bass lines from 'Del Vecchio'. After this, well, we get another highly accomplished technical guitar solo from 'Brankovic', that 'buzzes' as fast as a swarm of bees that have espied a jar of honey with its lid left off. From here, there is another chorus, before we cross the finish line. A solid track indeed.
The penultimate song, and another strong guitar riff to get the ball rolling on 'Fallen'. The opening riff quickly transcending into a sequence of lightly palm muted chords as we head into verse one. This is another great example of 'upbeat' AOR, but with the guitar bringing a definite edge to proceedings, as we literally 'bounce' from verse through to a sweet, harmonious chorus, which (and I'm not fed up saying this) has the perfect fusion of Pop and Rock. The pattern of verse into chorus goes 'around the houses' one more time before we 'fall' at the feet of the tracks solo piece, which is a keyboard into guitar affair (sound familiar??). This song is unadulterated, pure, 100%, commercial AOR and don't the band pull it off it some style.
And so, to the final track of the album, that being 'Lady of the Night', which has another strong and driving start, as a heavily distorted guitar leads the way with the opening chord, with the odd scattering of keyboard 'flitting' in and out as we head to the opening barrage. As the vocal kicks in, the tune 'eases' a little, as the initial drive simmers down, as the drums hit a simplified beat made up from the kick and side drum, but this is a temporary situation, as the first pre-chorus picks up more of a 'head of steam', which has some great touches on the guitar, to be quickly followed by (I think?) a second, albeit, 'transitory' pre-chorus which has some staggered snare drum rolls leading us into the chorus itself. As for the chorus, well, …………………it's great (is that too simplistic for a review?? Apologies, but sometimes less is more) and has all the hallmarks of so many of the songs on the album, full of hooks and easy to fall in, singalong moments – can't be faulted. More surprises await though, as the guitar piece has been played on a Spanish Acoustic guitar, which seamlessly leads into…………. that's right, a keyboard solo – obviously! This is simply a superb track and what a great way to finish off what has been an absolute treat to listen to.
I'll tell you something, you simply never know what you are going to unwrap when you embark on a review. I have been so, so fortunate with many new releases (of which I have been asked to listen to/write about) that surpass my expectations, and this album most certainly falls into that category…….. and then some.
It goes without saying, that the quality and technical level of the band is of an incredibly high standard, and they have been equally blessed to have two fantastic vocalists on board, that bring a huge range of abilities that fit in with the type of music that they base their songs around.
And on that note, what about the songs? Even if you are lucky enough to have all the attributes and skills that are detailed above, without the songs, you're only halfway to where you want to go. On the evidence of this album, they've got the full package to propel themselves into a top AOR outfit, with more than enough of a commercial edge to garner some hit singles along the way too. Great listen, great album.
Review by Jono Moulds
Buy or stream album here :- https://orcd.co/firstbite

LINE-UP:
Srdjan Brankovic – guitars
Nevena Brankovic – vocals and keyboards
Ana Nikolic – vocals
Marko Milojevic – drums
Alessandro Del Vecchio - bass

Social Media:
www.facebook.com/TheBandBigDeal
www.instagram.com/bandbigdeal
Check out the video for "Never Say Never" from the album "First Bite".