Jono moulds checks out the new album from Lazarus Dream for The Rock & Roll Circus. "Lifeline" is due for release on June 17th, 2022, from Pride & Joy Music.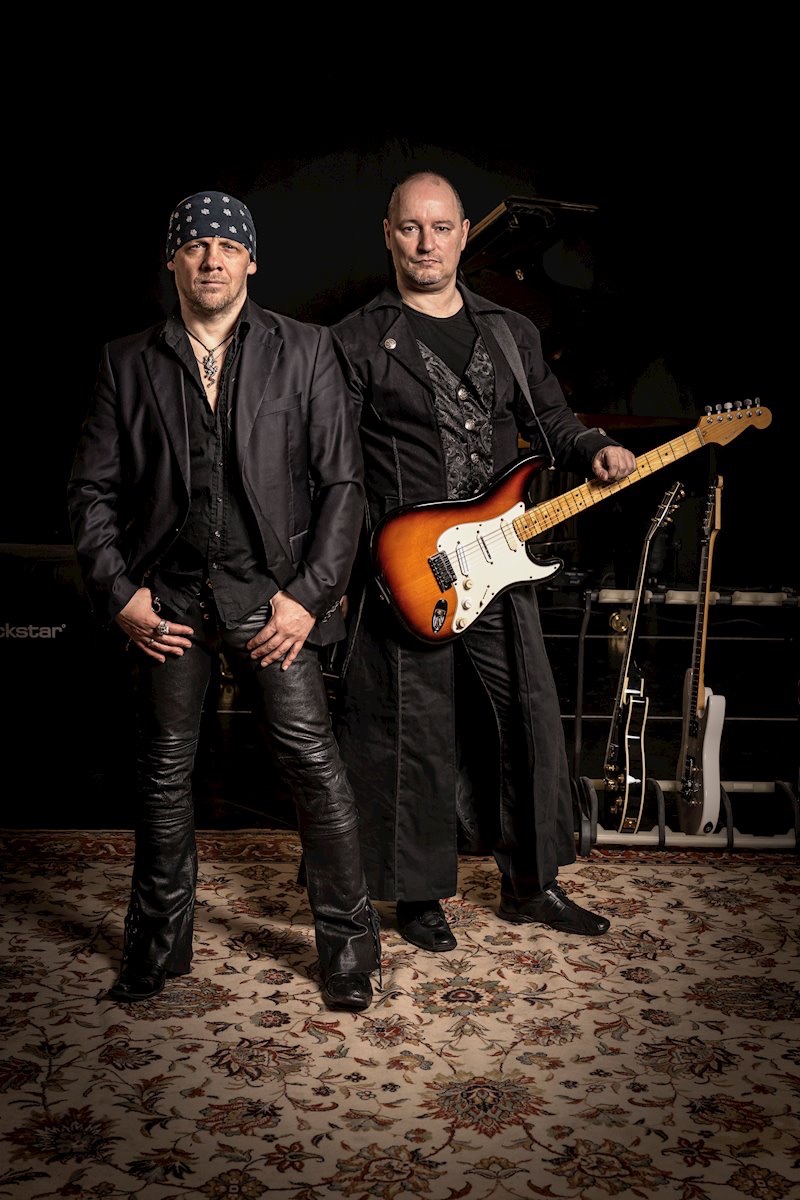 LAZARUS DREAM, the German Melodic Hard Rock duo consisting of singer Carsten "Lizard" Schulz (Domain, Evidence One, Devoid) and guitarist Markus Pfeffer (Barnabas Sky, Winterland) returns with the sophomore release "Lifeline". Just like its predecessor, this release is a feast for any fan of the genre and of groovy riffs, bombastic choirs, and catchy melodies!
The release opens with the six minute long epic "Dead End Symphony" which features none other than Derek Sherinian (Dream Theater, Black Country Communion, Sons of Apollo, Billy Idol) on hammond, Moog & synths. Throughout the album, the influences from groups such as Dokken, Winger, Tyketto, Queensryche become obvious. In addition to this, LAZARUS DREAM also stands for pounding bass lines and modern synths. Carsten Schulz contributes to the sound with his unique, distinctive voice and bombastic choir arrangements.
The other guest musicians on the album are Markus Kullmann (Sinner, Glenn Hughes, Voodoo Circle) as well as the percussionists Andy Lübbert and Thomas Rieder. Jorris Guilbaud (Devoid/ Heart Line, keys) is heard on synths on the track "Overdose of Paradise". Keyboard player Thomas Nitschke appears on the songs "Freedoom" and "Your Voice Inside My Head".
The CD version of "Lifeline" includes the track "Surrounded by Strangers" and a cover of the 80's classic tune "I Engineer" (originally recorded by Animotion) as bonus material; the digital version includes the bonus track "Once Upon a Time".
Stan W. Decker (RAGE, BLUE ÖYSTER CULT, MASTERPLAN) contributed the artwork for "Lifeline" and Rolf Munkes (CREMATORY, Empire Studios) took care of the mastering.
The sound of bombs exploding make way for the 'scratch' of a plectrum running down the 'E' string of the guitar as we open this album up with 'Dead End Symphony'. From the off, there is a great balance between a solid and hard-edged sound that also has some great melody coming through, especially with the guitar, keyboard and vocal. 'Schulz' is certainly a vocalist to be reckoned with, as within the first track he demonstrates a voice that packs a punch. The song itself 'rattles' along, made even more intense by a great rhythm section. 'Pfeffer' unleashes a smartly arranged guitar piece filled with speed, but also leans on the songs hook to provide a connection within it. Top song, top start.
'Don't Look Down' begins with a heavy thumping bass and some bright and accomplished guitar playing, as a drum fill takes us into the centre of the tunes riff and hook. This starts off all dark and broody, as the bass still grounds everything into place. Underneath the bright and gain guitar lies a 'funkiness' that is refreshing to hear and both 'melds' beautifully. The chorus yet again is powerful, but with some great support vocal added, there is another nice blend to this that gives it a tuneful edge. The guitar solo is played over a change to the structure, but we soon arrive back to where we started. Love this song, with its fusion of rock and a touch of funk in the background. Brilliant.
The lightest of touches on the hi-hat as we introduce 'Mind Like a Windmill'. From the off, 'Schulz' announces that his head is actually 'spinning around his mind like a windmill' as an almost 'Sambora' riff arrives and hopefully relieves him of this. Actually, the initial passages of the song certainly have a 'leaning' toward that 'Bon Jovi' vibe, even to the point where some of the vocal phrasing could be construed for JBJ, but its only here and there and sounds ace! The chorus itself is basically the same as the song's introduction, which is as catchy as it is repetitive and has a commercial angle that you'll fall into with ease. The solo sounds like a combination of guitar and synth, which is slightly unusual, but works a treat. I'd also point out that 'Schulz' puts a great vocal shift into this, strong and with boundless energy. That's three songs that have hit the mark. OK, onto the next one.
A synth lays down the start of 'Freedoom' (yes, that's not a spelling mistake, it's called 'Free-Doom') before we get a double whammy of guitar, that being, a light, almost 'Celtic' run, and then full on riffage!!! As we get to the first verse, the song takes shape, and has a 'rumbling-trudge' in its make-up. Either 'Schulz' has a chameleonic ability, but in this song, I'm getting 'Graham Bonnet – Rainbow (for a brief spell)' tones within his phrasing, especially in the chorus – some skill to possess and to be able to call on. As we move through the song, there are several sections that have some seriously top-level technical touches, both from guitarist 'Pfeffer' and keyboard. Yet another excellent song.
Speaking of 'Graham Bonnet', 'Overdose of Paradise' kicks in with a bass slide and an intro that could have been off the 'Rainbow – Down to Earth' album (hints of 'Lost in Hollywood here – superb). This is helped in no small way to the great Hammond organ that is prominent throughout the song. The track itself has a great pace and tempo to it, as that constant guitar hook drives the song forward without any let up, straight out of the verse sections and into a well-arranged chorus. An ever-decreasing Hammond organ run makes way for the tune's guitar solo, which again has 'Blackmore' overtones sitting in various places within it. Possibly my favourite tune so far, and there hasn't been a bad one yet.
After a short, electronic/percussive opening, drums, and bass heralds the descending guitar riff that sets up 'Your Voice Inside My Head'. There is deft, but very effective change of drum pattern, as we move from opening into a fully-fledged state, which at first, sounds a wee bit out of kilter, but soon settles down into a great driving groove. A keyboard laden/melodious pre-chorus is completed by a monstrous vocal, which is superbly sustained as we move with purpose into the chorus, which once again is super effective, both in execution and structure. There is an almost ballad in there trying to fight its way out of the powerful production. This tune has a massive amount of commerciality to it, but without losing the rawness and strength that its encased in. Powerful support vocal and nicely positioned guitar lines make this extra special. Beauty this.
The dangerously flawed sounding 'Love Without a Net' is up next, where a crisp sounding bass run 'safely' welcomes us in, along with a 'wah' induced guitar lead. As much as there was a ballad 'lurking' within the last song, the start to this tune is unashamedly moving in that direction. 'Schulz' vocal is at its lowest register to date, is now moving with tenderness from one line to the next, as the prominence and quality of the harmonised backing vocal comes to the fore, adding some delicate touches along the way. Without over-doing comparisons (which is not ideal, but it's a way to convey a song through a written review) there is more 'hints and tints' of Bon Jovi here and there. The solo is quite unique sounding, as it starts off as a standard offering, but it then changes tact, and we get a mixture of harmonised/synth drenched touches. Very different and effective. Another 'bluesy' sounding solo completes the track in some style.
'Crack The Hourglass' puts us right back on the 'rock' track, with a great guitar hook starting things off. For me, this is where the band are at their best, showing off the obvious skills that they are fortunate to possess. The song builds step by step, and with each passing step, the tune becomes fuller, where guitar moves from heavy 'grunge' chopped chords to intense 'chuggage'. The chorus has a 'lighter and upbeat' feel' to it but keeps the intensity that the track has been resolutely built on. Moving swiftly along, there is an extended bridge section, which is initially based on sustained power chords and a lead hook, before a vocal section sits atop of it all. This is another song that showcases the bands undoubted ability when it comes to all things vocal – there's some great parts where this is clear and obvious. Good tune.
A delicate synth piece opens 'Save our Souls' before a light/subtle guitar run sits just in front. As the drums play the first beat, the main guitar hook is introduced, which as the first, shimmers. But don't let this start fool you, with the change of pace, the song takes on a new direction, with a drenched and heavily distorted guitar riff. The tune itself moves like a 'mechanical beast' - slowly and menacingly forcing its way through a dense terrain, not taking any prisoners. This feel to the song is encouraged even further by 'Schulz' vocal, as he powers the song on its trail of destruction. As for the chorus, well, it doesn't really move in any direction, rather, it locks itself in to a repetitive four bar cry of 'Save our Souls', which also has repetitive guitar hook for support. The big surprise comes just after the halfway point, where the song is turned on its head, as instead of what I thought we be another chorus section turns into a bridge, which encompasses the vibe from the beginning of the song, full of synth and clean/effect guitar. However, it does build back up into a further series of choruses, by means of a descending guitar and almighty scream from 'Schulz'. I like the fact that instead of completing the song on the chorus, there is another surprise as a guitar solo burst and change of pace concludes things.
A deep, ominous, single synth note, followed closely by an extremely short lived hi-hat 'shuffle' marks 'Modern Lies'. A combination of a sensational, 'wah' effect guitar hook and a plunging run (of keyboard, drums, and guitar) and we are off and running as that guitar hook reconvenes, all before we hit the first verse. Speaking of the first verse, it's at this point that the tune resolves and takes some form, that being, we lose the 'catchy' guitar riff, and are left with in a stripped down, slow burning mood, where 'Schulz' opens at another low register, as bass and keys are the prominent feature. Once again, there are sections of the tune, where there is even more impressive support vocal, that not only has oodles of quality, but has been placed perfectly to 'lift' the song all in the right areas. In fact, the harmony vocal heralds in the tunes shift change, where it becomes a lot heavier and drives into the chorus. With the track running over 6 minutes long, there was always going to be enough time allocated for a solo section, and this doesn't disappoint, as 'Pfeffer' pulls out all the technical stops, to produce another memorable piece.
We must be at 'Synth City', as for the third tune on the trot, we are greeted with what sounds like a motorcycle accelerating into the distance to welcome in 'Still Running'. As this fade into the distance, further crystalline keys and guitar are added, only for this to be powerfully overtaken by a 'fast and angry' guitar riff. The verse calms down a touch, although that steady beat and bass keep things ticking along before the brief pre-chorus 'punches' its way into position in readiness for the chorus itself, which, and not for the first time on the album, surprises me with the commercial sound that it exudes. There's a definite upbeat, AOR catchiness about it, that has a great appeal to it. Immediately after the chorus, we get an early bridge, which connects directly to the guitar solo, or is it a guitar solo? as the riff is harmoniously played, but repeats itself several times, that is, until we reach its end. A second bridge comes next, that then leads into a 'passive' segment that in turn, makes way for another, full-on guitar solo. A song that is made up of various parts, where we travel from full on Rock to AOR and back again. Very interesting indeed.
If we are at 'Synth City' for the previous song, we have certainly reached 'Riffsville USA' for 'Lonely Is the Night' as guitar dominates the opening to the track. As 'Schulz' opens things up, I'm loving the support piano, pounding against the same chord, which seems to go on an eternity, but sounds great and works a treat. As 'steady' and 'pulsing' as the opening verse has been, the pre-chorus raises the bar somewhat, as we start to 'motor' our way to the chorus. As for the chorus itself, we have a great mix of what we have already detailed – Rock and AOR working hand in hand to produce a highly polished, captivating, and hard-hitting song. The pattern continues well into the latter stages of the tune, only broken by a signature key change, and a solo that would brighten up anybody's day.
'Surrounded By Strangers' and 'I Engineer' are bonus tracks (if you are fortunate enough).
'Surrounded by Strangers' is again, a mixture of progressive, high-octane riffs, but that also retains that AOR authority, throughout the song's formative stages. This AOR/Commercial edge is further driven home via the opening verse and even more, as we head into the chorus where there are layers of harmony, both vocally and instrumentally, that enhance the already catchiness, that it has in abundance. As the tune unfolds, my initial thought is why this wasn't included within the core of the album itself (rather than a bonus track – it would fit in nicely). Another very well constructed guitar solo, that has super melody and technical prowess, lands around the halfway mark, but that is also reprised as the track ends, that's accompanied by some intermittent vocal support. Some bonus track this. 'I Engineer' has a blend of synth and guitar to begin with, but things soon move up a gear as we find ourselves with a solitary kick drum that allows for an unusually 'low key' start, but with the promise of more to come, as keys 'dance' and the guitar 'strikes' the odd power chord to hold things in balance. There is a noticeable 'marker' laid down by 'Pfeffer', as he plays the melody line along with a series of 'flurries' that are hard to keep up with. Yet again, 'Schulz' dips in and out of that 'Graham Bonnet' vocal style, which is strikingly close at various points of the tune. As with first bonus track, its startling that these two tracks didn't make the final cut (maybe a record company decision??).
As with a large percentage of bands that I have the fortunate privilege to review, I've never come across/heard Lazarus Dream. It's one thing to have a God give, natural talent/vocal, technical ability to play an instrument to a very level or be surrounded by further musicians at the same level, but you must be able counter this with the songs that are created.
This album proves that the balance is there on both counts. A thoroughly enjoyable ride, with some great, great tunes. Watch out for these, they'll be heading your way very soon!!!
Review by Jono Moulds
The project around mastermind Markus Pfeffer (Barnabas Sky, Winterland) and singer Carsten Schulz (Devoid, ex Domain, ex Evidence One) also has released a single & video for the track "Dead End Symphony". Check it out here now :-

Lazarus Dream are : Carsten Schulz - vocals Markus Pfeffer - guitars, bass, synths
Links to Lazarus Dream :-
www.facebook.com/lazarusdream

You can now pre-order "Lifeline" directly from the label Pride & Joy Music