British four-piece rock band Collateral are set to release their highly anticipated debut album on February 21, 2020. The album is released by Roulette Media Records and distributed worldwide through Cargo Records.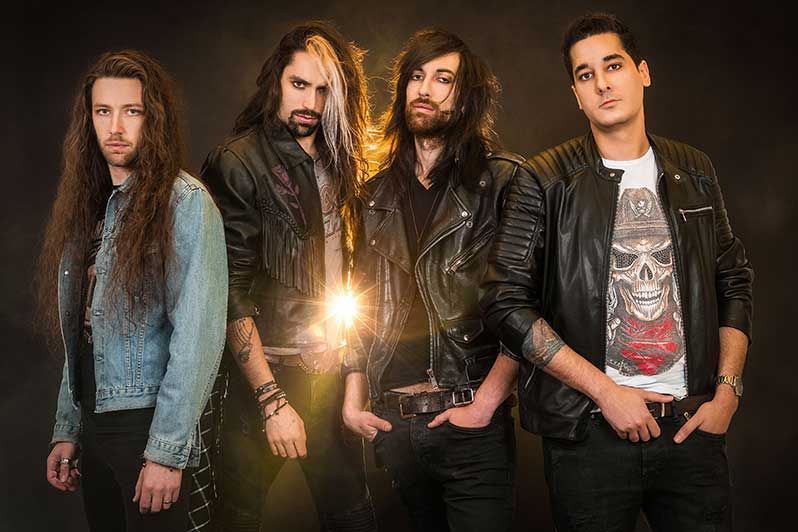 "Collateral", finally showcase their long awaited debut album and our good friend Rachel Gilchrist checks it out for The Rock & Roll Circus.
The Kent based four piece have done a brilliant job following on from their debut EP!.

On the first couple of listens, very 80s /90s rock with an odd mix of country, but not too much!, (thankfully!).

The album has some great guitar riffs collaborating with Angelo on vocals doing an exceptional job of hitting all the right notes throughout this album to bring serious bang for your buck!.

A professionally produced album with the overall sound beckoning you to want more.

Having heard a few tracks beforehand on the radio, there was no disappointment whatsoever on hearing the rest of the albums tracks on this studious album.

Stand out track's for me personally were, "Promise land" and, "In it for, love".

Loving the guitar throughout this album!. This is definitely one not to miss out on as it gets a massive thumbs up from me!.

Be sure to catch the guys as they hit the road playing with some great bands throughout 2020!.

You Will Not Be Disappointed!!.

Check out Mr Big Shot taken from the album.

ALBUM TRACKLISTING:
1. MR. BIG SHOT
2. PROMISELAND
3. MERRY GO ROUND
4. IN IT FOR LOVE
5. LULLABY
6. MIDNIGHT QUEEN
7. GET BACK TO YOU
8. WON'T STOP ME DREAMING
9. ABOUT THIS BOY
PRODUCTION CREDITS:
PRODUCED BY SEAN M. KENNY RECORDED AT TEN21 STUDIOS, MAIDSTONE, KENT.
ENGINEERED AND MIXED BY SEAN M. KENNY MASTERED BY ROBIN SCHMIDT AT 24-96 MASTERING.

Collateral's front man, Angelo Tristan, breaks down the songs on the new album track by track.

1. MR. BIG SHOT

This was one of those songs that really grew into something it was never intended to be. What started out as something that was supposed to mock the way we see ourselves; ended up being such a heavy gritty song that really held its own when it came to narrowing stuff down to go on the album. Mr Big Shot started out as a bit of an inside joke, because that's what people assume you think of yourself when you're in a band. But we took that vibe, turned it into something fun, charming and full of innuendos.

2. PROMISELAND

This one really meant something to us. Sometimes as a songwriter, you write about a subject that you hold particularly close to your heart. The state of the music industry is something that we all have worries about. Music venues are closing, people singing songs that they didn't write or don't understand. It's as if everyone is scared to be themselves. Coincidentally, one of the lyrics is "Tearing down the Borderline." A month after we wrote it, the Borderline venue in London announced they were closing.

3. MERRY-GO-ROUND

Collectively, when this song was written, the band had some stuff going on. When it never rains, it pours. We wanted to write something that not only made our listeners feel like they could get through whatever life was throwing their way, but also that we are all going through it with them, too. It's a keep-on-keeping- on kind of track.

4. IN IT FOR LOVE

This one is amongst the first few songs I ever wrote. That was twelve years ago, and it has changed so much, it's almost like when you bump into an old school friend and catch up over a beer, and you're like, "Wow, I'm so glad to see you doing so well man!" We changed the song so much from the initial laid-back, carefree track that it was, we changed the tempo in the choruses because well, why not?! It really changed the vibe of the song and from there with Ben smashing it on drums it just became a bit of a revolution.

5. LULLABY

This track really laid the foundations for the album, it was written at a time where certain members that are no longer with us, really weren't giving it their all. We were frustrated and really just wanted to write something four on the floor, hard hitting with bad-ass angry riffs that would get crowds singing along. It's from the same vein as Promised Land, but except from a first-person perspective which also added a new angle and diversity to the way we write which is always interesting.

6. MIDNIGHT QUEEN

I remember wanting to write something to help a close friend who had gone through a bad relationship and she needed to know she'd done the right thing by walking away. We've all been there, and sometimes the right thing is the hardest thing. But having something upbeat to listen to when you're going through that can make a difference. Being influenced by The Eagles, it was the first song where we really explored that country rock vibe and really ran with it.

7. GET BACK TO YOU

The inspiration is pretty obvious. I miss both my girls so much when I'm away and it does feel like an endless run of beds that aren't your own and places that are unfamiliar. Ask anyone, when you're away, the thought of getting back home is what gets you through. Being heavily influenced by Bon Jovi as you may or may not have heard; I wanted to have an "Always" under our belts for when the heavens open midway through a concert; we want to get those lighters in the air!

8. WON'T STOP ME DREAMING

This song evolved so much within its first stages it ended up as three different tracks split up in the end. We had so much fun writing it. We joked that it was a chorus generator, we came up with so many different choruses off the back of the verses in this song. It's probably the most pop rock song on the album. The initial inspiration for this song came from us reading a review of one of our shows where the guy said something like, "I've seen it all before." We just decided to have a little bit of fun with that.

9. ABOUT THIS BOY

This song took a long time to write because it was personal. Writing songs, regardless of their content, can be as if you are tearing your heart out and painting a canvas for everyone to see the way you really are. For a longtime this track was an unfinished sketch. I just couldn't figure out where I wanted to go with it. Eventually it wrote itself, it couldn't be forced. It was autobiographical. As a child, I'd listen to my Mum singing to the Dixie Chicks whilst she was cooking or cleaning. The music shaped me, not only as a musician, but also as a human being. I wanted to express that in this song. For me it was all about going back to my roots and self-reflecting on what was important in my life.

COLLATERAL is:
BEN ATKINSON - DRUMS
TODD WINGER - GUITAR
ANGELO TRISTAN - VOCALS, GUITAR
JACK BENTLEY-SMITH - BASS

Collateral have been busy in the studio since the release of their debut EP '4 Shots!' which was originally released on November 17, 2018 and featured the single 'Midnight Queen'. After the single got to the top of the Australian Radio Charts, it was then added to the main playlist on Planet Rock; the UK's biggest classic rock radio station (the single appears on the band's upcoming debut album).

The exciting and flamboyant Kent-based rock and roll band are comprised of Angelo Tristan (lead vocals, guitar), Todd Winger (guitar), Jack Bentley-Smith (bass) and Ben Atkinson (drums).
On May 3, 2019, Collateral released their next single, 'Lullaby' which was the first new song taken from their highly anticipated debut album. The single was accompanied by a live style music video which was celebrated by Planet Rock and was premiered on their official website.

After the release of the '4 Shots!' EP, Collateral worked relentlessly to keep the momentum going. They won a Camden Rocks Festival competition out of 20,000 bands to play the main stage at the Electric Ballroom on June 1, 2019. A few months later, they won a competition between 40 bands at the Ramblin' Man Rumble to play the Rising Stage at the Ramblin' Man Fair festival 2019. The band drew the biggest crowd when they played the Rising Stage at Ramblin' Man.

One of their most exciting achievements for Collateral in 2019, was when they won a competition out of 200,000 entrants to support Jon Bon Jovi on his Runaway to Paradise Mediterranean Cruise departing Barcelona to Majorca on August 26th.

Now, Collateral's hotly tipped debut album is likely to propel them next level. A lot of people don't know what to expect from the new album, as the band have been tight-lipped about the new songs. Collateral have created a state-of-the-art rock album that will enable fans to feel the blood, sweat and glory that went into the recording "We wanted to stay away from the normal rules that apply to what you can and cannot put on an album," says front man Angelo Tristan. "The album contains all of our inspirations, and nothing's has been diluted. I'm very influenced by country music which is evident in the song 'About This Boy'. Jack is heavily influenced by 80's rock on tracks like 'Mr. Big Shot' and 'Promiseland'. "One of the more Southern style tracks on the album is "Merry-Go-Round." It's a reflection of Todd's inspiration from bands that include Black Stone Cherry and Cadillac Three. Our drummer, Ben, comes from a far heavier metal background which really gives the songs their powerful edge. "The album is comprised of nine songs - all killer and no filler. The recording of this album was an amazing experience from the get-go. To finally see this record come to life was remarkable. I hope the fans will share the same excitement we had when we made the album. Buckle up. We're in for one helluva ride!"

Links to Collateral :-

Facebook
Website