Jono Moulds checks out the new album from L.A. COBRA for The Rock & Roll Circus. 'Superstition', is out now on Crusader Records.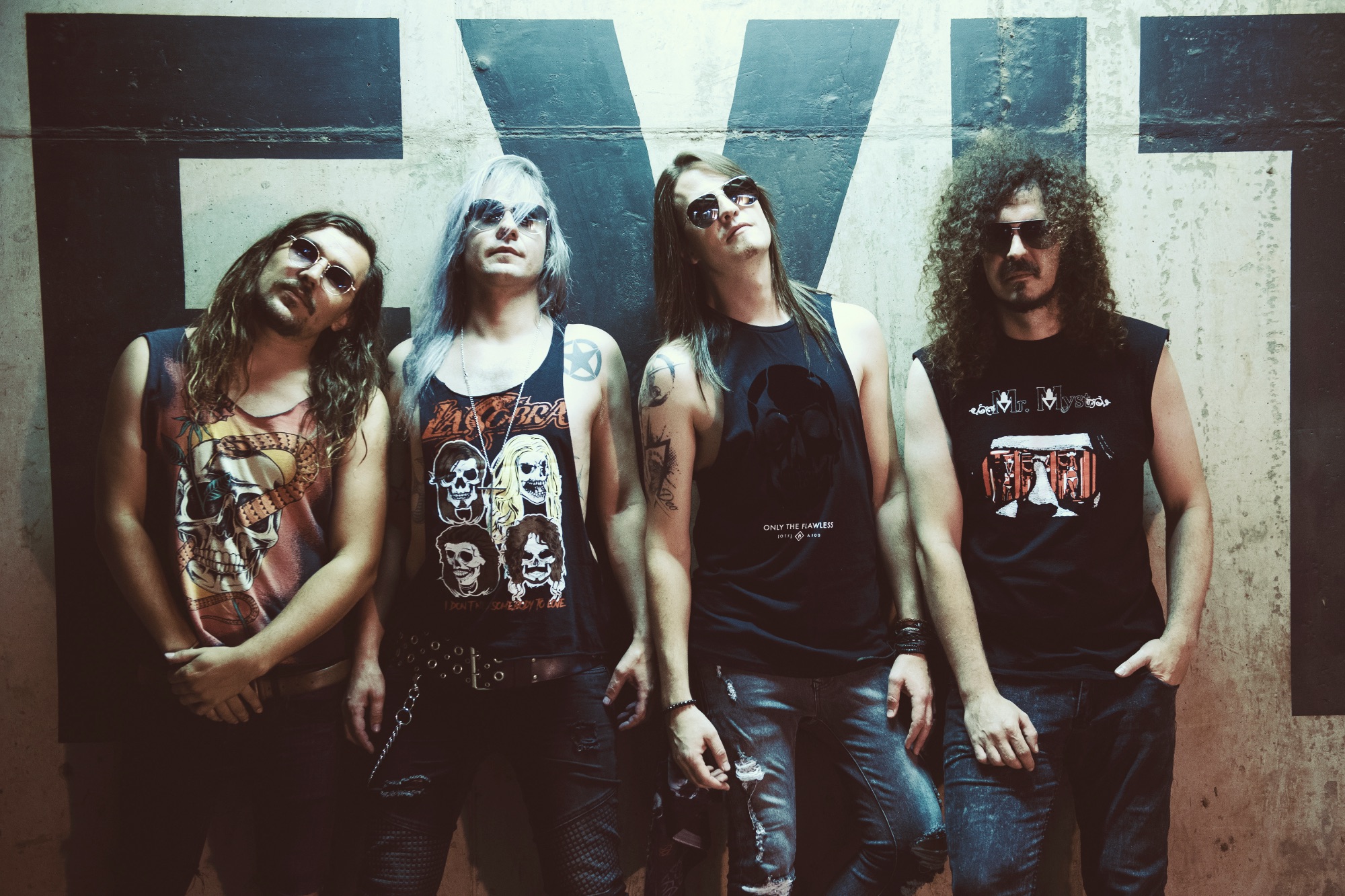 L.A. COBRA's Superstition is a unique contribution to the sleaze/glam genre with massive choruses that will have you singing along to this hit-filled album. Superstition was mixed, mastered, and produced by Martin Sweet of CRASHDIET.
Formed in November 2005, L.A. COBRA is the only sleaze/glam/hair metal band on the African continent. They are the "sleaze rocking hair metal stars" from Pretoria (home of multi-platinum rock superstars SEETHER), flying the 80's glam rock flag from the handlebars of their Harley's whilst making a name for themselves internationally and locally.
L.A. Cobra has been let loose to cause a rebellion amongst the youth with their revival of the 80's glam era. Largely influenced by 80's rock bands like Mötley Crüe, Guns & Roses, WASP and Skid Row, L.A. COBRA is all about girls, Harley's, big hair, and a good time.
The band is: Don Cobra on vocals and guitar, Slade on lead guitar, Ewil on bass guitar and Callie 'The Animal' on drums, bringing back those memorable guitar solos and "balls to the wall" hard rock shows we're all starved for. With a modern twist from their song writing as we know them, these guys are the real deal, and live rock and roll!
L.A. Cobra and Crusader Records will have a slew of announcements in 2022 including new music, merchandise, tours, and a whole lot more…stay tuned.
A simple and repetitive guitar riff is the driving force to 'Strange Desires', as the bass slides in and holds on a note, whilst a secondary guitar adds some support. This riff lingers for a spell, as this opening pattern is only broken when 'Cobra' starts with the opening line and 'Callie the Animal' kicks in with a solid groove, made up of a kick drum and floor tom beat.
The verse section is made up primarily from the singles opening, that is, the predominant melody of the riff and the vocal line that's sung over the top of it, however, there is a change afoot, as a flurry on the double kick-drum pedal leads us into a kind of bridge segment, where there is a change of musical direction. Gone is the opening riff and is now replaced by another, where I'm getting an echo 'Ghost' about the feel of the vocal melody line.
After this, there is a short burst of guitar chords, that act as a conduit to return to the guitar riff and we are onto the second verse (which is a longer piece than that of the opening), before we hit that bridge section for a second time.
As we come out of the bridge, there is an augmented section, where the riff is played, but some well-placed additional guitar is played over the top of it, that increases and solidifies the passage. This is a shrewd change of a direction, especially as this is all building up to the song's guitar solo, which comes at you strongly, it's not so overplayed that you miss how it has been developed to fit into the song, rather than being lost in amongst a million played notes.
As the solo fades out, we have another burst of the opening riff, which is brief, as we soon build to the songs end with an extended bridge section, until we finish the tune with an outro that is centred around what we heard at the starting point, the guitar riff driving forward.
All in all, what we have here is a song that is fundamentally broken down into two sections but is ultimately dominated by the guitar riff. Some would say that the song is too simplistic (given that it doesn't deviate away from the basic riff), but how many great songs have been born out of very simple riffs?? There is no doubt that there is enough of a hook in the track that makes this commercially viable, and a great choice as a single. I think this is a great rock radio tune and one which will go down well with rock fans everywhere.
'Nothing Like a Nemesis' starts off with a classic intro, as a single, then double crash heralds the beginning of this solid sounding tune, where the guitar 'chugging' is melodiously backed up by a tuneful guitar hook. As the song title suggests, the theme is born out of battling with whatever or whoever your arch-rival may be, and how this impact can affect not only your reasoning, but, how the constant battle can set the wheels in motion to act upon these drivers. And so, back to the track, where verse one is already underway, where we have a simple and solid foundation which leaves plenty of room for 'Cobra' to raspingly rip into the opening lyrics. The bridge brings the initial hook back into play, which works a treat, and sets up the anthemic chorus perfectly. The solo is an extension of the guitar hook, which is then deployed straight after the last notes are played. Solid enough start, with a catchy chorus.
A cute guitar lick and we are rocketing to 'The Star' which has a similar vibe to the last song, that being, that the tempo and rhythm feels unyielding and compact, allowing for the vocals to front up nicely, as 'Slade' tries his best to 'nip' in here and there with the odd guitar riff. 'Cobra' demonstrates some versatile vocal, early doors, as he conveys the meaning of the song, which, for all 'intents and purposes', tells us that we should never settle for second best and always aspire to be brave and reach for our dreams in life – a worthy standpoint indeed. Cleverly, that neat guitar lick from the songs opening is also the key to yet another anthemic chorus, where he exclaims 'Push it to the limit, show them you can win it!!'. A very simple series of guitar licks preface the solo section, which has a simplicity to its arrangement, with a clarity that each note comes through as a clear as a bell. Good song, great chorus – nice job guys.
A thunderous roll on the snare, as we cross our fingers and hope to find the start of 'Superstition', which, 'meatily' chugs along like a 400t steam train. 'Cobra' kicks this tune off in a low register, that epitomises the vibe of the track. This is supported by a constant guitar lick, that settles a little underneath his constrained voice, but nonetheless, this tune still pounds with a heavy and dank tempo. I love the bridge, and the subtle change of guitar riff that develops, and just to add to that, 'Cobra' then hangs on a note that descends into silence, all before we head into the heart of the tune, which is another captivating delight, and that questions whether all these superstitions that people hold onto (let's be honest, most of us do in one shape or form) ring true. There is a definite 'Ghost' feel about this tune, that's of course if you believe in them ;-). Good song, my pick so far.
The repetitive playing of a single guitar string, and the explosive rising of the drums bring us to 'Untamed', which starts off pacier than anything that's come before. A simplistic, but again super effective guitar hook reels you in before we even get that far into the track, and when we do, it certainly reminded me of the band 'Keel' from the late '80's and their song 'Final Frontier', where there is this drum driven punctuation between to support the verse sections – superb. This rhythm quickly develops as we progress, as the spaces become less frequent and are filled so that, the weighting shifts, with a 'machine gun' drive. This is an unabashed song and is directed to the youth of the World – no doubt about it. As with all the songs (so far) the chorus is noteworthy but is now coupled with a speed and aggressiveness that nobody is going to hold back. Call out for 'Callie the Animal' on this bad boy, as he is 100% the star player on this tune - Great drumming. Saying that, 'Slade' has his moments on guitar too, with a hot solo to get to grips with – proper rock 'n roll!!!
'I Want More' is another track that owes a great deal of gratitude to those classic guitar riffs from '80's metal. From the off, a striking riff is the call to arms, that also includes the obligatory pinched harmonic thrown in for good measure, while a second guitar dive bombs overhead to launch us into the track. 'Cobra' starts off by singing, 'When you're in pieces, lying on the floor – already wasted' all sung over a power chord structure, as we lose the opening riff. This retro metal vibe continues throughout the verse section, that is until we hit the chorus, where the band have an uncanny knack of creating a rousing and uplifting melody (think Bon Jovi – You Give Love a Bad Name??), that although does not seem to sit with the theme of the song (the tune is all about the human trait of self-destruction/abuse) it works really well. The riff returns as a conduit between chorus and verse, and it's off we go once again. There's an interesting and extended bridge to the song, that is riff heavy, until the solo takes ownership of things, all played over the chorus melody line, which is where the track stays until its end.
'Chemical Dependency' opens with a pristine sounding bass run, all braced by a basic drumbeat that rumbles through to a series of high energy bursts of guitar and drums as the initial lines of the song 'dart and flash'. The 'bursts' of guitar and drums increase steadily as the song develops, which comes to a climax as we enter the relatively early, short-lived, yet catchy chorus. 'Ewil' delivers more of that sumptuous bass immediately after the chorus as a guitar slowly phases in to start the next verse instalment, and initially, there is steady power chord layer, as the drums continue to keep that understated and basic beat. Nevertheless, and moving swiftly along, we encounter more of those initial guitar 'bursts' we heard earlier in the tune. A neatly and melodically assembled guitar part acts as the bridge before the bass run returns to set-up the song's solo piece. The song/bass run slowly fades into the distance, as we come to its end.
A lone, whispered declaration of 'She's my Prison' kicks off, well……'She's my Prison' as the silence is then broken with the introduction of another crisp, metal riff. 'Cobra' quickly exclaims, 'She's my Prison – with no walls' all sung in a deceptively low and saddened register, but this changes relatively quickly, as the vocal goes into overdrive, as the sadness turns into anger, as he spits rusty nails and hot molten lava through the second stage of the verse section. Moving through and out of the second verse, we arrive at an interesting bridge, where the mood mellows, thanks to a drop in intensity, where guitars ring and bass becomes a little more prominent, but the solo, coming in at speed, flicks the switch back to 'full power' and we have another rousing chorus to grab onto. One more verse/chorus combo, and we are all but done with this fast and angst ridden track.
'Inferno' doesn't quite burn as intensely as its tile suggest, as the song begins with a clean guitar piece, accompanied by bass, that seems a little distant behind it's 6 string counterpart. But surely with 'Inferno' as a title, things will eventually 'warm-up', and so it does, as we leave behind that tranquil introduction and are met by yet another crunching riff and 'Cobra's' vocal kicking in alongside it. Starting his vocal in a low register, he soon starts to belt out the lyrics, as he stretches those vocal cords to ensure he reaches each high peak of the track. The chorus is memorable, in part down to the signature drum pattern that Callie 'The Animal' produces and the repetitive, but addictive melody line that hangs over it, full of great vocal, both lead and support. An interesting turn of events at the bridge, as that clean guitar comes back out to play, but this time with lyrics added over it. This soon dissipates into silence, long enough that the impact of the guitar solo, that precedes it, hits you harder than you'll imagine. What we have here is another solid track, that sits among the best on the album with ease.
The ominous sound of metal on metal, as swords are drawn and strike each other as we meet the last song on the album – 'Kill' It starts off as a mid-paced stomper, with a great deal of guitar 'chugging' and a delicate/straightforward lick riding alongside it. That guitar lick proves to be quite important, as the commercial sounding, vocal melody follows it through the opening verse, well through its initial stage at least. The chorus also contains more commerciality, starting off with a double whammy of anthemic 'Woah's and Yeah's' that leads us straight into the heart of the song, where the sound doesn't align with the songs title/lyrical content – light, rather than dark, but in a strange way, it works well, especially as this is all about a failed and unpleasant relationship break-up. The band certainly love to put in an impressive bridge, and this tune is no different, as it acts in the exact way as the others have, setting up the track's guitar solo section. A solid and effective way to sign off.
The first thing that stands out for me on this album is the consistency of songs. As I checked out each tune, there never felt like there was one filler to be found. Individually, each member of the band brings their skills to the table, which is reflected within each tune, but more importantly, they have collectively 'gelled' together to create an album of great tunes. The album is well produced, which has certainly captured both their rawness, but retaining elements of melody. Well worth checking out!!
Jono Moulds
Pre-order/add/save Superstition HERE
L.A. Cobra Online :-
www.facebook.com/lacobraband
twitter.com/lacobraband
goldenrobotrecords.com/crusader-records/l-a--cobra/
SPOTIFY
www.instagram.com/l.a.cobra/
Check out "Superstition" here now :-