Jono Moulds checks out the new album from Latvian hard rockers Bloody Heels for The Rock & Roll Circus. "Rotten Romance" was released on June 10, 2022 via Frontiers Music s.r.l.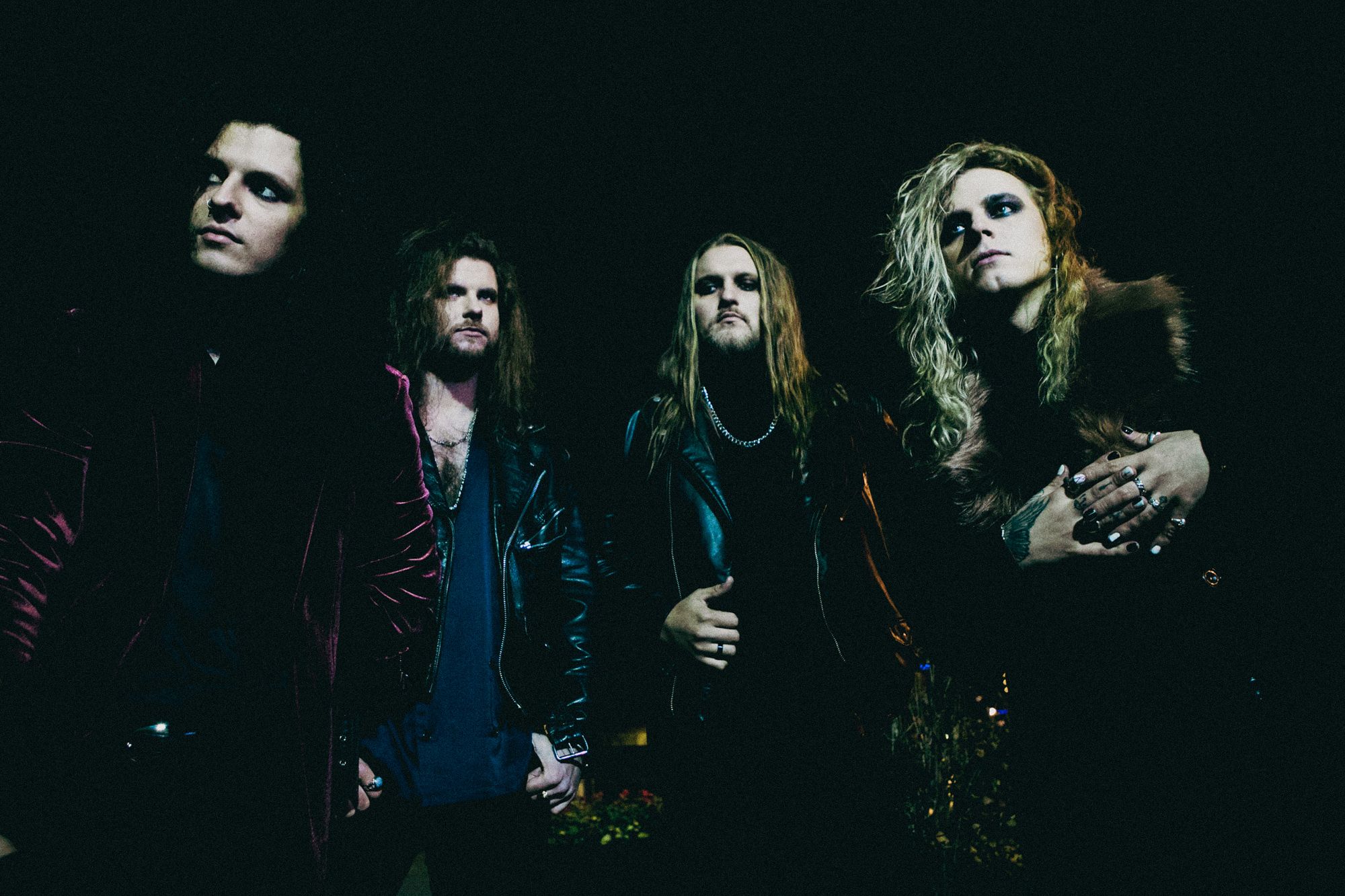 Bloody Heels have announced their return with a new studio album, "Rotten Romance", their third album overall, follows their Frontiers debut, "Ignite the Sky" (2020). While the band still shows nods to the great '80s hard rock scene in their sound, the new album presents a stylistic leap from the band that is delightfully unexpected and welcome. Not content to be stagnant in their musical approach, Bloody Heels have pushed their sound forward, proving that innovation within the confines of a genre is always possible when the will to push through barriers exists.
"Rotten Romance" will certainly please fans of the band's previous work, where strains of classic '80s hard rock were mixed with elements of heavy metal (and that is still very much the case here), but touches of progressive rock, gothic metal, and more modern rock are now identifiable in the mix and with spectacular results. Vocalist Vicky White's whisky-soaked sounding throat is in fine form here, while guitarist Harry Rivers, bassist Gunn Everett, and drummer Gus Hawk already superb playing has jumped up multiple levels. Intense, driving parts mix with atmospheric, sometimes dark breakdowns, giving the album's rhythm an enjoyable variety that works seamlessly.
Have Bloody Heels just provided the blueprint for how the class of bands paying respect to '80s hard rock and metal can push the genre into new, exciting, inventive territory? Only time will be the judge of that, but with "Rotten Romance" these Latvian upstarts have certainly thrown down a gauntlet for their peers to attempt to match.
Formed in 2012 in Riga, Latvia, Bloody Heels made a name for themselves with the EP 'Summer Nights' (2014) and the studio albums 'Through Mystery' (2017) and 'Ignite The Sky' (2020). They've played shows all around Europe including Sweden, Finland, Norway, Germany, Slovakia, Czech Republic, Poland, Netherlands, Belgium, and the Baltic States.
The sound of distant guitar is the graduated foundation to 'Dream Killers' that eventually develops, with the help of a further guitar and drums, all before it explodes into life of a full band onslaught and the 'scream and cry' of 'Berzins/White'. Song number one, and my first impressions are that what we have here is a band that possess a deep and powerful sound, that has an initial flavour of 'Mötley Crüe', but with more of a 'nu metal' edge. The opening verse is heavy, and, in your face, which belies the subtlety of the pre-chorus/chorus section, that also shows another side of the band, which is lighter and melodic. A speedy and technical Wah inspired guitar piece follows, that leads into another delicately produced guitar bridge. A good start to the album, that already demonstrates to me a nice mix of classic metal and the bands own ideas and influence Let's crack on.
And onto the title track – 'Rotten Romance' which has an almost identical intro to what has come before, as a lone guitar sets the scene with a series of withdrawn notes that recede and disperse. This is immediately followed by the peppered crash of guitar and drums, before we 'swiftly' move into the songs opening, which is a lot more measured than I had imagined, where the song, although still heavy, has a slower and menacing vibe about it. There is a little bit of 'Slither' by 'Velvet Revolver' looming in between the fabric of this tune, where it has that sort of deep, grungy kind of air to it. I'm not sure why I home in on these sorts of things, but there is some clever, almost hidden guitar 'parts' running behind the scenes that does not escape these ears – which adds layers in all the right areas, well, for me at least. There's no doubt that this is a very strong track, which produces some highlights, no more so than 'Berzins/White' vocal, which sounds raw and tuneful throughout, engaging us in both his low and high register. A song with more depth than I perceived by its title that encompasses both heavy and light soundscapes. Top tune this.
Third song in and it has be said that the band really like these slow and progressive intros, as here we go again with a modulating synth bringing us 'The Velvet'. Moving along, we keep this modulating intro, as we arrive at a 'twisted' nod of the head to 'The Who's - 'Baba O' Riley', in the way they leave the modulating synth 'pulsating' in the background, while guitar and drums crash away in front of it. This is where this likeness is truly left behind, as the song takes on its own unique form – the first verse starts off with just bass, drums, light synth and vocal, all played 'sparingly' as if all constituent parts are afraid to 'step on the toes' of one another – an open and thoughtful section indeed. But this was never going continue, and right on cue, the tune starts to build, not in an overly aggressive manner, but certainly in alignment to the song's opening. As we head into the tracks second act, there is some lovely percussive changes by 'Hawk/Vangas' that are most noticeable and stand out a mile. There is another great section, where a lone piano is offered his time to shine, and again, brings some added dimension to the song – awesome stuff. Given the opening two tunes, I wouldn't have considered the band to come up with this type/style of track, but I've been more than pleasantly surprised. My favourite so far – great writing and depth.
A very brief layered synth precedes 'Berzins/White' exclaiming 'Distant Memory' which starts things off in a very purposeful and harmonious fashion. But don't get fooled by this, as the opening verse takes off in a very different direction, where guitars 'chugg' away continuously, backed up by some thunderous bass and drums as the song motors away, that is until an uncanny 'Van Halen – Panama' guitar piece (you'll understand when you hear it) offers us up a different path to go down, that being the chorus - which brings us back, full circle (in some respects) to the songs opening structure. There is some outstanding vocal within the latter stages of the chorus, that once again, rubber stamps 'Berzins/White' ability – well done Sir. Things are taken down a notch, as a bridge is undertaken full of a synthesised percussion, vocal and guitar, which feeds in the solo section, that is full of variety and technique. A song that has two distinct sections in the verse and chorus, that battle with each other, in terms of style, but nonetheless, seem to 'merge' into each other and work.
A 'slow and smouldering' synth, coupled with some inaudible 'mutterings' bring us to the doorstep of the 'Hour of Sinners', as a withdrawn organ can be heard 'dancing' in the background. The intro seems to last for some time before a heavy sigh is the keystone for the song to really begin. As things move forward, drums and guitar crash, while there is a guitar hook being played to good effect in front of this, before a drum roll is the signal for the rest of the band to pick the pace up. Once again, the band kind of 'lull' us into a false sense of security, as the opening to the tune and the reality of the first verse are poles apart in terms of dynamic and style. There is certainly a lot of 'nu metal' going on throughout verse one, as the sound and tempo fill the airwaves with aggression and power. As we meet the chorus, it initially comes across as slightly 'out of kilter' in the sense that it almost being played out of phase/tune, but is this just a clever balance between that drop tuned guitar and the melody line that's being sung?? Not sure, but it works a treat and is quite unique. The bridge acts as another deliberate build up in readiness for the songs solo, that is brought to a climatical end by an almighty scream. The solo itself, is Wah fuelled and is the first of two, as another solo is 'squeezed' in before the final chorus, which believe me, really has been shrewdly written and constructed.
'Mirror, Mirror' opens with a solid sequence of power chords, that's further enhanced by a metronomic guitar line/hook, that sits atop of it before head into the songs main body. As we indeed move through into verse one, we lose the opening guitar hooks, which are replaced by a wall of 'chuggage', as 'Berzins/White' brings in the first lines of the tune, which is hard and fast. However, no sooner are we into the initial lines of the verse, there is a fairly, dramatic change of arrangement, as we lose everything, except a lowly vocal, some light keys and the occasional 'spattering' of lightly played percussion – didn't see that coming. Fear not, as this is only a small respite, as the track begins to rock once more toward the 'fervent and dynamic' chorus. This tune has many 'tones and textures', where just as you think you've got it 'pegged' the band chose to pursue a different musical avenue, which sonically moves from one pole to another. Again, given this change of direction, they seem to 'knit' things seamlessly. Solid as a rock.
An 'interesting and focussed' start to 'When the Rain and I Meet' as a single beat of the snare drum greets a beautiful, yet mournful sounding guitar line, that 'slides' through to the opening verse, as the song springs forth as low-spirited sounding as the title suggests. Percussion is kept to a minimum; bass is crisp and low with only the clean guitar trying to 'sprinkle' a little lightness to the occasion. 'Berzins/White' menacing vocal certainly adds to this 'humid' sound, where it's about as grungy sounding than it's been on any tune thus far. This song is not for the feint hearted, well certainly throughout verse and chorus sections. Things appear to pick during the guitar solo, but its only for an instant, as we quickly head back down the 'corridor of darkness'. This is undoubtedly, a 'stunning and ugly' song all mixed altogether. Stunning, in the sense that there are some wonderful performances within this piece, and ugly, due to the menacing and heavy presence it's been musically frame worked within. Powerful stuff.
The intriguingly titled 'Crow's Lullaby' is up next, which arrives via a 'concentrated and charged' sounding guitar riff, that is until 'Hawk/Vangas' quickly snaps together a snare combo (which is the dominant drum hook as we head into the opening verse), and we are up and running. However, we lose the drum hook, as the song truly starts to take form, where we have a solid, mid-tempo driving beat, that is backed by a coated synth and vocal. This pattern is revised, as the drums once again are the focus for the change, as a 'Hawk/Vangas' moves from a solid/standard beat to a sporadic side tom pattern (these drum pattern changes really mix things up, but all in a good way!!). Straight after this, drums subside to the occasional kick drum support, and we are amid some delicately played guitar, that certainly sets a far different vein – that is until the chorus arrives, where we put the foot to the pedal once again, with purpose and drive. The bridge works a treat too, as once again it's used to set up the song's guitar piece, that's full of technique a sparkle. This is quite a diverse tune, that has more peaks and troughs to ensure the listeners interests remains in place.
After another nippy synth introduction, 'Burning Bridges' rattles into shape with the aid of some rock-solid power chords and a few light guitar lines, scattered over the top of them. It's all change straight after this, as there is a mix of guitars that are rhythmically scratched in time with track, and further chords/lines as we progress through the initial stages of the song. This is another fine example of a hard-hitting vibe, but with some lovely phrasing interwoven within various parts - great balance. This is no more evident than within the chorus section itself, where it simply 'whips' through it, but containing a superb melody. As with quite a few songs on the album, the band use the bridge as an outlet to set up the solo, as the pace and saturation drops, all the while, making sure that there is a 'calm' before the slow, but determined 'build-up': and the spotlight firmly fixing its beam on 'Avotins/Rivers' for the songs guitar solo. A series of repeating choruses bring the song to its conclusion, which has been an absolute delight to check out.
'Angels Crying' instantly appears in the form of a 'snappish' bass driven riff, that moves with more than a modicum of 'menace and purpose', like a savage beast on the prowl, with a heavy darkness hanging over the song. This 'disturbed' sounding bass riff continues straight through the intro and into the heart of the song, ensuring that the tempo is 'slow and laboured'. By this time, the bass has a solid drum beat in tandem, which 'binds' things together, making the vibe even more 'threatening'. The striking of the first, high-gain power chord is a call to arms for this tune to start 'revving-up' and changing musical tact, which 'stretches' all the way through to the chorus, that has more of that 'nu metal' feel in the way it's been executed and written. By the time 'Berzins/White' unleashes an almighty, guttural scream, the first 'techno' sounding foray into the tune's guitar solo kicks in. Before we reach the climax, there is still time for some further vocal exercises to 'pique' your interest. A dark tune, with plenty of heavy atmosphere to boot.
Last one up then, that being 'Oblivion' as a panpipe chime rings out from the opening synth line. As the initial lyrics are sung, the synth welcomes in a lone guitar, which makes for an 'eerie and cautious' start. A secondary guitar eventually arrives, which adds some further melodically played lines, thus augmenting this beautiful and equally beguiling tune. It's only when we pass the two-minute mark and onto the chorus that there is any sort of movement/change to the arrangement, as we hear the first strains of power chords, and 'Berzins/White' vocal goes almost from a whisper to something more akin to what has come before. Roaming through the mid-section, there is a rise in the track's intensity, as we lose the 'ethereal lightness' of the songs start, where things develop with far more strength, to a point where that high pitched scream once again beckons in a stunningly simple, but mightily effective guitar solo. The song completes itself in a unique manner, as a series of synth's play out the last 30 seconds or so. This song certainly sticks out, in terms of it being quite unique up against the other songs on this splendid album.
Bloody Heels have produced an album that certainly does not follow the straight middle line of a standard rock album. Of course, the songs are hard hitting, but there are surprises locked in all along the way, where each song holds little musical arrangement 'nuggets' that will either delight. These have been well thought out and add so much more to each song they appear in.
The album has been well produced and comes out strong, with a clarity that gives it a 'sparkle'. It goes without saying that the band are on top of their game, where each constituent part goes on to provide their own element within each of the tracks. Some serious talent to check out here – so my recommendation is to certainly give this a whirl!!
Review by Jono Moulds
Bloody Heels are :-
Valts Berzins (Vicky White) - Vocals
Haralds Avotins (Harry Rivers) - Guitars
Gunars Toms Narbus (Gunn Everett) - Bass
Gus Hawk (Gustavs Vanags) - Drums
Links to where you can stream or purchase the album "HERE".

Social Media:
Facebook
Instagram

"Rotten Romance" (music video)