Jono Moulds checks out the new album from Matt Pearce & The Mutiny for The Rock & Roll Circus. "The Soul Food Store", is out on 29th April.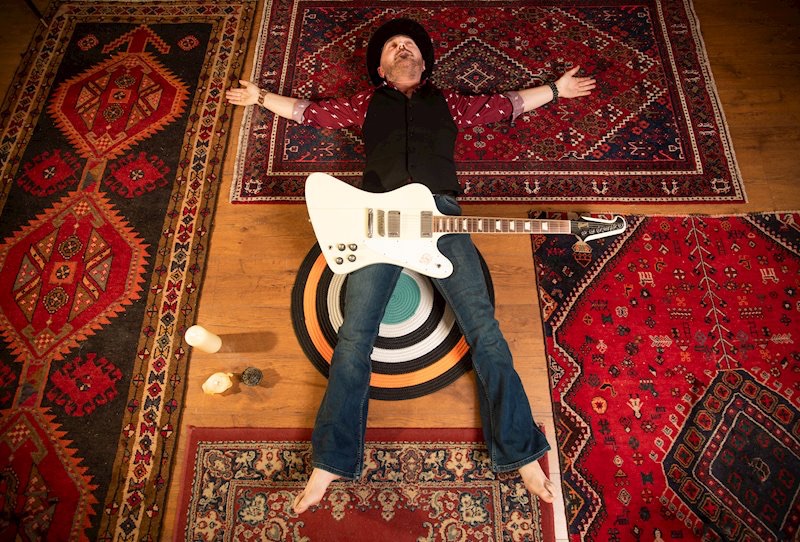 Matt Pearce and The Mutiny's mighty, much-anticipated second album 'The Soul Food Store' can now be pre-ordered, and as an entrée a digital double A-side single: 'All the Gods' and 'Beautiful Disguise' is being released — a tempting sample of the Store's top-quality wares.
"I wanted to put out two very different songs as a preview of the album," Matt adds, "as it's intentionally a very varied collection of songs: variety being the spice of life and more besides in The Soul Food Store!
The 11-track sophomore album will be released on 29th April through Mutinear Records and is filled with rocking blues and funky, soulful grooves: the kind of flavoursome, nourishing sound that Matt adores and set out to create when he first began his musical mutiny — smokin' hot songs delivered with passion and virtuoso skill.
OK, nice start to 'Got A Thing Going On', with some crisp. crunch guitar, but hang on a second, things are about to get a little different around here, as we are met with a burst of saxophone and……………… (to be honest I'm not sure what the effect/instrument is, but it's quite funky), and so, welcome to some serious blues/soul experimentation. This is going to be change of tact for me. 'Pearce' vocal fits the bill nicely, all smoky and blues infused, which sits atop the music with aplomb. The song is heavily laden with saxophone lines and builds to a crescendo in various segments as we wind our way through its opening. There are some lovely guitar breaks 'dotted' throughout the track also, which has some deep tonal beauty all of its own. Great, up-tempo start to the album.
'All The Gods' has an awesome, slow-burning feel to it as soon as we come face to face with a surge of psychedelia, that kicks off the tune. A great bass line and an almost 'jazz' type beat set the scene, just before further guitar is introduced. I'm loving the vibe of this song straight away, as there is some serious blues going on here, with luscious licks thrown in at will. Slow and broody as we pass the two-minute mark, this has all the hallmarks of a top tune. 'Pearce' vocal once gain marries perfectly with the songs pace and rhythm and this is further cemented into place when the guitar solo arrives. Yet again, the tone that 'Pearce' creates sounds superb and totally enhances the bands supporting arrangement. Just a great blues tune. Already a fav.
Handclaps, cowbells and an almost 'salsa' sounding drum beat welcomes us into the 'Promised Land'. This tip of the hat toward a 'Latino' feel is further solidified as soon the guitar feeds in, as we have a 'Santana' ambiance coming through, a little rawer than the man himself, but you can hear the influence. The backbone of this sound is driven by the chords produced by the rhythm guitar, which is where the style is laid down, especially as we 'dance' through the opening verses. The chorus keeps the musical theme, but there is an element of 'blues' thrown in, as it begins to sound like a hybrid between the two genre – interesting. There's a 'funky' bridge to look out for, just before we hit the solo, nicely baked up by soul sounding keys. Different vibe, but cool tune.
'Bring It All to Me' starts with a slow, piano driven chord sequence, which is quickly backed up by some very 'smooth' slide guitar work. Given that this tune is over six and half minutes long, what we have here is a classic blues/soul ballad, with some lovely melancholic chord changes, adding some extra 'magic' to the whole feel of the track. The song doesn't really move too far from its central point, as we move into the second phase, however, there is the introduction of some effective organ, just adding some further blues into the mix. The first real change doesn't come into play until we are over the halfway mark of the song, where we are presented with some enhanced slide guitar work. As the last note to the fantastic slide solo fades away, we go back into the slow, brooding chorus section, which sails on for a further spell, before the crescendo of the final slide solo, that this time, is supported by a vocal run. Awesome track.
A standard 1-2-3-4 count in and a sharp blast of a saxophone and we are out of the gates and most certainly at the races with 'From here to the Moon'. As the organ, guitar and drums arrive, we quickly settle down into a very cool groove. This has a little bit of S.V.R. and ZZ Top all thrown into the blues melting pot from the off – you can't help but love it. Some cool vibes to this one. I'd be gobsmacked if this bad boy doesn't get your toes 'a tapping' as this is pure blues bliss. If there wasn't enough evidence already, there's more superb slide guitar work on display here, which hasn't just been thrown together, but has a great structure and melody to it. Wonderful playing and an absolute joy to listen too, in fact I'd say that the song in its entirety is an absolute joy. Great track, just great.
The clues in the title, as 'The Soul Food Store' starts off with a super cool drumbeat/groove that from the off emits more of that 'Santana' vibe, as the light touch of the organ is complimented by some 'delicate' acoustic guitar lines. In my mind, the song conjures up hot, lazy days sitting on the porch, drinking a beer, and watching the world go by. Very smooth and about as laid back as you're going to get. This is about as far removed from the last tune as you'll get, but we all need to chill from time to time, right? As we 'glide' through the song, we arrive at some 'quality' guitar work, but this time, it's all about the acoustic, as 'Pearce' plays along in time and in feel to the ambience of the track. The song is never 'overplayed' and there is enough space within the song to allow for the clarity of each instrument to shine. Very cool and relaxing. Another cracker.
And so, we go from one extreme to another, as 'Don't Take It So Hard' arrives with a repetitive riff, as the pace goes up quite a few notches. This tune comes in at nearly 7 and half minutes, so should be interesting to see how the structure and arrangement comes to fruition. The song offers the classic story of a relationship that's gone awry, as the opening lyrics offer some initial insight 'Well it's 3 o'clock in the morning baby, by the time you come dragging around, don't ya think it's high time we pressed rewind, so I can get it all out of my mind' The formula holds its course for most of the first stage, before we get to a bridge and more of a 'Jazzy/Pink Floyd' type feel around the mid-point, where some delicious guitar is played over the top. Interesting twist. Some nice supporting bass lines and quintessential drumming keep things 'locked down', as 'Pearce' delivers big. As we move past the guitar break, there is more of a 'Floyd' vibe, as a sax and melodious, yet restrained, vocal by 'Sherrington' gives the song its 'Great Gig in the Sky' feel – Well played.
A cool, funky guitar groove starts things up and running with 'Never get away from Love' which comes with its own 'off-beat' drum pattern, that gives it that extra angle of attack. The opening riff is the backbone of the tune, as it weaves and meanders through the opening verse, but that's not to overlook some lovely organ/keys runs, that are thrown in for good measure. This track has a very chilled vibe to it, but doesn't lack for pace, as we 'ease' effortlessly through the opening minute or so. This 'chilled' atmosphere really is perfect as and when the guitar solo springs forth. The solo simply 'pings' out over the creamy sounding, funky support. A mention in despatches to the support vocal too, which doesn't leave the lead counterpart too often, and certainly adds to the track. 'Sherrington' plays a blinder here. Mellow man, very mellow.
The distinct and classic sound of a Strat, coupled with some 'scratched' blues drenched, crunch chords and we are on our way with 'A Better Way'. There is quite the start to this bad boy, as no sooner does the band join in, than 'Pearce' plays a beautiful guitar line over the top of the opening. Yet again, the song 'jives' forward, with a mix of blues and funkiness coming from all corners, as I'm thinking of strutting my stuff listening to this on my ghetto blaster, attired with a wide brimmed hat, crushed velvet flared trousers and platform soles – it's got that type of groove going on – you dig?? The tune simply motors along, and we are through it before we know it. A song that fits perfectly with what's gone before. Funkadelic meets the Blues.
A brief and concise drum intro kicks in on 'Beautiful Disguise' that from the off, has a chord progression that leans heavily on many of those classic '50's sounding ballads (think 'Earth Angel' from the 'Back to the Future' film, and you won't be a million miles off). The vibe is most certainly like being at a dance from this era, as they play the 'last song' of the night, where partners would step onto the floor for 'the slow one'. Guitars have a 'light tremolo' effect added to them, which adds more credence to that '50's sound', however, I can still hear echoes of 'Peter Green's – Fleetwood Mac' – 'I need your love, so bad' spliced into certain sections, especially when 'Pearce' sings the line 'I was lost, in your Beautiful Disguise'. All the musical components come out play, as we 'waltz 'through the verses, including strings and more of that 'lush' keys. The way the song has been arranged, certainly sets the stage for the spotlight to be drawn towards the guitar solo, which inevitably arrives. Its pace aligns itself perfectly with mood that the backing is laying down. Never too fast, and never outstaying it's welcome. The song culminates as it started, with that soft drawn-out chord progression and some nimble lead touches on the guitar.
For the second song on the bounce, 'King of the World' begins with a drum salvo, as we welcome a kick/snare drumbeat, before the hook is played between guitar, keys and vocal. The song is steeped in a R&B sound, full of brass 'blasts' as if you needed reminding on which road this tune is travelling on. The song rattles along and is only 'derailed' around the midpoint, as things move back into more of a blues feel, which is predominantly caused by the guitar solo, but that R&B vibe soon returns as there is a combined trumpet and guitar 'dual' kicking off. The song starts to wind down, as we just have vocal and guitar for a verse or so, but the bass runs in to re-ignite things. A great up-tempo offering to complete the album, which has been a treat to review.
Hand on heart, this area of the rock sphere is a place I rarely visit. That's not to say that I won't, or I don't throw some Blues/R&B on from time to time, but it's sporadic. This album has been a refreshing change and the playing, composition and production on the album has not only caught me by surprise but got me wondering why I don't listen to more of this form of the rock spectrum.
There wasn't a single tune on this album which I either didn't tap my feet, play air guitar, or just sit back and chill while listening too. 'Pearce' has some chops, primarily with his guitar playing, which is top-notch throughout and blends in with all the genres (i.e., R&B, Blues, Soul) with consummate ease. And secondly, his vocals seem to sit within each song, as if it was meant to be. The big question remains - How have I not heard of Matt Pearce & The Mutiny'? I certainly have no idea, so answers on a postcard please!!! This has been cool man, very cool.

Review by Jono Moulds
Album & Merch Available "HERE".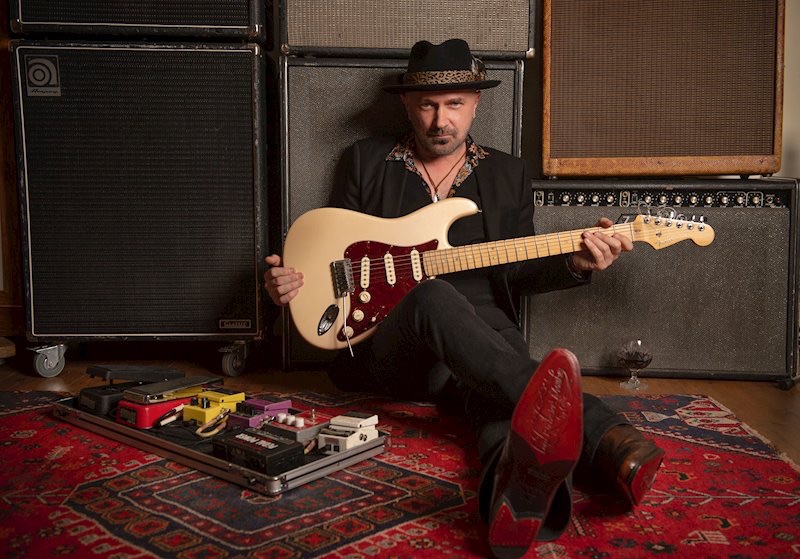 Matt Pearce & The Mutiny are :-

Matt Pearce: vocals, guitars
Kelpie McKenzie: bass
Joe Lazarus: drums
Daliah Sherrington: vocals
Jon Moody: keyboards (Joe Mac tracks 4&7)
Steve Beighton: sax
Richard Heacock: strings
Julia K: string arrangement
Mark Greenfield: percussion
Terry Edwards: trumpet
Matt Pearce & The Mutiny Online :-

Website
Facebook
Twitter
Instagram
YouTube