Jono Moulds checks out, Plush's self-titled debut album for The Rock & Roll Circus. Due for release on the 29th October, 2021, via Pavement Entertainment.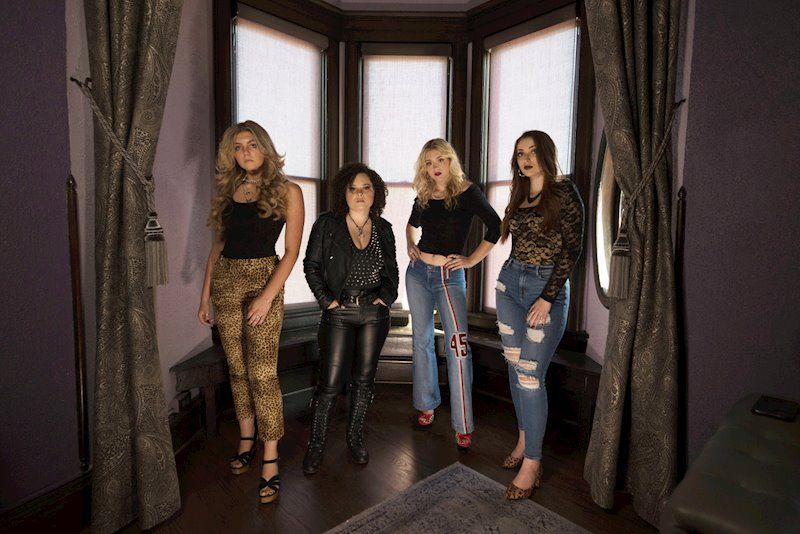 Plush is a new hard rock band with a mission to bring rock back to the forefront of the music industry. Plush is composed of four talented women, under 21, whose accomplishments and talent
eclipse their age. This female rock force is fronted by singer, songwriter and guitarist Moriah Formica. Drummer Brooke Colucci, guitarist Bella Perron and bassist Ashley Suppa round out the line-up.

Plush's self-titled debut album is slated for release on the 29th October, 2021, via Pavement Entertainment. The album was produced by Johnny K (Disturbed, Staind, 3 Doors Down) and
features thirteen tracks. Plush recently released their second single, 'Athena', a jaw-dropping song that's electrified audiences at live performances. 'Athena' follows Plush's first single, 'Hate', which climbed to number 24 on Billboard's Mainstream Rock Chart.

PLUSH have just completed a US tour with Seether and Nonpoint. Future tour dates include Mammoth WVH, Evanescence, and Halestorm.

And so, the self-titled 'Plush' debut album comes across my desk, so let's get a-cracking. 'Athena' (BTW - is the 'mythical' goddess of love, strategy, and hope – oh, and Zeus's daughter! There you go, a useless piece of information; as well as a review) is a serious opening heavy hitter, although, the intro is a clean chorus/echo driven guitar with just enough 'mystical' magic to add some Eastern flavour to the track's leitmotif, this quickly subsides, and gives way to that promised Drop 'D' 'Heaviness'. First point of reference is 'Formica's' vocal prowess, as this young lady easily sweeps all before her, as she unleashes the chorus 'Goddess above, falling from the Heavens above' – Cracking start!!!

Track two, and its 'Champion' as we are met with a simple, repetitive but effective guitar riff which stays with the initial verses, until we hit the bridge as 'Formica' sings 'We are the ones – Get up and rise'. The chorus is vast and brassy, as there is yet another opportunity to ensure that there is scope enough for some crowd participation – as 'We are the Champions' is hailed by the band. There are some seriously impressive vocal gymnastic moments throughout this tune. Also, it's not lost on me that you can't help but align 'Formica's' vocal with that of a certain 'Ann Wilson of Heart' (and that's no mean feat).

'Colucci' opens up the door to 'Hate' which is the next one up, and there is still no let up. The band sing 'I'm Dirty' which is certainly a great way to describe the sound that this song permeates. It's completely saturated with 'Rock'!!! However, there is a great balance between the sound the band produce and the chorus, which is slick and memorable as both fuses together extremely well, as we get the full-on raw power mixed with melodic catchiness. Great song.

Clever off-beat drumming and a 'choppy' guitar riff, slowly fades in to 'Found a Way' which then proceeds to hang around for the first verse, as the vocal dips in and around the structure of the off rhythm pattern. The bridge then comes in and cleans the pallet of the verse before it, as we welcome in the chorus. Yet again, and on first spin, the chorus is sizeable and very distinct. Love the harmonies within the song too, impressive, to say the least. Four songs in and to quote 'Oliver Twist' – 'Please Sir, can I have more'??

Harmonised guitar to the fore, as we head onto the next tune up, that being 'I Don't Care'. A song that's pretty much self-explanatory within the lyrics (nothing hidden here), as they announce within the first thrusts of the song 'Tell me what you've got to say, and pray you don't become my………enemy'. Strong words indeed!!! The track itself is as steady as a proverbial 'rock' and drives steadily forward as it swells toward another 'sing-along' moment, that will now doubt feature live –
'Woah, oh, oh – Just lift your voice up to be heard'.

A build-up of picked acoustic guitar greets 'Sober'. A song that deals with the impact of a troublesome relationship and its eventual breakdown. Although this starts off calmly, there is a real powerful chorus embedded within, which is strong, even though the subject matter is obviously sensitive and written from a personal perspective.

'Better off Alone' is next on the list and after an initial lead break intro, there is a short/sharp rhythmic opening verse, which has an unusual quality to it, but works well. This stop/start pattern soon relents, as we fall back onto familiar ground with the bridge and eventual chorus. There's a surprise at the mid-point, where the song drops down in terms of the power and has a tranquil feel to it. Once again, the song's theme concentrates its spotlight on relationships (as many of the songs no doubtless do) and the never-ending circle of break-ups and the fall-out from them 'Maybe you need someone else' – 'You took my heart, but you can't have my soul'. We've all been there!!

The instantly commercial vibe of 'Sorry' has an attraction from the off. A slow and melodic tune, that sits a little back from what the album has shown thus far, that is until the chorus erupts, where once again 'Formica's' vocal range is there for all to see (or hear). She is undoubtedly 'For-midable'. 'Why Don't I Even Try' crosses the threshold and we return to the tried and tested structure that the album has been built around, that is, another robust and commanding tune. The song builds from the front into a climatical chorus, with solid drumming from 'Colucci' who is proficiently backed up by her rhythmic cohort 'Suppa' on bass.

Tremolo guitar, with some hi-gain, controlled notes are offered at the entrance of 'Bring me Down'. All this before drums and vocal soon arrive in unison to really get things underway. A slow paced and measured opening is replaced by an interesting bridge, where the vocal rushes off at pace, to be backed -up by a sustained roll of the snare. We meet a break in proceedings just after the mid-point, where there is more vocal skill to be admired, as she sings 'Down is where you took me, Up is where I'm going, you cannot control me, stop playing like you own me' as she takes in from a low range/key and then repeats the same lines, but it goes up several notches/octaves. Top tune.

'Don't Say That' sets sail with a lone, gently strummed acoustic guitar as the lead vocal sweeps in through the initial outset of the tune. The gentler, lower paced vibe soon relents as there is a ramp up in ferocity as we head into the chorus, all this without the track 'tipping over', but rather keeping its warmth and the sensitivity of the songs theme. 'Will not Win' is the penultimate song on the album and starts off with more of that hard rocking guitar riffing, with some well-placed lead lines hidden behind to support it. The bridge rolls into the chorus (I think, or its just one big chorus), regardless of my mutterings, the chorus not only packs a serious punch, but is super melodic too – great stuff - 'This time you will not win!!' There are some lovely support harmony vocals thrown in for good measure, which I have a soft spot for, another brilliant song.

'Walk Away' is the ultimate track on the album (well I used penultimate above, so thought I'd keep the continuity going ). A slightly less aggressive feel to the start of this one, but it still has plenty of energy and drive, which has been more than demonstrated within the full spectrum of songs on
this debut release.

What's to be said then? Its Plush's debut album, written and performed from a young band, that have served up 13 songs as an offer for us, of which, it has to be said, has been a delight to listen to and review. It would be easy for me to write/concentrate on 'Formica's' incredible vocal gift (although I have may already touched upon it), and without a shadow of a doubt, its is very special, but without the songs to back it up, then it would be just be a lone voice. And this is where the key
point lies.

The batch of tunes on this, a debut album, is mightily impressive. It would be foolish of me to say that they've deviated greatly from their central writing point of reference, but everyone has to start somewhere, and this is some start, trust me. This band have all the ingredients to forge a successful career, and I'll be looking closely at their progression over the next few years. Boom!!

Review by Jono Moulds
Check out the video for "Hate".

TOUR :-
PLUSH has just completed a US tour with Seether and Nonpoint. Future dates include Mammoth WVH, Evanescence, and Halestorm.
15th Oct – Wichita, KS – Cotillion w/ Mammoth WVH
16th Oct – Lincoln, NE – Bourbon Theater w/ Mammoth WVH
17th Oct – Oklahoma City, OK – Zoo Amphitheatre
19th Oct – Destin, FL – Club LA w/ Mammoth WVH
20th Oct – Huntsville, AL – Mars Music Hall w/ Mammoth WVH
21st Oct – Knoxville, TN – The Mill & Mine w/ Mammoth WVH
5th Nov – Portland, OR – Rise Quarter w/ Evanescence and Halestorm
7th Nov – Seattle, WA – Climate Pledge Arena w/ Evanescence and Halestorm
9th Nov – San Jose, CA – Sap Center w/ Evanescence and Halestorm
10th Nov – Inglewood, CA – SoFi Center w/ Evanescence and Halestorm
12th Nov – Las Vegas, NV – The Cosmopolitan w/ Evanescence and Halestorm
13th Nov – San Diego, CA – San Diego University w/ Evanescence and Halestorm
15th Nov – Phoenix, AZ – Arizona Federal Theater w/ Evanescence and Halestorm
17th Nov – Salt Lake City, UT – The Union w/ Evanescence and Halestorm
20th Nov – Fort Worth, TX – Dickies Arena w/ Evanescence and Halestorm
21st Nov – Houston, TX – 713 Music Hall w/ Evanescence and Halestorm
Connect with Plush:
Official Website
Facebook
Instagram
Twitter
YouTube