Jono Moulds checks out the debut album from TAO for The Rock & Roll Circus. The studio album "Prophecy" was released on October 15, 2021 via Tarot Label Media.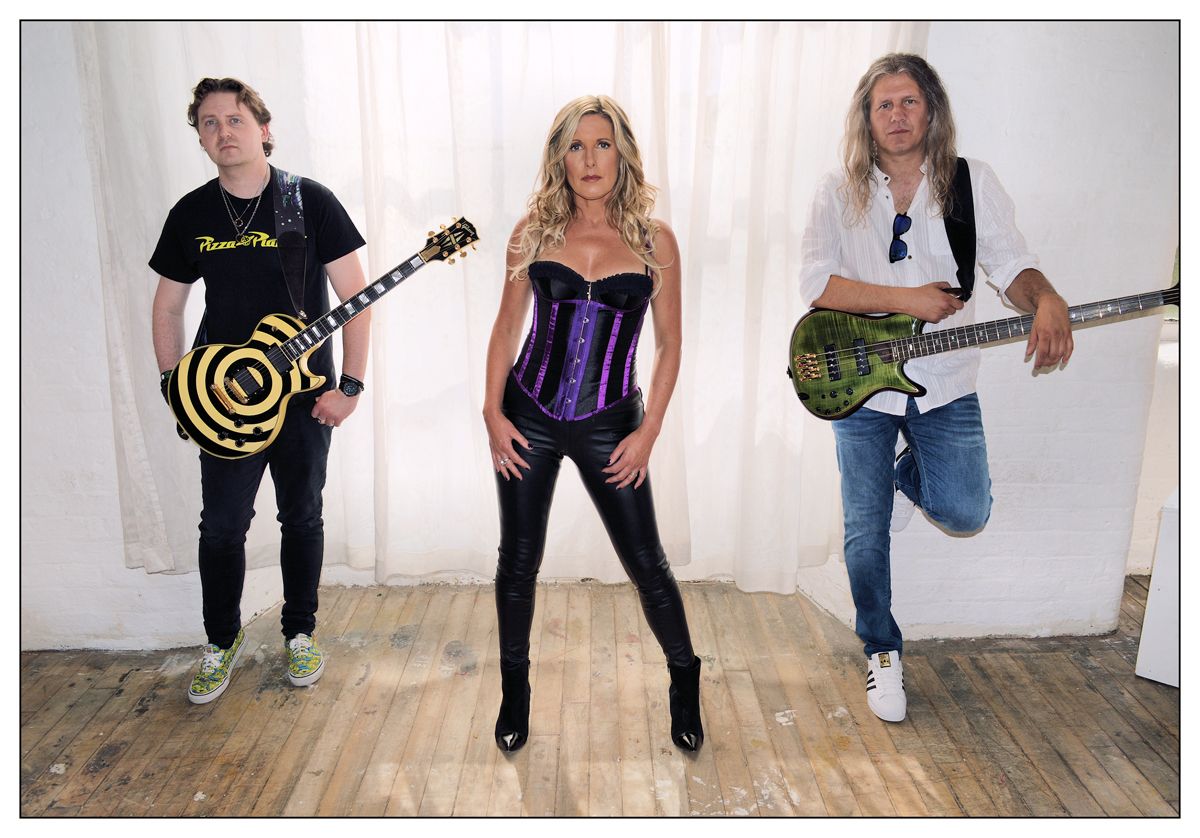 The British Female Fronted Melodic Hard Rock Band TAO, has announced the release of their debut studio album "Prophecy" which will be released in October 15, 2021 via Tarot Label Media.

And so, 'Nobody but You' is first up, which is an instant, upbeat, keyboard/guitar driven opening track. The guitar work, even the technique, has a big 'Richie Sambora' influence to it, where we find some 'whammy bar' tricks (I'm starting to get some '7800° Fahrenheit' vibes here, Tokyo Road??) along-with some 'talk box' effects (a la 'Livin' on a Prayer'). This effect/style is called upon regularly throughout, along with some well-placed harmonic touches. The song is high-energy and commercial enough that it ticks all those AOR boxes.

A tight roll of the snare drum (including a military/marching type beat) and we gently find ourselves being introduced to 'Rock Brigade'. Clean/Chorus guitar and bass then join the 'ranks' as the drums expand with a cleverly assembled drum pattern. 'Fell' opens up lyrically, by pronouncing 'I lie awake, with whispers haunting me', all dressed within a steady, mid-paced vibe. The chorus itself is once again commercial and has a hook that will resonate, also, there are some cool pattern changes set out either side of the chorus. Tidy!!!

Piano and synth are the predominant features at the beginning of 'Angels and Clandestine Fools'. This instrumental combination stays with 'Fell' through the opening verses (which has Heart vibe to it), all before those heavy drums and a plectrum string scratch on the E string, kick in and take this song into 'Power Ballad' territory. The chorus does not disappoint, as its exactly what you would expect with such a promised build-up, where overdriven guitar ensures that 'Power' meets 'Ballad'. The solo sounds and sits just about perfectly, as we head out of the song with more clear and melodic piano runs.

'Heavy' and 'jagged' synth licks welcome us to 'Breathe In, Breathe Out' as drums and vocal meet together to get things underway. The vocal begins, relaxed and in a low register, which sits well against the ongoing synth and drum backing, but you just know things are going to ramp up, and so they do. The catchy chorus rings out with '50 million miles away, whipping up the winds of change - Breathe In, Breathe Out'. There are some great guitar riffs woven into the tune too, which makes for
a solid foundation within various elements of the chorus. There is also a nice touch, just after the mid-point, where the chorus is sung over a lone piano, all before it's brought back to the life once more, as the band come in 'en-masse'. This is the standout track for me, thus far, which has been rubber stamped by my wife popping her head in and saying 'I liked that'. Now that's praise indeed.

'Fire in the Sky' starts off with a vocal array and a solid drum beat backing everything up, that is, before the guitar comes into play with a guitar riff that mirrors the vocal melody (well, to some extent). Verses are covered by layered keyboard, bass and drums as we head toward the bridge, by which time, the guitar has caught back up. The chorus replicates the memorable intro, with heavy emphasis on that vocal melody/riff (and why not!!). There's a bright/sharp solo around halfway through from 'Gould' before the band continue to sing through the chorus pattern until the song's conclusion. Overall, I'm getting some Pat Benatar vibe to this one.

'Might Just Break Your Heart' is introduced with a flurry on the piano, as 'Rosingan's'' bass overlays some simple octave driven notes to give the opening to the track some depth, all this before 'Fell' starts to sing over the top of them both. By the time the chorus arrives, it's 'one for all and all for one' (well, there are three of them after all, as per the Musketeers!!), as the band produce another AOR Power Ballad. There is a guitar solo sandwiched in-between, that's played out over a 'chugging'
rhythm pattern that provides a nice change of arrangement and breaks the song up at the right time.

I predict that 'Prophecy' will be the next track up, and low and behold, there it is, as 'Fell' and support vocal, sing over more piano layered chords, all resolved before guitar, bass and drums brings in a new dimension to the tune. Again, there is some clever arrangement and change of direction halfway through, as there is heavier segment, both in terms of the music and vocal. The song has distinct parts to it, firstly, that poppy, almost musical theatre opening balanced with the heavier elements that feature throughout. An interesting track, full of twists and turns.

'Fight Club' has a light, yet fast paced vibe to its beginning, which is predominantly keyboard oriented (although there are some guitar lines thrown into the mix at certain points). However, the keyboard quickly takes centre stage once more as we 'duck and weave' through the verse sections. The chorus brings a bit more of that AOR edge to the table, where the guitar once again locks the song into place and gives it that rawness needed.

'Nazarene' starts off with some guitar 'chuggage' before we hit the opening lines, which in this case, is the chorus. Unusual, but not all that rare (just off the top off my head, there's Bon Jovi's - 'You give love a bad name' and 'Any Way You Want It' – Journey, to name just a couple). The song, once again has a light, commercial feel to it and the chorus melody line kind of reminds me of ELO (Xanadu period??), but without the orchestration sitting behind it. As with an earlier song, the track can be
split into two parts, the first is the chorus section, as we have already touched upon, the second is the verse section, which has more of a Bon Jovi feel to it. Suffice to say, if the lighter side of AOR is what you're after, then this will be right up your street.

'Gone Forever' appears with a prominent piano line, its clarity rising above both the bass and drums, and as this musical introduction suggests, we are in for another AOR Ballad. 'Fell's' vocal sounding 'elfin like' as she reaches those higher notes, without any effort, or the need to tap into any power. The song has another time-honoured catchiness to the chorus, with a classic change of key, to boot.

To finish the album off we have a 'reprise' of 'Angels and Clandestine Fools', but this time we have a version that is completely stripped back, where there is no backing instrumentation, albeit, just a lead piano and some backing synth layered over the top of it. A nice and simple way to finish things off.

TAO have quite clearly set their stall out, that being, that this album, and indeed the body of songs produced sit firmly within the AOR genre. However, they have not kept to the simple path, but have explored various avenues within each song, and in doing so, trying to find their own voice/style through a filtered approach. Inevitably, there are a few Power Ballads, there are songs that have a slightly harder edge and some that start to move slightly further away from the nominal, expected AOR influence, especially, within the song's lyrical themes.

Yes, I've picked out influences within certain tracks, but every band 'lean' on what's come before and without experimenting, then you just won't get to understand or develop your own identity as a band.

If AOR is your 'Thang' then give this a whirl.

Review by Jono Moulds
Check out the Official Music Video for "Nobody But You".

TAO are: -
Karen Fell (vocals)
Chris Gould (guitars)
Dave Rosingana (bass)

Additional Musicians:
Darrel Treece-Birch (TEN) - Keyboards
Brian Webster - Drums
Gary Hughes (TEN) - Backing Vocals and keyboards on "Prophecy" and "Nazarene".