Jono Moulds checks out the new album from Wicked Stone for The Rock & Roll Circus.'Synergy' is due for physical and digital worldwide release through Hard to Stay Quiet Records on 17th June 2022.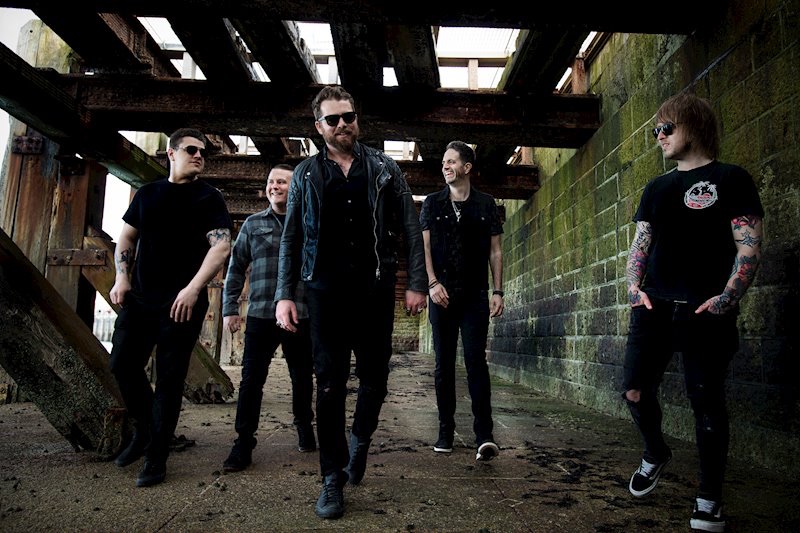 'Wicked Stone' are back with their second album, 'Synergy' - set for physical and digital worldwide release through Hard to Stay Quiet Records on 17th June 2022.
Taking their core sound and rigging it to explode with heavier, harder-hitting riffs, soaring anthemic choruses and blistering guitar solos Wicked Stone deliver stadium- sized, hard-rock anthems with power, energy, and excitement.
Formed in 2015 and dropping 'Ain't No Rest' in 2017; a debut loaded with chunky riffs, cheeky hooks, and catchy choruses, which referenced touchstones of classic rock but with an unmistakable modern edge to deliver a hugely melodic yet hard-hitting statement of intent from a hungry band ready to make their mark. 2019 saw the release of a brand new 5-track EP 'Devil in Me', showcasing an evolution in the band's sound. Lead single 'Unchained' racked up tens of thousands of listens on Spotify, quickly becoming a fan favourite with its soaring vocals and crushing riffs.
Wicked Stone's live performances have established the band as one of the UK's hottest upcoming acts. Mixing solid, powerful performances with a good time. Their rock'n'roll swagger ensures Wicked Stone shows are fun, exhilarating, and unforgettable. Their ability to win over audiences exemplified in their acclaimed appearances at the Rock & Roll Circus Xmas Bash, 'Ramblin' Man Fair', 'Hard Rock Hell' and 'Winters End' festivals. Not forgetting a recently lauded opening slot for Steve Harris' British Lion.
Wicked Stone's sound is built around the edgy, melodic, and soaring vocals of Joe Hawx, under-pinned by hard-hitting drummer Olly Smith - a drummer that has spent time touring the world, opening for Iron Maiden as a member of the Lauren Harris band alongside Judas Priest guitarist Richie Faulkner. A line-up change, in 2019, saw original Wicked Stone members Joe and Olly collide with lead guitarist Dave Austin, and the monster one-two combo of Joe Davies' crunching guitars and Tom Lane's gargantuan bass. This new collaboration created a sum bigger than its parts, inspiring the album-title 'Synergy'.
The new album grabs the listener from the outset with lead single 'Say Goodbye to Yesterday', a blistering rocker with a chorus likely to be stuck in your head for weeks. Joe Hawx sounds huge on this new record, having clearly matured and evolved vocally and lyrically. He is found at his best on the anthemic and contemplative, 'Now You're Gone' - musically a departure for the band yet guaranteed to become a fan favourite. Dave Austin brings the fire with rip-roaring guitar solos and fierce twin guitar harmonies on songs such as 'It's Not Enough' and 'Going Wild'. Joe Davies and Tom Lane deliver the thunder on 'Not Alone', and what looks set to become a live favourite, 'Broken Heartbeat'. Olly bulldozes through the album like a mechanised behemoth, a formidable driving force in 'Reclaim the Crown' yet restrained and musical on the emotive, 'The Fires Burn'.
'Synergy' is set to drop like an anvil crashing through your living room ceiling, make sure to catch the band on tour and experience the live juggernaut that is Wicked Stone!
'Say Goodbye to Yesterday' opens powerfully, with an almost 'Maiden' type arrangement, especially, to the guitar riff that pours forth, which has depth and power all wrapped up within it. Leading into the first verse, it's clear that 'Hawx' vocal has all the right array of attributes at his disposal, that being, he, has a rich and powerful vocal, with an abundance of command thrown in. There's an eye-catching pre-chorus to look forward to that leads perfectly into a stout, but fleeting chorus. Guitars are up-front throughout the song, which you'd expect, but the mix really helps bring the ferocity out (hope this is a sign of things to come). A change hits us at the songs bridge, as the pace increases and welcomes in the brief, but melodic guitar solo. Great start, which I'm hoping will reveal more treasures.
'Not Alone', starts off and some canter, with the guitars leading the way again, with a commanding and driving riff. This opening burst subsides, but not to fear, another, 'meaty' dropped tuned hook is there to replace it – as we start to 'rattle' along through verse one, leaving very little in its wake. No sooner do we start, we then hit a change of tempo, as 'Smith' ensures that the tune put's the brakes on (to a degree) well, for a spell, before it starts to advance once more into the chorus and beyond. A lovely conduit of a bridge has great transition, almost seamless before a slower segment encapsulates, full of 'throbbing' drop tuned riffage, setting the scene for some chaotic guitar work, which is the preface for the solo piece, that once again has some lovely melodic touches. A fast and energetic song that ticks all the boxes required. Tune!!
Foreboding overtones welcome one and all to 'Reclaim the Crown', before the almighty 'crash and march' of the band strike. The slow slog of this booming opening quickly makes way for an altogether different riff, which is faster with an urgency all of its own. The riff and it's scintillating pace, pushes the song headfirst, but as we reach the verse, it changes course, and the vocal line is sung over the slower, sinister intro. One thing is for sure, this tune might just be 'Hawx's' 'tour de force' as his vocal performance is very impressive, both in range and power. The track produces a great mix of tempos, which gives it added depth and interest. Top song.
A delicately strummed acoustic guitar makes rise to the start of 'Now you're gone'. There is a 'hint' of 'Metallica' hidden in between sections of the intro, both vocally and structure, but this is momentary, as the band move forward via a strong change in direction, where the song escalates with vigour and with a fierceness, as we leave behind that gentler intro. This section moves with purpose; slow, yet determined, and which still possesses a drive and tunefulness that you can't ignore. A short, but none the less, stunning guitar solo provides a perfect balance between the song's softer approach and how it has been constructed to sit within the tune itself. There is a shift change at the bridge, where a simple guitar piece is introduced that paves the way for a high-gain guitar solo to take shape. Powerful stuff.
Another 'deep and treacly' guitar riff kicks off 'The Fires Burn', as the drums instil a mid-tempo rhythm that 'trudges' along with more than a degree of menace about it. As a series of guitar runs complete the intro, the first verse sees punctuated guitar power chords 'scatter', as 'Hawx' let's out his initial lyrical gambit, while all is kept in check by a solid and continuous drum groove. I really like the way that 'Lanes' allows the bass to 'travel' a little further than the guitar, making this section that bit more interesting. Things gradually build as we move toward the strong and purposeful chorus, which is set over a mixture of power chords and riffs, keeping the same tempo throughout. Moving away from the chorus and into the bridge, we have a distant guitar and vocal collaboration, which essentially, is setting up the guitar solo. The climax to the song is a repeat of the opening. A strong song indeed, which once more demonstrates that you don't always have to play at 100mph to produce a great rock track.
As we get underway with 'Hunted', my first impressions were that there is a very close connection in both musical pattern/tempo as the previous tune, that being, a strong and steadfast opening guitar riff all wrapped up in a heavy and prominent drum groove. However, this is dispelled very quickly as the song quickly takes on a lot more pace, as a 'pacey' guitar riff alters the dynamic, just before we get to verse 1, where the rest of the band follow suit. Verse into pre-chorus just flies by and have all the hallmarks of a classic rock song – great vocal, powerful, overdriven guitar and a superb rhythm section holding court over proceedings. The chorus itself has an 'Alter Bridge' vibe about it, which mixes melody and power that has all been thrown into the mix – Excellent stuff. The guitar solo once again demonstrates both great techniques, with some lovely harmony work added for good measure. Nothing wrong with this, keep them coming!!!!
Well, well, well – as we are served up a real slice of left-field shenanigans to welcome in 'Going Wild', as we get an intro that appears to replicate a badly scratched record that then quickly leads into some lightly crunched blues licks. Certainly not what I expected given the songs served up before-hand. But fear not, the opening blues lick soon develops into something far more audacious and fiercer, as the same guitar riff (which is super catchy) gets seriously rocked up straight after. This is another classic piece of rock tuneage, which touches base on all things that detail the infamous 'Life on the Road - Rock n' Roll Party' which is the obvious cornerstone that so many bands write about, well, at one stage or another throughout their careers. The song 'rips' through from start to finish and is never going to take any prisoners. Great licks, solid rhythm section and lyrics that you'd fully expect to hear from a well-seasoned and experienced band.
A 'Squawky, wah fuelled' guitar riff gives lead to 'Adrenaline' where some trance like, side tom, 'jungle' beat drumming keeps things seriously 'locked down'. Not long after, another 'deep and resounding' guitar joins the party, which adds some serious bottom end to matters, as things move along at a steady, but explosive stride. That 'jungle beat' pattern remains intact, as the first verse arrives and is no doubt the predominant feature, where guitars support rather than lead. It's only when we get to the chorus that a more standard/regular 'powerhouse' beat drives the song forward with copious amounts of rancour. After this, we welcome another brace of verse/chorus before the bridge section seems to lose some impetus but is kept rolling with yet another key guitar riff, that maintains the solo within the tune, well the first one, at least. No sooner than the first solo disperses, then another follow's soon after, which has a different vibe, but has some top playing to behold. Tune!!
'It's Not Enough' brings up the final instalment on the album, and starts off with quite a bang, as a continuous and speedy drum roll 'rattles' along supplemented by some erratic guitar work. This 'crazed' intro soon comes to a sudden and grinding halt, while yet another 'viscous and gloopy' guitar riff takes over the reins, to full effect. As drums crash, via staggered cymbal bashing, we now enter the true realms of the tune, which is wild and heavy. A nice change of tempo within the pre-chorus, doesn't mean that things are about to ease up, oh no, as the chorus continues at some pace, where 'Hawx' sings 'The Power, the Glory – Is not Enough'. A bridge, that is a mix of harmonised guitar and vocal, sees the song once again relinquish a little of its speed, but this is only to make way for the solo to shred through with the same level of support.
More gain soaked and bestial guitar rain down over the beginning of the final track on the album – 'Broken Heartbeat'. The ominously sounding guitar is further enhanced by crisp and demanding bass from the off, as this tune marches forth. Moving with a march, we transcend the opening verse, where there is guitar 'chuggage' aplenty, which gives more than enough of a 'metal canvas' for 'Hawx' to deliver his vocal contribution to this intimidating of songs. However, as with other songs embedded within this album, the is some melody hidden, and even though this track has all the sinister parts required, there is light in the darkness, that sparkles from time to time and adds some quality that I think gives a great balance. This is no more evident than within the chorus, where both these elements collide to sensational effect. A 'throbbing' guitar note prefaces more harmony, that is, through a vocal 'get together', which, prefaces a further melodious guitar part (see what I mean - ,melody and power, that's some combination??). A strong and energetic way on which to complete this 10-track album.
There's not a lot on this album that you could pour any form of scorn over. The album is well produced, has songs that easily stand-up to be counted and of course, have a band on top form that execute each tune to maximum effect. This is an album full of classic rock tuneage that 'soar and roar' and you'd be hard pressed not to be impressed by what's been laid out before you. Thoroughly enjoyable Rock 'n Roll fare. Cracking stuff!!
Review by Jono Moulds