Jono Moulds checks out the new single from Beth Blade and The Beautiful Disasters for The Rock & Roll Circus. Beth Blade And The Beautiful Disasters Unveil Video For "Jack and Coke" Music Video Out Now and Streaming Across All Digital Platforms. Vinyl Release Of Show Me Your Teeth Album Set For The 19th of November.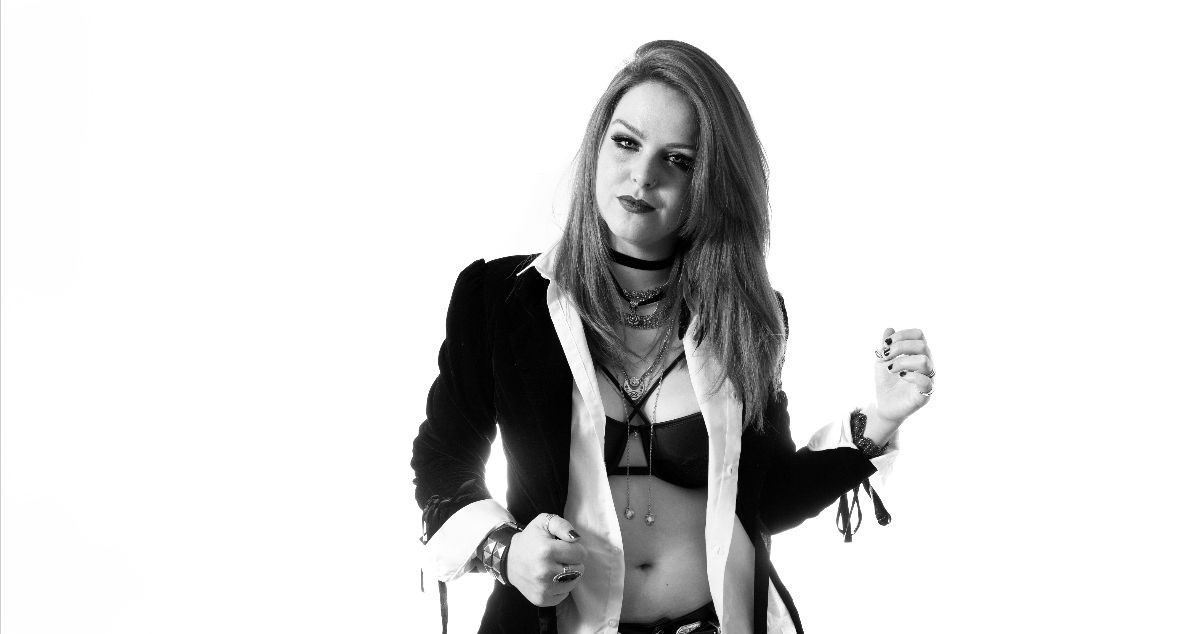 Beth Blade and The Beautiful Disasters are a melodic Hard Rock band based out of Cardiff, South Wales. The four-piece provide monster riffs, huge choruses and a dose of old school rock and roll attitude. With aggressive muscle and melodic sensitivity, this band is reigniting the flame of British Hard Rock. They have an unmistakable modern presence whilst keeping the spirit of old school rock and roll alive.

And it's a warm welcome to Welsh powerhouse rockers 'Beth Blade and The Beautiful Disasters' Beth and the boys have just unveiled a brand-new video for their cracking single 'Jack and Coke'

Complete and utter guitar 'Riffage' from the second one, as the new single, 'Jack and Coke' makes its way onto my desk (well, through my computer actually, but it sounds better like that) and up for one of my weekly reviews. Before we get into detail, I'll hand you over to Beth herself for some more about the inspiration around 'Jack and Coke':

"When you think of rock and roll, you think of loud music that makes you want to bang your head or rip your own heart out, nights spent in laughter with the people you love, mischief and fun, mistakes and ridiculous adventures. The soundtrack to your life.

When you think of the drink that accompanies this there is one above all others that comes to mind, the one you toast with, in good times and in bad, the choice of the man himself 'LEMMY', who WAS the embodiment of rock and roll.

'Jack and Coke' is a song I wrote to celebrate all of these things. To celebrate life. It's balls to the wall, straight up riff-rock and roll and I hope you have as much fun listening/watching it as we did making it!

And without any further ado, let's give this a whirl. Soon after the start of that dark and treacly thick sounding E string (plus selected notes) riff, the band crash-in, as a tight and accelerated roll on the snare drum means that we are up and running and heading to the bar for a drink.

The sound has an immediate heaviness all round, as the bass and drums lock things into place (there's no escape here) and the guitar offers up the occasional pinched harmonic to 'cut' through the overall thunderous and sticky vibe created.

Verse one opens up with 'Blade' announcing 'It's going down – another round' (straight into the crux of the song, I like that – no messing about!!) as the band play a 'jagged' chord arrangement over the top of the vocal.

This pattern is fleeting though, as there is a change straight after the verse and what I can only presume is the pre-chorus. Drums change beat, as 'Brain' decides to mix the rhythm up by switching to the side tom, as there is the introduction of a 'glassy' guitar line and with some effective support vocals.

And onto the chorus, which is a straight ahead 'Rock & Roll' as the band lay out their philosophy, for all to see - 'Tonight's the night – I feel alive – Because we love it!!'

The chorus also brings out the impressive vocal ability of 'Blade' as she goes through the gears and demonstrates that she has some pipes and an awesome range (good combo that!!).

Post chorus, and we get more of a glimpse of that initial riff which leads into the next verse section, as this paves the way for the exact same pattern to be played out (i.e., verse into pre chorus).

The bridge offers up some a distinct and heavy drum beat pattern, as guitar and bass hit single chords/notes that allows 'Blade' the space to sing – 'We've been down, but we're on the up – Do I look like I give a f**k!!' – Brilliant and enough to inspire the 'Wah effect' guitar solo from 'Gilmour' that has him playing it over a really interesting 'jagged, stop-start' structure from the band. This really adds a different complexity to the rest of the song's arrangement.

The single ends with the chorus being repeated (which is super catchy by the way!!) and then that riff to finish things off.

As stated, there is no doubt that this is a straight ahead, no-nonsense single from 'Beth Blade and The Beautiful Disasters' and it really does tick all the Rock 'n Roll boxes. However, it wouldn't right to just leave it at that. There is more than enough going on within the 3.48 of the song for it to rise above being labelled just a 'basic' R&R track. Great changes of arrangement, riffs galore and top singing and we have all the ingredients of a banging song. Loved it!!!

Review by Jono Moulds
Check out the video for "Jack and Coke" here now.

As mentioned above, Jack and Coke is taken from Beth Blade And The Beautiful Disaster's most recent album Show Me Your Teeth, which is about to get a long awaited release on vinyl! Pre-order Show Me Your Teeth on vinyl directly from the band's official website.