Jono Moulds checks out the new BRAINSTORM release for The Rock & Roll Circus. The new album 'Wall Of Skulls' came out on 17th September, out via AFM Records.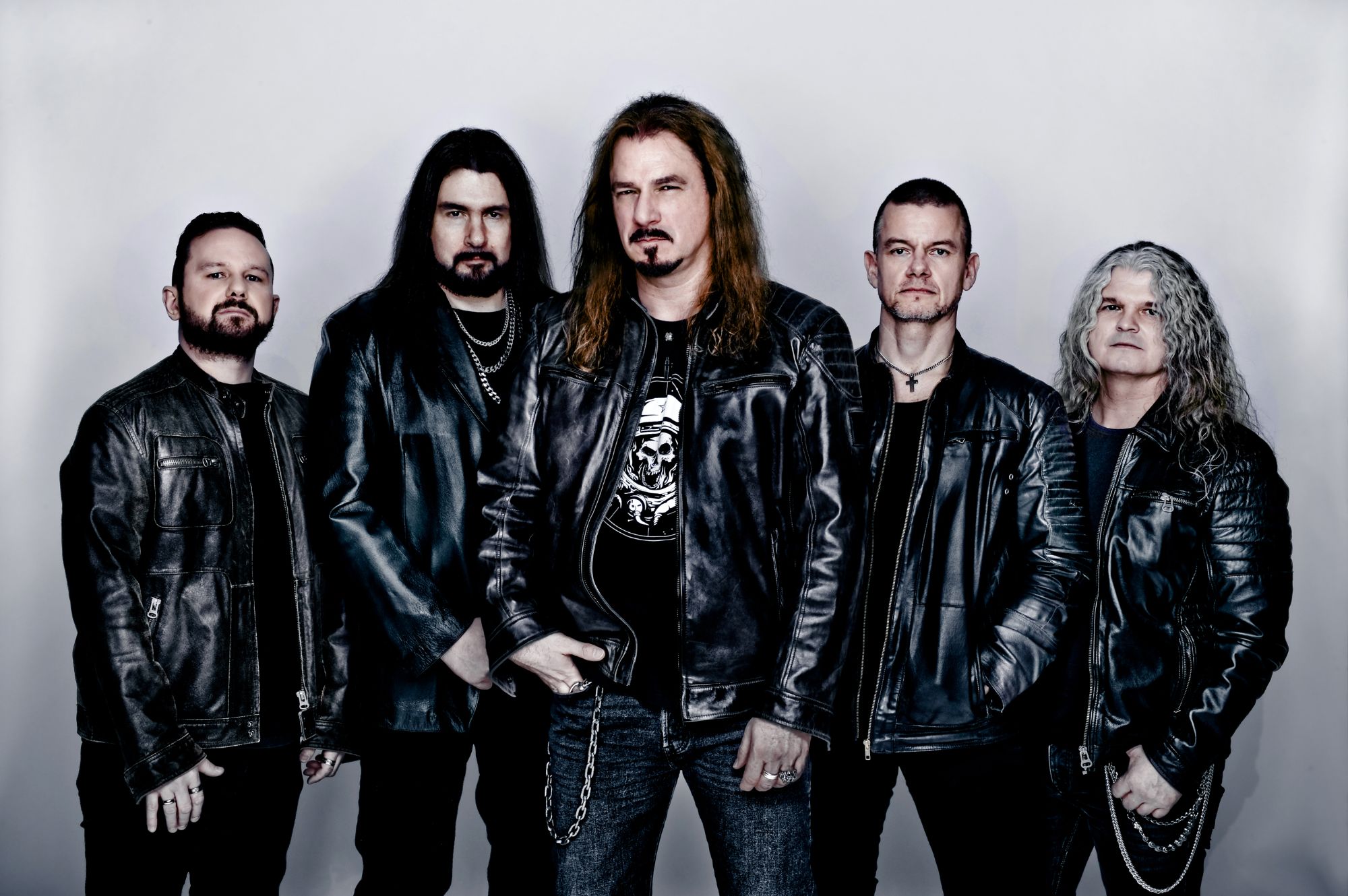 'Brainstorm' are a German 'power metal band' formed in 1989 by guitarists Torsten Ihlenfeld and Milan Loncaric, and drummer Dieter Bernert. The band features lead singer Andy B. Franck, who is also noted for his other band, Symphorce. They are known to play a somewhat darker style of music than most power metal groups.

And so, here we have the brand-new album from 'Brainstorm', that being 'Wall of Skulls' and with it, my initiation to the band. The album's opening song, 'Chamber Thirteen' is a short, instrumental prelude that prepares us for 'Where Ravens Fly' which is more 'Barnstorm' than 'Brainstorm' as strong riffage powers to the fore, until there is some 'super-pounding' of a drum double bass pedal that takes the tune into metal-overdrive (how many skins does Bernert go through per session!!!!). It would be unfair to say that there is no subtlety within the song, as in amongst the pure metal lines of Rock laden lava, there are some lovely melodic lines, both within the chorus and the lead breaks.

And onto track three, and 'Solitude', that has Franck forcefully singing along-side a church organ as a kick off, until that quickly dissipates as the band thunder into the first verse, which has a calmer more considered feel to it, this is of course until the inevitable build up toward the chorus, which, by the way, is anthemic and has a real catchiness to it, with an almost march of defiance about it. I like this track. Top stuff.

There's absolutely no letting up as the band drive into 'Escape the Silence', (feat. "Peavy" Wagner, RAGE) where we are hit by a wall of noise, as drums are played at break-neck speed, guitars weave strong riffs/chords all behind vocals that strongly run riot throughout. Again, in the midst of all this power metal-madness, there is a great structure to the song, where there are some intricate time changes.

'Turn off the Light' (feat. "Seb" Levermann, ORDEN OGAN on lead vocals) quickly goes through the gears and cranks into life with more solid guitar work from 'Loncaric', along with the now expected tsunami of drum power. The introduction of 'Levermann' as guest vocalist gives the song a nice juxtaposition, yet not losing one bit of continuity, as the song gallops through from start to finish.

A mid-paced start to 'Glory Disappears' as a deep, resonant vocal sets the scene before we quickly build up toward the fast arrival of the chorus "Crying Blood, instead of tears, when Glory Disappears" Albeit a slower, more methodical song, it still contains more of the same power and depth that has come before it. There is a nice change of key, as the chorus repeats and ends with a finale of 'a cappella metal' if indeed, that is a phrase!!!

'My Dystopia' (Dystopia – a fictional community or society that is undesirable or frightening. I guess, that's the opposite to 'Utopia'). Once more, the band lead off with super-speed playing (they must have crazy stamina to keep this level up!!!!) racing through the song as if their lives depended on it. However, there is more here than just focussing on the sheer pace of the tune. Technically, there is some excellent musicianship, where the band sound as tight as one of Bernert's drum skins. There is
some effortless guitar work created and admirably demonstrated by Loncaric/Ihlenfeld.

Bass and 'synth'?? launch the way to the 'End of my Innocence'. A simpler opening to this track (almost subdued to what has gone before it). The first verse, is veiled only with 'off-beat' drums, vocal and guitar. Almost from the off, this is most commercially sounding song on the album, thus far. That's not to say that the band's power isn't 'on tap', as it's definitely still in place. There is a wonderful, melodic guitar solo mid-way through the song, which fits it perfectly. 'Stigmatized
(Shadows Fall)' and we are back on the metal steed of rock, racing across the great sea of fire (I like that quote. \m/). Once more, there are some clever signature/time changes, giving the song some contrast and different metallic flavours. All of this, along with and a very catchy, fist clenching, molten chorus to get your teeth into.

'Holding On' is another tune that definitely has leanings toward a more commercial angle (although this by no means drifts away from the album sound/direction. Not by a country mile). There is a synth lead/lick that starts things moving, while the initial verse plays out in a more 'laid back/standard' manner. The chorus (which as you suspect) rocks hard, but as intimated above, is very catchy and reminds me a little (just a little) of something 'Malmsteen' would have produced from his 'Rising Force' album. Good tune.

'I, The Deceiver' completes the album, as we finish in the same vein as we started, that being, a face full of 'Metal & Roll' (that's my terminology for it any hoots!!!).

Brainstorm are not new on the scene, having started circa 1989, and as stated, this is my initial experience listening to the band, via their new opus, 'Wall of Skulls' and I've been more than
surprised with it.

For the un-initiated, like myself, it doesn't take a 'Rock'et Scientist to figure out (from the album cover art work) that the songs are going to be fast, heavy and loud!! but, that's bracketing 'Brainstorm' slightly harshly, as they show they have way more to offer.

Yes, the songs are definitely fast, heavy and loud, but there's also a great deal of song writing skill and top playing to complement each tune listed. There is a bit of everything on the album from all out 'Metal & Roll' to, well, just good old fashioned, catchy 'Rock', but never deviating away from the
sound that frameworks the band.

Franck has a vocal that will be likened to many of the great metal singers of yesteryear, but he has his own identity and damn, he can't half belt them out!!!! He's brilliantly supported by the rest of the band, who have produced a hard hitting, no-nonsense album. If you like the taste of metal, go
chew on some of this. BOOM!!!

Review by Jono Moulds
The album can be ordered "HERE".

The album will be available as CD, Digibook-CD (incl. Live-BluRay), ltd. Vinyl (different colours), ltd. boxset (contains: Headscarf, Sticker, Patch, Autograph, Digibook + Live BluRay) and digital.

Brainstorm are –
Andy B. Franck (vocals)
Torsten Ihlenfeld (guitars)
Milan Loncaric (guitars)
Antonio Ieva (bass)
Dieter Bernert (drums)