Jono Moulds checks out the new single from DEAD CITY RUINS for The Rock & Roll Circus. "Preacher'" was released via AFM Records on 22nd April 2022.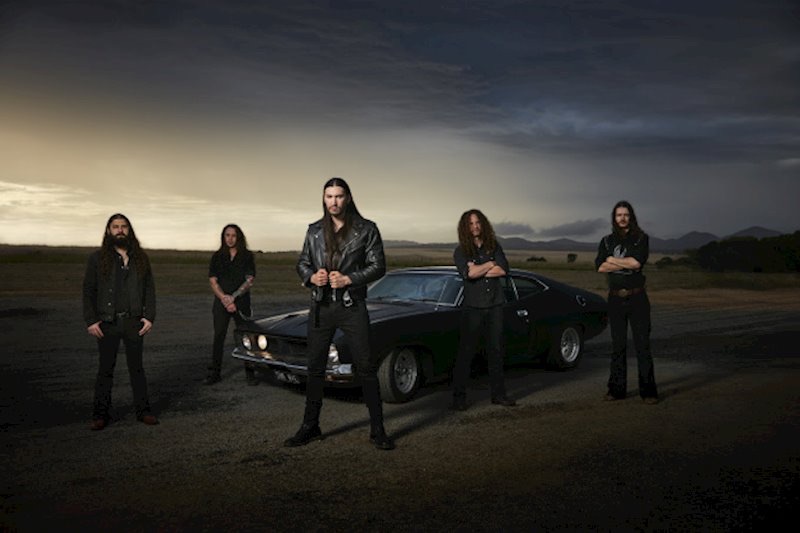 Following their much acclaimed, third album Never Say Die (2018), Melbourne-based hard rock act DEAD CITY RUINS has premiered a music video for the high voltage, new single "Preacher"!
Formed in 2010, the Australians sold their belongings and went all-in when it comes to rock 'n' roll. Tirelessly touring the planet, the band has managed to capture the hearts of its audience gig by gig – much like Rival Sons, Monster Truck, and similar trailblazers of their generation have. They also share a list of influences with these acts, namely Deep Purple, Guns N' Roses, Zeppelin. Their goal: bring rock 'n' roll back to the people!
'Preacher' may not only be a promising harbinger of an upcoming, new album to follow in the hopefully not so distant future with AFM Records, but also introduces new vocalist Steve Welsh! Before joining DEAD CITY RUINS, Welsh was mostly active on YouTube, where he dedicated himself to imitating a plethora of singers. There's one clip of him singing the twelve songs from Alice in Chains' "Dirt" in twelve different styles; ranging from James Hetfield to Ronnie James Dio.
There's nothing quite like a band crashing in as one to start off a song, and that's exactly what we have here with the brand-new single from 'Dead City Ruins', that is 'Preacher'. As drums, bass, and the rhythm guitar crash in and create their own carnage, the lead guitar plays out the main riff to the opening of the tune. As drums switch to a 'pounding' beat on the floor tom, quickly followed by snare to cymbal crash and the guitar riff continues to soar, there is the introduction of vocal chanting, like an army preparing themselves for the long march to war – Hey!!!!!!, Hey!!!!! etc.
After all this dramatic build up, there is a break at the start of the first verse as new singer 'Welsh' (great surname that) unleashes the first line, with only the hi-hat keeping time as he cries out 'I watch the sky crack open, bring me to my knees' and straight away, there is no denying that he has some vocal ability, loads of power, rawness, and range.
"Preacher is the first song we wrote together after re-grouping from three months touring Australia and Europe," the band comments. "New blood, new riffs and new power! Crack a beer and crank it up!"
Moving through the song's inaugural moments, another great riff is added, that acts a 'bridge', and which leads to the 'meat and potatoes' of the tune. Early impressions are that there is some top production going on here, as those guitars have a thick, heavy sound, while the bass and drums pile through with some serious command. This is classic sounding rock and I love it.
We soon land at the feet of the chorus, and it does not disappoint. There is a great mix of maintaining that rock edge, that the song has demonstrated in spades, and awesome melody (including some great support vocal), which sprinkles a little sparkle of commerciality into the song - well it is a single after all.
As soon as the chorus subsides, there is a short guitar piece, that's as unexpected as it is welcome.
We move through another verse/chorus combo, and onto a real 'sticky' sounding guitar solo, which must have been recorded via a 'half-cocked wah pedal', as it has that 'bass-heavy timbre' vibe – very cool sound!! The early part of the solo is supported by 'sporadic' crashes from the band, but soon culminates with one and all joining forces to give the piece its full backing.
The band finish the song with another blast of that battle cry vocal chanting and one more, but highly raucous, rendition of the chorus.
Strong, powerful, and full of riffs, there is enough 'tucked away' in this single for any rock fan to get their teeth into and enjoy. 'Welsh' certainly shines with a strong vocal performance, that seems to build increased dominance, the further we travel through the song.
It's always great to hear a band keeping the flame of classic rock burning bright, and this track emphasises that fact. Keep rocking chaps, it's the only way!!
Review by Jono Moulds
Get the song on all digital platforms at THIS LOCATION
DEAD CITY RUINS are:
Steve Welsh (Vocals)
Tommy Cain (Guitars)
Sean Blanchard (Guitars)
Thomas Murphy (Bass)
Nick Trajanovski (Drums)

For More Info Visit:
Facebook - www.facebook.com/deadcityruins
Instagram - www.instagram.com/deadcityruins
AMF Records - www.afm-records.com
Watch DEAD CITY RUINS' brand new video for "Preacher" here now.