Jono Moulds checks out the new single from MICHAEL SCHENKER GROUP for The Rock & Roll Circus. 'A King Has Gone', taken from the band's new album 'Universal'.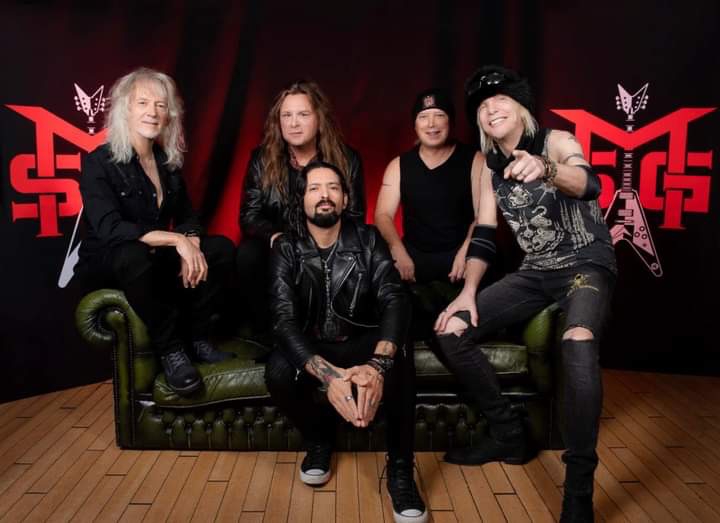 The rock anthem "A King Has Gone", taken from MSG's new album "Universal", and its intro "Calling Baal", also available on "Universal", both have a special significance: The track, sung by HELLOWEEN frontman Michael Kiske, is a tribute to the immortal Ronnie James Dio, to his performance on the 1976 hard rock classic Rainbow Rising. For this reason, Michael Schenker has brought together an original Rainbow rhythm section consisting of Bobby Rondinelli and Bob Daisley.
Michael Schenker additionally enlisted keyboardist Tony Carey, who also played on Rainbow Rising, for the terrific Moog synth intro "Calling Ball" – a direct reference to the iconic intro of the 1976 album opener "Tarot Woman".
The impressive result "Calling Baal"/" A King Has Gone" is already considered to be one of the most important and successful songs in Schenker's career to date, both musically and lyrically, and can be enjoyed in its entirety on MSG's new studio album "Universal"!
Given the main influence/tribute behind the brand-new single from MSG, that is 'A King has Gone' the song starts with a guitar hook that could easily have come straight out of the 'Richie Blackmore book of riffs', which is beautiful in its simplistic arrangement, but conjures up enough magic that you could easily think you've been transported back to that the classic Rainbow line-up, that of course, featured the legend that is RJD, to whom this song has been thoughtfully crafted.
Before we make further headway into this review, I want to state for the record that RJD, for me, is arguably the best Rock 'n Roll singer of my, or any generation. His body of work (Elf, Rainbow, Sabbath, and DIO) is simply staggering, and his vocal, well, that is simply unmatched, and has never been surpassed.
To compliment that signature opening riff, there is some great keyboard layered throughout the start, which builds upon that classic 'Rainbow sound'. And so, to the acid test, as the first verse is unveiled. It's at this point that an objective view of 'Kiske's' vocal must be applied, as the lead into the song almost lulls you into a false sense of security, whereby, you're almost half expecting a DIO vocal to kick-in. However, 'Kiske' warms to the challenge and his vocal ability and style slips easily on top of the track, which is so heavily soaked in that Blackmore/DIO era.
You haven't got to venture too far into the tune, to grasp the way in which the tribute has been cleverly 'fused' together' with about as many lyrical references to RJD than you could shake a stick (or a Wizards wand, take your pick) at.
A point in case being – 'You have arrived, not at the gates of Babylon, Sacred, you, holy dive
These memories lasting forever, Remain in our thoughts here together'
In-between verses, we are once again re-engaged with the opening riff, as we continue the journey and homage onto the chorus, which musically, doesn't move far away from that 'Rainbow' inspired feel, although there is a hint of a 'medieval wonderment' lightly scattered over it, along with more lyrical deference, to the great man.
As the second chorus completes itself, it's the signal for Schenker to unleash the songs guitar piece, which is a mixture of both great guitarists, on the one hand, I certainly pick up Blackmore nuances and notes, coupled with Schenker's inimitable style and technique.
By the time we get through further choruses, the outro introduces another guitar section, which yet again, demonstrates convergence of the legendary guitarists, full of wonderful tone and skill.
MSG and the 'band of brothers' that have been assembled to write and record this tribute to RJD could have done so by pure concentration and sorcery on the lyrics alone. Instead, what they've created, is a song that combines the intended sentiment (within the written word) along with a musical piece that fits that period where the band (for most Rainbow fans) were at their zenith.
A great tribute to the best. It's about as simple as that.
Review by Jono Moulds
Check out the official video here :-

Music: Michael Schenker
Lyrics: Michael Voss-Schön
Recorded by Michael Voss-Schön
Mixed by Michael Voss-Schön
Mastered by Achim Köhler at Indiscreet Artwork by Zsofia Dankova Video by Gabriel Management
FOLLOW MSG HERE :-
Web: https://www.michaelschenkerhimself.com
Facebook: https://www.facebook.com/MichaelSchen... Instagram: https://www.instagram.com/michaelsche...
Twitter: https://twitter.com/MWSchenker
MSG is:
Michael Schenker | Lead Guitar
Ronnie Romero | Vocals
Bodo Schopf | Drums
Steve Mann | Keyboards/Guitars
Barend Courbois | Bass