Jono Moulds checks out the new single from Fallen Sanctuary for The Rock & Roll Circus. "Terranova" is released through AFM Records.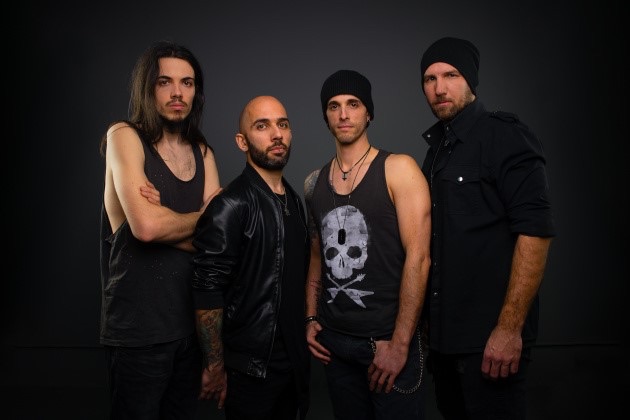 June 24, 2022, will see new melodic power metal force, FALLEN SANCTUARY, featuring Georg Neuhauser (Serenity) and Temperance guitarist Marco Pastorino, release their first full-length album, entitled Terranova, through AFM Records. After the previously released, first epic single "Broken Dreams", today the four-piece has shared a music video for the album title track of their upcoming debut!
And with an immediate impact, we are up and running with the brand-new single from 'Fallen Sanctuary – Terranova' (a loose translation meaning 'New Earth or 'New Land). This 'immediate impact' comprises of………, well…… the band complete, as incredibly high-gain and melodic guitar lines meet some seriously high-speed drumming (how many kick-drum pedals 'Mocerino' is playing here is up for debate!!!!).
The opening of the song is as fast as it is melodic, as you'll be hard pushed to keep up with the pace of it, there is simply not a single let up of the drum pattern/tempo as we move from opening to the first verse, as 'Neuhauser' arrives on the scene. His vocal is strong, with the ability to attain a great range, but is not overly raw, as it holds a natural 'smoothness' that only feeds into the melody that tune possesses.
There is another welcome surprise as 'Pastorino' joins in vocally at the pre-chorus stage, where he harmonises beautifully with 'Neuhauser' (top guitar player and vocalist – well played).
As 'Pastorino' explains about the song: "Terranova was one of the first tracks we wrote for our debut album, and we immediately agreed - this is melodic metal like we love it!"
Vocalist 'Neuhauser' adds: "I really love Terranova - fast, melodic and with dramatic lyrics about drug addiction. It simply reminds me of one of my favourite albums: "Silence" by Sonata Arctica."
And onto the chorus, and at this stage it needs to be re-emphasised, that the ferocious drum pattern and tempo that 'Mocerino' has 'conjured up' is ongoing!!! How does he do this?? It's a question that I'm afraid I cannot fathom an answer too but hats off to him for his desire and stamina.
I think that 'Pastorino' sums up the songs 'feel' well (especially the chorus section) by calling it 'melodic metal', as there is a distinct leaning toward an almost 'operatic' sound and arrangement. I'd go as far as to say it has a little 'Malmsteen' flavour to the tune, but around 5 times faster!!
The arrangement changes ever so slightly, as we head into the solo section, as even that 'constant' and 'pummelling' drum pattern subsides (well, in places) to allow the guitar space and the briefest of time to shine.
The solo also plays nicely into the hands of melody, as it follows the song's overall structure of being fast paced and tuneful.
A small vocal bridge is quickly followed by another lovely guitar section, that further proves the skill and panache of 'Pastorino'.
There is another chorus run straight after the solo, which has more of a broken structure to it, but it's not too long before things start to build up once again, before the last section of the song sees the key change (to a higher range, if you can believe it) as the chorus is repeated until the songs end, which at last settles down, where the songs theme is further explained as 'Neuhauser' speaks about drug abuse, death and the lack of support for those caught up in that dark world.
A very technically assembled song, that has great melody built into it and will catch you off guard int terms of its pace. You'd be hard pushed not to take this song in and admire all the constituent parts that makes it whole.
There is obvious skill and superb playing ability within the band, and this single has been a breath of fresh with the combinations mentioned above. Some tune this.
Review by Jono Moulds
Watch the new FALLEN SANCTUARY video for the album title track, "Terranova", here:
Produced by: Georg Neuhauser/Marco Pastorino
Mixed by: Jan Vacik
Mastered by: Jan Vacik
Video by: Ralf Leitner/Andrea Larosa
Line-up:
Georg Neuhauser (Vocals)
Marco Pastorino (Guitar)
Alfonso Mocerino (Drums)
Gabriele Gozzi (Bass)
Follow Fallen Sanctuary Here :-
Instagram: https://www.instagram.com/afm.records
Facebook: https://www.facebook.com/afmrecords
Website: https://www.afm-records.de
Webshop: https://shop.afm-records.de
Spotify: https://spoti.fi/1GiQDjJ
Apple Music: https://music.apple.com/curator/afm-r...