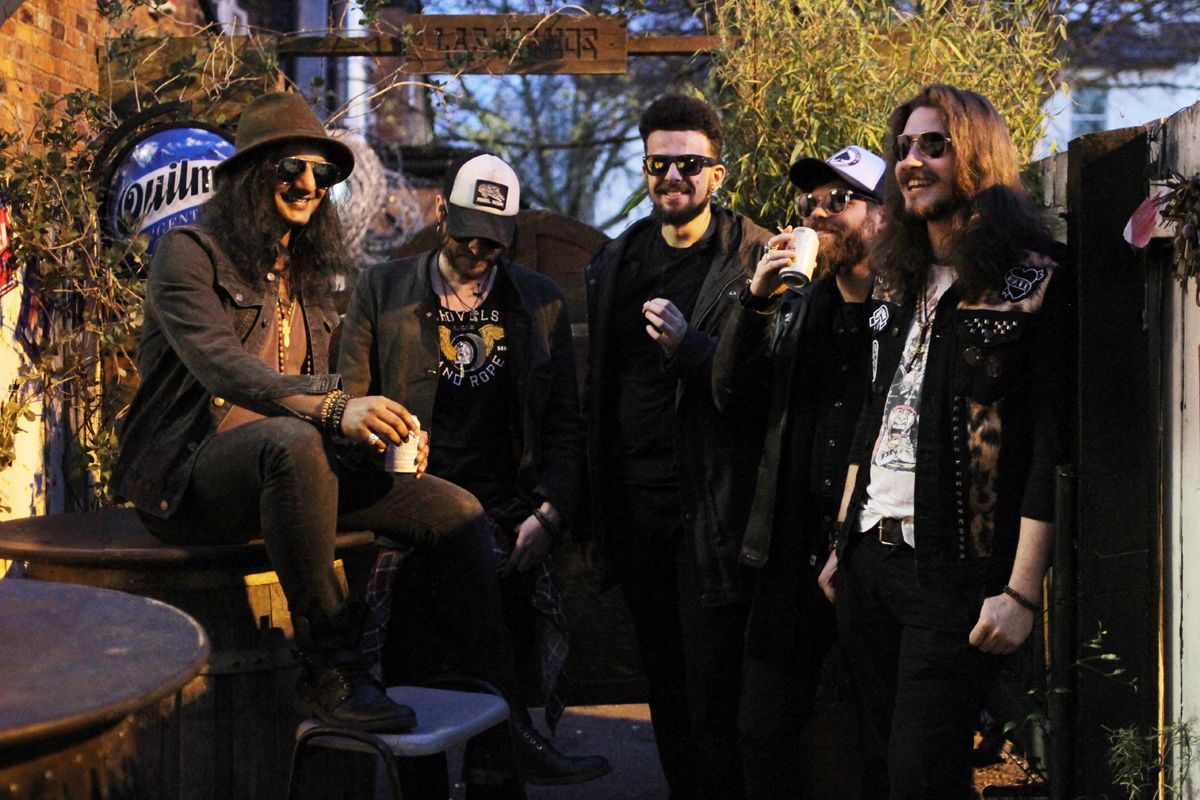 Gorilla Riot are a 5-piece dirty rock n' roll blues machine from Manchester, England. They are equally at home acoustically or full-blown amped-up.

Using a 3-prong guitar attack with multi-part vocal harmonies; they play raucous blues-based rock, combining elements of grunge, stoner and country to create a full-on sonic experience.

The 'SOLACE' EP lands on the 6th September 2021. This is a brand new 4-song acoustic EP from GORILLA RIOT, who have dialled back the distortion in favour of an atmospheric, pensive blend of rootsy acoustic layers.

This EP begins with 'Drowned', which is drenched and rooted within a Country/Blues vibe. Straight off the bat, I am drawn to Bhishma's vocal. His tone and delivery are top drawer and reminds me (a little) of a blend of John Kay from Steppenwolf and Chris Cornell from Soundgarden/Audioslave (just my opinion), where it has that smoky, whiskey-soaked edge to it.

In typical 'Blues style,' the song's lyrics lean on the melancholic side of life and tells a sad, sad taleindeed - 'Drowned in fire and burned in sea, faith no more in all that I see, looked ahead and rode my luck, lost it all and came unstuck'.

As we move through the track, I was half expecting the acoustic start to make way for a more powerful mid-section, but as the EP declares, the acoustic remains true throughout, and I must say, I'm pleased that the tunes don't ramp up, as it gives every song on the EP the opportunity and space to be really heard, so that all that great support vocal (as and when it's called on), along with the skill and technique that each member of the band possess can be expressed. A top start and an excellent song.

And so, onto 'Sometimes Birds never Fly', a song about the reality of your dreams coming crashing down and the stark realisation that you may never be able to fly high enough to capture them.Musically, this immediately has that 'Black Crowes', 'Talks to Angels' vibe to it, with the key ingredient of that slide introduction, that cleverly and effectively finds gaps between the lead vocal melody throughout the song. It's never too far away and compliments it perfectly.There is a surprise through mid-section of the song, where Bhishma relinquishes lead vocal and allows the support vocalists (who also provide top-notch harmonies) to come to fore-front and trade lines with each other. 'You put your heart into it all, you broke your body from the fall, but you'll get back on your feet, for all the world you're meant to meet'. This makes for a beautiful change of feel, before we return to the norm. Another really well constructed and beautiful song.

A different start and style to 'Talk Back' as we are presented with a full-on vocal harmony intro as the now expected guitars arrive to give it that lift. On first spin, there are certainly areas within the song where I'm getting a cross between acoustic, Zeppelin III influences and Skynyrd, especially where that female support vocal comes in during/over the chorus. On top of all that, the slide guitar does its job once again and adds a lovely flavour to the track. This has a more of an upbeat rhythm feel to it, almost a foot stomper, but holding back enough that it completely fits in with the theme of the EP.

Finally, we are left with 'Late in the Year' which seems a wee bit more stripped back than the tunes that precede it, but that only gives rise to a tad more space being created within the song to allow Bhishma the opportunity to really push his undoubted vocal abilities. A very mournful, Country style acoustic sets the scene for song that's all about heartache and remorse 'She waved goodbye, she said we died, no turning back from here, love died late that year'.

In-between the verses, there are some lovely guitar fills that add a bit of magic to the tune. I also need to point out, once again, the great support vocal harmonies that pulls the song together in all the right places. An understatement to say this was a 'bit of a sad song', but hey, 'that's the blues'.

Catching the band for the very first time, I've been more than suitably impressed with Gorilla Riot. The 'Solace' EP showcases a band that have undoubted ability with how they play, write and produce songs. There is little doubt of the genre of music they love and follow, but that's not to say that these songs wouldn't sit comfortably amongst the catalogue of any well-established Blues/Country/Rock band.

What I like the most about this EP is that you can truly appreciate the songs because they've been 'laid bare' to where they were first conceived at the writing stage.

They say that the best way to know if a song has potential is to hear them 'au naturel' – 'adjective' 'with no elaborate treatment, dressing, or preparation'.

If this is the case (and I have no reason to doubt it), then what we have on this EP are 4 great songs that need to be checked out by any fan of this genre of music.

Review by Jono Moulds

The band consist of : -
Arjun Bhishma (vocals/guitar)
Liam Henry (guitar/vocals)
Charly T. (guitar/vocals)
Deggy (bass)
Will Lewis (drums)
SOLACE is available in CD digipak format and can be ordered direct from www.gorillariotband.com
The EP coincides with the recent announcement of a UK co-headline tour with fellow rock dirtbags, Doomsday Outlaw, playing in 5 Academy Group venues across England.
The dates include:
Thurs 10 Feb - O2 Academy2, Islington
Fri 11 Feb - O2 Academy2, Liverpool
Thur 17 Feb - O2 Institute3, Birmingham
Fri 18 Feb - O2 Academy2, Leicester
Sat 19 Feb - O2 Academy2, Sheffield
Ticket Link

LINKS:
Website
Facebook
Bandcamp
Soundcloud
YouTube
Twitter
Spotify

Jono Moulds checks out the new EP from Gorilla Riot for The Rock & Roll Circus. The 'SOLACE' EP is due for release on the 6th September 2021.