Jono Moulds checks out the debut album from Syncolima, for The Rock & Roll Circus. Due for release on 29th October 2021.
Syncolima were formed in February 2021, By Drummer Gazz and bass player Stoff, now reunited after the pair previously spent a year together in a previous band. The rhythm section wanted to start something new from the beginning by their rules from the very beginning. After a quick discussion they knew they needed a singer/guitarist to round off the trio. Other than advertising for someone they did not know, they opted to take a punt and called Josh, he quickly said yes. After an initial jam session they knew straight away that all this just fits. Within 4 months they wrote 10 songs for their debut album. A product of the last 4 months, and the build up of frustration and musical release of the last 2 years of bullshit you've all been through.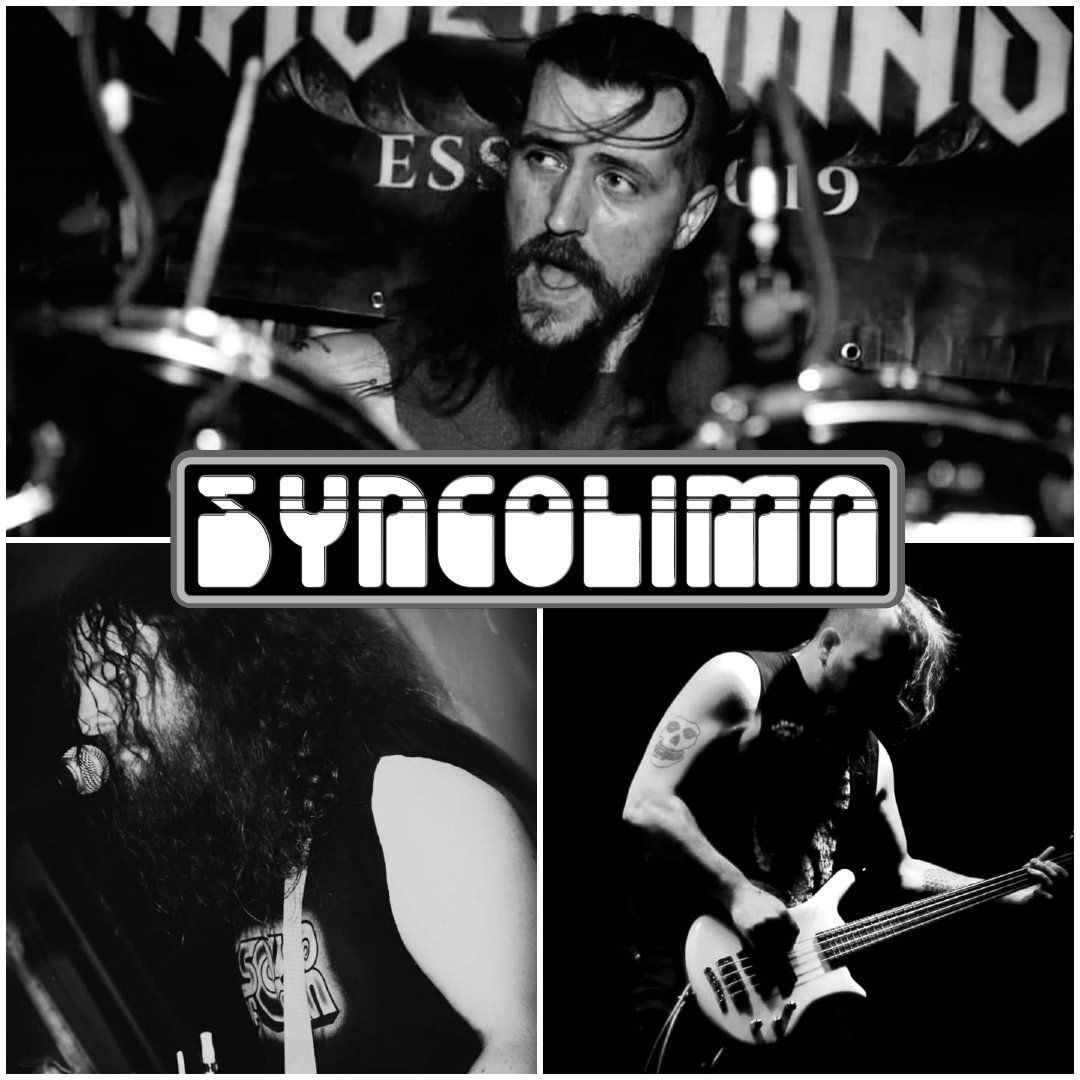 Recorded at Arch Studios, Nottinghamshire, with long-time friend, collaborator and engineering genius Phil Whilbraham of Wilbraham Audio, SYNCOLIMA combines riff's, melody and groove, beauty and brutality without chasing a singular genre. Massive drums, huge bass, fuzzed out guitars and a solidly gruff voice.

Taking inspiration from the past 5 decades and not being afraid to attempt mixing new styles.

The band consist of :-
Gazz Evans - Drums.
Stoff - Bass.
Josh Morgan - Guitar / Vocals.

Track one and we are heading, 'Into the Sun', a classic story of someone who has just had about enough of their life and needs to seriously break away, leaving all in his wake (I suspect there's a girl at the root of all this angst). This song starts with some clean, tremolo guitar riffage, but soon descends into a heavy onslaught, as the band all arrive in unison. A powerful opener indeed.

'Where I've been' growls into life next. As the lyrics unfold, it could be conceived that the song is a lament to the fact that, 'life' (as we know it), has been 'on-hold' these past 18 months, which is summed up nicely in the lines "It's been so long so long now, I want to be where people are, in sweaty rooms, with loud guitars" I concur. Thick, overdriven and in your face.

A bass led riff intro for 'Laguna' which has an altogether different pace and vibe. A slower paced tune, with some ethereal sections in parts, but still retaining powerful moments, especially over the chorus. An interesting, melodic solo is cleverly supported by bass runs, that make this different and standout. Great tune this.

Let's take a sip of some 'Strong Beer' (pointless elaborating on what this song is all about!!). It does exactly as it says on the tin (or in this case, in the title). A fast-paced tune that doesn't let up, with a 'Maiden-esque' opening riff-up. Morgan's vocal dips from traditional rock into some form of possessed demon in parts. The song ends with a mixture of what I can only describe as 'mash-up' of thrash meets a middle eastern vibe. A little bit of everything in here.

'These Tongues' tells the age- old tale of gossip, backstabbing and cloak and dagger antics "The pain in your heart, the knife in your back, your reputation under attack". Fuzz and phased soaked guitar open things up, and then it's off we go. Once again, the solo is well supported and filled by top bass runs by Stoff.

And onto the title track 'Where the end meets the beginning'. A slight departure in pace as this drops down a notch, but without losing any of the band's intensity. Again, this starts with an almost middle-eastern style guitar vibe, which soon forms into riff, but its 'full band in' time!! Does the song tell of the end of life itself, or the rebirth of a new life??? Interesting and poignant. One for the listener to decide, but I'm sure the band will say its the listeners discretion as to what they take from it.

'So, into you' briskly kicks in next, with some chopping guitar playing and has a catchiness to it, which is instantly likable. It doesn't hang around either, spending less than three minutes of your play time. Catchy it may be, but that doesn't mean there's no edge to this track. Yes, it comes from a different place than the other tracks reviewed so far, but still has enough punch to fit in. Like this.

'No fright in Dying' is a mid-paced, dirty sounding opening that compliments the lyrical theme of the track "I don't fear reapers, no bogeyman, no fright in dying, it's the only thing I'd planned". Verses are predominantly covered by bass, drums and vocal, as the guitar flicks in and out as we head up to the chorus.

Watch yourself, 'Nothing Hits Like This Thing Hits' is coming at you!!! A return to a fast paced track that is the backbone of the album. Bass opens, but soon makes way for the full onslaught. Morgan's vocals sounding a bit 'Hetfield' from time to time (Hey, why not!!). There's a great mid-section bridge, as the band hit their zenith, as double bass drum, guitar and bass push it to the max. Tidy!!!!

And just like that, we get to the final track 'You Hold the Cards'. A song that once again kicks off with bass guitar riffage, before we find ourselves 'galloping' through the intro and into the verse section, where there is slight shift in pattern, but never being untethered enough to stray away from that sticky, heavy sound.

As with the all the bands I've had the pleasure to be able to review to date, this is my first outing listening to SYNCOLIMA and it's been a pleasurable experience. Summing up influences and styles is tricky, but as I've detailed within areas of the review, I hear some Maiden, Metallica, Wolfmother, to name check just a few.

On one hand, they display deep, meaningful lyrics and on the other, detail life experiences, including some traditional 'on the road' accounts.

For a three-piece band, they are skilled enough to understand that they need to ensure the rhythm section 'fills' as much as possible, especially behind solo bursts. They do this to great effect and never detract from the song itself, but always try and carry this out with as much value add as possible.

Go check this out!!!

Review by Jono Moulds
Pre-Order "Where The End Meets The Beginning" HERE NOW!!
Links to Syncolima :-

Facebook
Instagram
Bandcamp