Jono Moulds checks out the self-titled album from This House We Built, for The Rock & Roll Circus. The 10-track album, was released on the 15th October this year.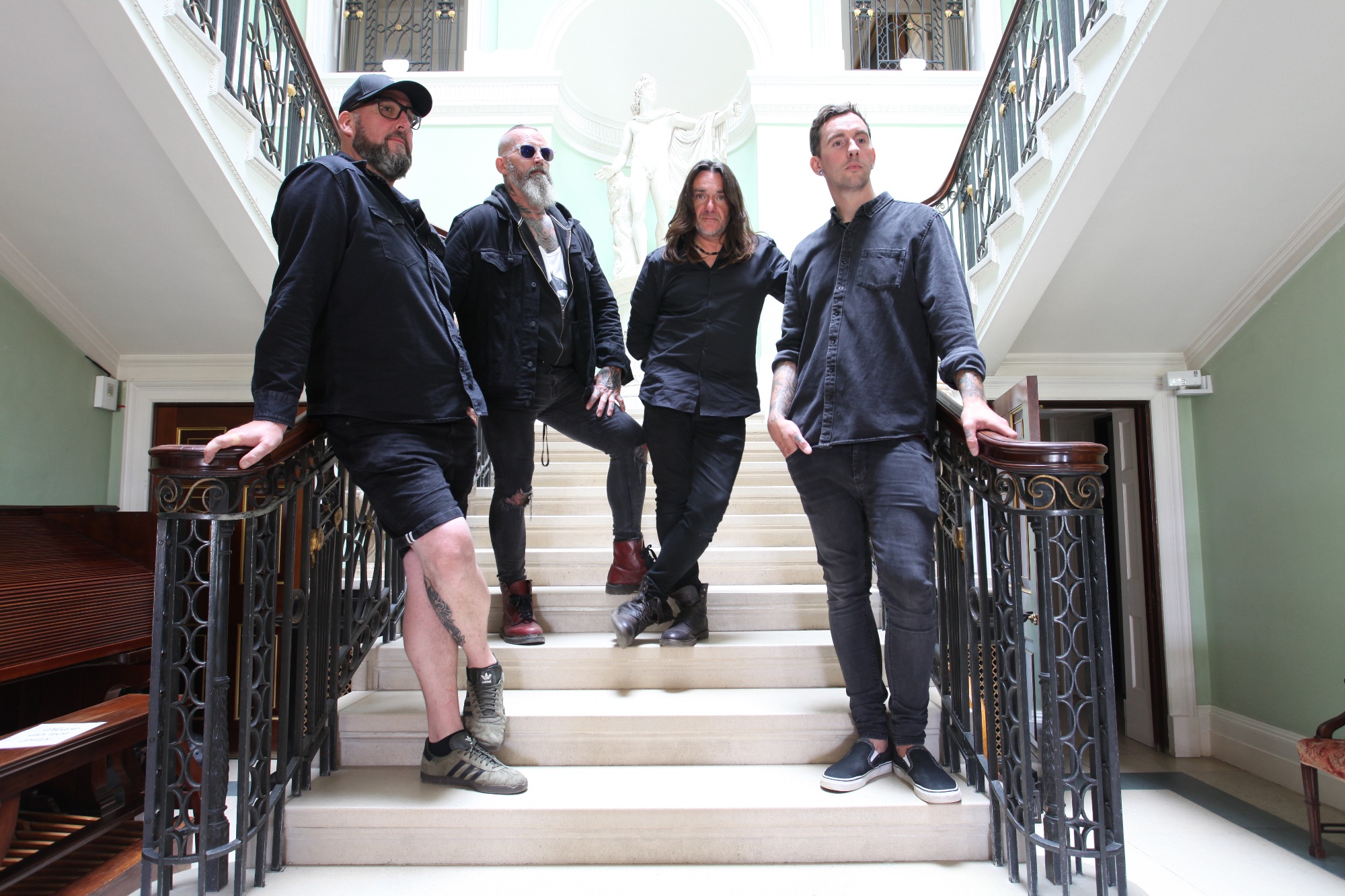 This House We Build formed as an amalgam of guys who have been playing the circuit for a good few year previously in various other acts. The line-up fields: Scott Wardell (vocals guitar), Andy Jackson (guitars vocals), Oz Ward (drums vocals) and Wayne Dowkes White (bass).
As their colourful bio notes: "The real bricks and mortar of the band are a heady mix of bands from England's Scarborough Strip (think Sunset Strip but with less debauchery, more chips…)."
The band formed just before the world shut down in 2020. Rather than dwell on not being able to bring their collective talents to the stage, they started the socially distanced writing sessions that bought the plot for the house they were about to build.
Each man brought a different musical path to the band, and you can hear them all as their eponymous album unfolds eclectic influences ranging from classic rock, funk, emo, nu-metal and melodic rock are mixed perfectly across the ten songs and brick-by-harmony-laden-brick they build a unique sound that transcends all the genres.
This House already stands on rock solid foundations on which to build a successful career in the music scene, as critics' reviews and endorsements confirm and established rock star Danny Vaughn attests.
Danny Vaughn, lead singer of Tyketto and successful solo artist, has also been impressed by This House We Built, taken them under his wing and become something of a mentor to the band.
"My first encounter with This House We Built happened last year whilst playing an acoustic concert of my own in Whitby," says Danny, "About 3 or 4 songs into the show, I couldn't help but notice that some cheeky person was singing harmonies to all my songs. And they were good!
"Afterwards I got to meet the culprit — one Scott Wardell — and he told me about his new band which was put together during the COVID lockdown. He said that they had written and recorded an album off their own backs and then gave me a thumb drive with that album on it.
"So, eventually, I bit the bullet and put on the album, hoping for some bright spots that I could talk about when next we spoke. But this was good! As each song unfolded, I kept saying to myself, "Well they can't keep this up!" But they did. The album does what I love most in all truly classic albums: it takes you on a journey of a variety of emotions and styles.
"I'm honoured that they will be supporting me on several dates of my upcoming UK tour, and I have every confidence that they are going to make a serious impact on the UK rock scene.
This House We Build are now looking forward to shows with Danny Vaughn and are booked for The Call of The Wild festival next year. With two videos in the bag and more singles to come, the boys look like they're gonna blow the roof of the house they've built.
Review by Jono Moulds.
A guitar fuelled riff via a talk box (a la 'Living on a Prayer') fires up the opening tune on this album, namely 'Fair Weather Friend'. The musical similarity ends there, as the band crash in to dismiss any further connection to 'Jovi' and before too long 'Wardell' reinforces that with the opening, funk driven line 'Uptown downtown rockin' club Chinatown Get your fix anytime go down to the motherland' – we've got something a little different on our hands here – cool. As the bass lines and funk verse completes itself, the chorus returns to a more rock biased root, which fuses both genres together perfectly. No more than halfway through the first song and there's more than enough evidence on offer here that this band can really play and deliver on all levels. The first half of the solo harks back to the talk box, but this time, I'd say this was more 'Gilmour' in style and technique. The second half strips that effect away, as we are left with a great sounding guitar, both in tone and delivery. A refreshing and powerful start to my first outing with the band.
'Nobody's Fool' comes out to play, with a more commercial, acoustic beginning. This initial thought is further enhanced as we enter the first verse, as the tune has a much nimbler edge when put up against the opener – let's see how this develops. As we easily drift through verse to chorus (you'll be hard pushed not to love this from the off if your 'bag' is the 'softer' side of Rock) the song does introduce more of an authority to it, but it never leaves its 'Pop/Rock' core, as sweet guitar licks and well placed keyboard fills ensures that this radio friendly tune remains exactly where the band meant it to be. There is a bit of 'Bon Jovi and FM' intertwined throughout this beauty, which by the way, is right up my street. Absolute top tune and got single written all over it.
The intriguingly titled 'Dead Man's Shoes' walks into town next, starting off with a strong guitar riff, followed quickly by some bluesy slide guitar that musically, fits in with the title of the song down to the proverbial tee. This is proved for a second time within the opening lyrics, as 'Wardell' states 'I drink myself to sleep to try and numb this pain I can't get it together' – the lure of too much drink and all its misery is most certainly on offer here. We have a far rockier vibe happening, where guitar is at the fore, forcing the tune constantly, not to mention the timely re-introduction of slide guitar here and there, which makes it more effective. The guitar piece/solo is preceded by the heavy 'drone' of either synth or heavily effected bass, only for the guitar to eventually cut through like a 'hot knife'. The tune concludes slightly out of kilter from what's come before as it finishes with the same line being repeated until the song's end (i.e., 'Don't judge my book it's only a cover Don't judge my book it's only a cover darling'). That's the third song in and I'll note at this point, that each have an identity of their own, funk, pop/rock, and rock. This is going to be a very interesting review indeed.
'We are, we are' is introduced with the band chorally vocalising, well…. 'We are, we are'. Straight after this, the guitar picks up that choral melody, and plays the lick until we hit the first verse, which is a mix of funk (predominantly down to some top bass from 'Dowkes') with solid rhythm/drumming from 'Ward'. As you can no doubt guess, the chorus is made up from that 'chant like – call to arms' opening, but with the band fully on board, it has a catchiness and get-up-and-go to it that only comes to fruition at this point – excellent stuff. There is some lovely clean guitar fills that can only be picked out here and there (generally as chorus ends) – love that. The guitar solo starts off subtlety, but soon builds and grows with great melody – nothing overly fancy but works a treat. Once again, shout out to the 'Rhythm' boys, as there is some great support on offer here. After a brief bridge, we head back into that most likeable of choruses, that runs its course until the tracks end.
A gradual keyboard fill and then a drum roll combination bring forth 'Fly me up to the Moon'. The verse section is made up from just a pleasantly played series of acoustic led chords, the odd drum sound and 'Wardell' on vocal. This has started off all ballad like, which I have no doubt the band can deliver in spades. As we leave the verse behind, the pre-chorus kicks in 'en masse' and the introduction of a light, yet swift drum pattern increases the tempo of what appeared at first to be a laid-back track, that aligned itself to the emotional link of the lyrics – 'The winter storms are coming but the memories will never fade'. The chorus does not disappoint either, as it's got plenty of 'sing-along ability' that you'd would expect, as the song builds from verse to chorus. A strong bridge only adds to the beauty and skill of the guitar piece, which is played acoustically, and for me, a great choice over the expected full on electric alternative – well played chaps.
'Walk the line' crackles into life, as the opening effect of a needle dropping on vinyl fires the starting pistol on this rocker. The pre-verse section reminds me a little of 'Sympathy for the devil' by the 'Stones', with its almost jungle percussion, but this is quickly dispelled as we move into more familiar and harder edged territory, as thunderous drums and prolonged power chords drive the tune along, not to mention an almighty call of arms by 'Wardell' and some 'speedy' riffs. This is most certainly a no-nonsense rocker as we steamroller our way through the first verse, with the odd smattering of further guitar fills between the vocal lines. The chorus is strong and inventive, as it seems to be made up of two parts, both of which never allows for the pace to drop, not for a second. A small and lonesome bass sets up the guitar solo, which has a few tricks and trimmings on display and is in and out before you know it. The outro features a nice change in drum arrangement/pattern, that brings this mighty tune to its finale. Belter.
A blanket of synth is 'laid down' before 'Jackson' (Yes, a quick change of vocalist) opens with the first lyric, which as it happens, is the title of the tune 'There She Stands' while at the very same time, a choral/clean guitar is added into the mix. By the time we reach the second line, drums are introduced, giving it the required pace and framework. What we have here is AOR, but with an edge that the band produce at will, and there are elements of both on offer and then some. The chorus has an instant and recognisable hook, which gives it that AOR feel, as mentioned earlier – personally, I love that high melody and sickly sweetness, especially when it's been this well executed. There's more evidence of AOR influence at the beginning of the second batch of verses, as this section has been laid bare, allowing the track to wander even further into the oncoming AOR headlights. Things do build back up though, as we head into another and well-deserved chorus. The solo is inspired, as it is played over an exposed support, but ultimately, gives it a unique flavour, one that suits the song down to the ground. AOR at its best – great tune.
Rough, raw, and raucous guitar (which sounds like it's being played through an old transistor radio, for those who can remember them) welcomes 'Back in the Ring'. Within seconds, this song is about as far removed (musically) from the last tune as you could get, that being fast, angst drive and most certainly in your face. On first spin, I'm getting a mix of 'Bon Jovi meets Nickelback', but with a 'punky' edge thrown in, here and there, especially through the chorus section, which really is a great comparison between this, balls out rocker and the last tune – some switch that. The guitar solo comes directly out of the chorus, which gives a noticeable contrast in styles contained within this one song. This just sets up the banging chorus though, and we go from light to dark in an instant. And would you credit it, the song ends with 'Wardell' going full on demonic. Many flavours to be had here – a smorgasbord of a tune.
Gentle, slowly played piano runs begin 'Old Haunts' which continues into the first verse. As the opening line is delivered, which this time features 'Ward' on vocal, there is a crystal-clarity to his voice that is some contrast to what has come before. Lyrically, there is no doubt that tune is extremely personal, and as such, the arrangement is key to setting the scene 'To all my family, please forgive me, this pain's too much to carry on' – highly emotive. The song strengthens around the halfway mark as there is a discernible change in the forcefulness of the vocal, which is further enhanced by the 'shrill' and 'piercing' support – almost akin to 'Sinead 'O Connor – Nothing Compares to you'. Outside of the introduction of vocal power, the song stays loyal to the opening arrangement, as that high pitched piano part grounds the song throughout. A beautiful and simply put together song, but what a stunner.
'Here comes 'My Old Friend 'again' lyrically starts off the final track on the album, that begins inoffensively enough, with clean guitar and slippery bass lines. Here we have another switch in vocalist, as 'Jackson' fills the slot for the second time on the album. The tempo is unveiled through the drums, as a classic snare/kick drum combo is unleashed. This is just the pre-cursor, as a standard beat is brought out to play, which really activates the song and gets things going. Only a minute in and we have another quality slab of AOR on offer here, as the song moves with a determination, as power chords, synth and great support vocal all add some serious value to the track. That snare/kick drum combo comes back in for the second round of verses, before the band decide it's time to ramp things up once again – great stuff here and a proper way to finish off an album. The guitar solo has two distinct flavours, of which, both works well within the tunes format. The song ends with a mixture of 'Steven Tyler' type 'yeah, yeah yeahs' and the band letting loose, as if they've been let out a cage. And just to cap it off, Porky Pig announces 'That's all Folks' – clever.
A summary of thoughts then. It's quite clear that the songs contained on this album have been written, played, and produced to a high standard. Each tune seems to offer up something different to the last, in some cases almost a 180-degree shift in musical influence and style, which certainly makes for interesting listening, as you are never allowed to settle on one flavour.
Each member brings their own skill, technical expertise, and craft to each tune (especially with that unusual change of lead vocalist scattered throughout) that ultimately drives the band to produce high quality tuneage, which are catchy and as already stated, all collected within several musical forms and approaches. Given that, if you like variety (which after all is the spice of life!!) and a band that can 'shape-shift' from song to song, then go check this album out. It's a corker.

Check out the video for 'Fly Me Up To The Moon'.
The debut self titled album is available here > www.dangleberrymusic.co.uk/co...
Follow This House We Built online:
YouTube: www.youtube.com/@thishouseweb...
Facebook: www.facebook.com/thishouseweb...