Jono Moulds checks out the debut single from Powell - Payne for The Rock & Roll Circus. "Distance Between Us' is due out 17th December 2022.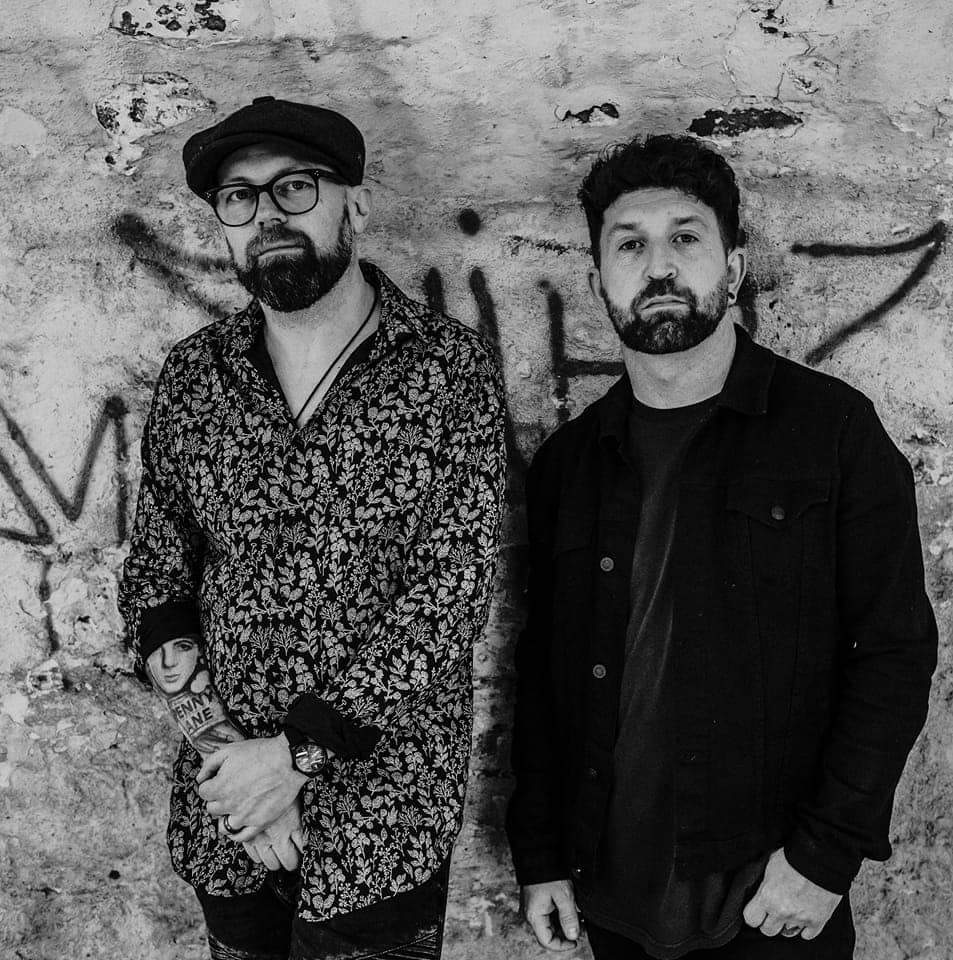 "Powell - Payne" is a new project created by Mark "Penfold" Powell, ex drummer of Psycho Kiss, S.E.X. and Adam Payne, ex vocalist of Airrace, Tidal and Serpentine.
The duo has been writing together over the past twelve months, and their debut single "Distance between us" will be released in December 2022 with an album in the pipeline for late 2023.
The album will feature some of the best musicians in South Wales who will guest on each track, making this a very special and personal collaboration.
Mark Powell - drums and bass guitar
Adam Payne - vocals
Steve Leyshon - keyboards
Adam Davies – guitar
A majestic and orchestral laden synth introduction heralds the opening to 'Distance Between Us', the brand-new single from 'Powell-Payne'. As the last strains of the opening layers dissipate into the ether, the mood and gentle ambience is continued and enhanced by the presentation of a sombre and heartfelt piano run, that holds our hand gently and guides us into the first verse.
Will this delicate start be a prelude to something stronger? something that wanders into power ballad territory? Let's find out.
As 'Payne' comfortably and silkily delivers the first line 'Look at these photograph's', his vocal delivery rests extremely easy on the ear, with it reminding me a little of 'Richard Marx' from days gone by. Indeed, as we enter the chorus (which has arrived a lot quicker than I anticipated), this claim is 'rubber stamped' even further, as the piano and vocal performance are uncanny in their similarity.
With that being stated, the chorus, in its own right is undoubtedly a harmonious triumph, and you are hooked on the first spin, as the melody of stand-alone piano and vocal in unison are quite exquisite (just goes to prove that you don't have to throw the kitchen sink at a tune to make a big statement and if you've got it, then you've got it!!).
As we lead out of the chorus, there is the introduction of a sweet guitar break from 'Davies', that not only brings in well-timed support, but is executed with emotion and has a super tone, fitting the bill down to a tee.
As we drift along, there is some escalation in 'Payne's' vocal power, that also includes great supporting harmony. This elevates proceedings even further, to such a point that as the band come in as one, and the chorus is reprised, we have a different vibe altogether – as there is far more depth with the layered synth and drums ensuring that any initial gaps are filled. Still, it doesn't distract from the 'feather light' feel that song ultimately demands.
And so, onto the bridge which presents the opportunity for 'Payne' to really unleash some broader vocal power. This then sets up a superb guitar solo from 'Davies', that once again delivers both technically and sonically, with a well-constructed piece that has a well-earned place at the head of this songs table (think Sambora's solo within 'Always')
The tune then builds to a fully deserved crescendo, all written within the construct of the chorus, as we head for home. From here on in, the pace increases, thanks to 'Powell' changing and delivering big on percussion, and there is even time for some sing-along moments, as the 'woah's' come into play. A crowd, mobile phone light moment if ever I heard one.
To be truthful, there isn't a lot more I can say. This is top-notch AOR, and although I love my classic rock, I've always had a soft spot for a good old fashioned, melody driven ballad - so this has hit all the right notes for me.
I have a mantra that, if you get a song on the first play, then you know that it's a track you will gravitate back to whenever you hear it.
This is a proficient, well-written, well produced, superbly played song that certainly touches all the bases of a classic sounding AOR ballad. I've heard the single, now when's the album coming out?? Sign me up!!
Review by Jono Moulds
Check out the video for "Distance Between Us' :-