Paul Hutchings checks out the new album from Lord Of The Lost for The Rock & Roll Circus. Blood & Glitter was released on the 30th December 2022, on Napalm Records.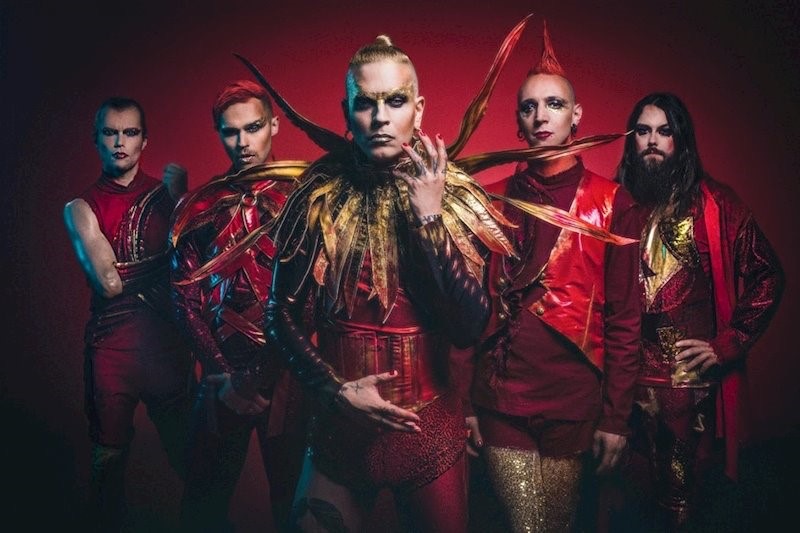 Review by Paul Hutchings.
I nearly saw Lord of the Lost in 2020, just before the pandemic hit. The band were scheduled to play the late afternoon Saturday slot at Hammerfest in Birmingham. The Germans were forced to pull out at the last minute due to vocal issues for singer Chris Harms. That was the last time they appeared on my radar … until now.
Formed in 2007 by Harms, the band have been busy in recent times, with a support slot to none other than Iron Maiden for some of their European shows. I'll level with you here. They aren't a band whose water I've ever dipped more than my little toe into. Their eighth album, Blood & Glitter brings the band right back into focus after the success of their last release Judas.
It's immediate on the title track that jumps out when you press play that Lord of the Lost favour maximum impact. It's bombastic, the musical equivalent of a drag queen in full flow, with their combination of genres all confused and hurled together in a cosmic tombola rooted heavily in the seventies glam rock scene. Anthemic in the extreme, it's a sonic punch in the solar plexus when you least expect it.
If you want an album with unadulterated energy, then 'Blood & Glitter' is the record for you. 'Leave Your Hate in the Comments' is powerful, a hybrid mixture of Killing Joke, Rammstein and Depeche mode, with the bizarre Britney Spears nod at the end just to slightly jar the grey matter. If you haven't guessed by the title that this song is a statement about the increasing abuse on social media, then there really is something to work on.
'The Future of a Past Life' features Heaven Shall Burn's Marcus Bischoff and comes at you from a totally different angle to the previous tracks. Bischoff brings a raw brutality which really shakes the song to its core.
Dig deeper into the band and you'll find a social conscience, the lyrical content direct, personal, political, and focused. It's a feature that had me warming to the band despite their somewhat Eurovision-tinged elements.
It takes a couple of listens, but you suddenly realise why Lord of the Lost dropped this album on the penultimate day of 2022 with such little noise. Harms sums it up. "In a time when the marketing madness for each album seems to last longer and longer, when half the album – or even more – is already known six months in advance through pre-released singles, so that the high pre-release sales generate the highest possible chart result, what it should actually be about - the pure magic of hearing a new album of your favourite band for the first time - is becoming more and more lost. We want to transport this "like the old days" feeling through this surprise release! Fuck the charts, playlist pitches and 1,000 pointless reviews in advance. What matters is what an album means in the long run, not how high its "value" is on release day."
It's a new wave beat that is the heartbeat of 'Blood & Glitter'. The high-level pumping beat of 'No Respect for Disrespect' is guaranteed to get you nodding along, whilst you absorb the messages in the clever lyrics. It continues in the heavy electronica vein with 'Reset the Preset' which features Andy La Plegua of Combichrist. I'm not over excited with the sheer chaos of this one but it's very Germanic in flavour, high on power and pomp.
Continue the journey, all 51 minutes, and 15 seconds of it, and you'll discover many different elements. The keyboards and programming dominate. There are times when you are searching for a guitar riff. But that's the attraction of this band. They throw curved ball after curved ball at you. 'Leaving the Planet Earth' is a classic example. It's high-end production and vibrancy could slip into several genres. It's appealing in a bizarre and compelling way.
With a couple more guests adding their quality to the record, it continues to impress as it progresses. Subway To Sally's Ally Storch adds violin on the uptempo 'Save Our Souls'. And for a final twist, Lord of the Lost bring German 90s popstar Blümchen as a duet partner to cover 'The Look' by Roxette. It's a brilliant version and a fabulous end to an incredibly interesting release.
If you want to shake up your new year with something that will challenge all your preconceptions, then 'Blood & Glitter' is the album to do it.
Watch the music video for "Blood & Glitter".

Get Your Copy of Blood & Glitter HERE
LORD OF THE LOST live 2023:
After a full year of touring, including a support tour for IRON MAIDEN, a headline tour, an acoustic tour, several festival appearances and the band's own Lordfest, LORD OF THE LOST are once again invited by the legendary IRON MAIDEN to be direct support on their European tour in 2023, beyond major festival appearances.
Club & Glitter Tour 2023:
01.02.23 DE – Hamburg / Knust – SOLD OUT!
02.02.23 DE – Dresden / Beatpol – SOLD OUT!
03.02.23 DE – Cologne / Club Volta – SOLD OUT!
04.02.23 DE – Munich / Backstage – SOLD OUT!
05.02.23 DE – Berlin / Lido – SOLD OUT!

The Future Past Tour 2023 with IRON MAIDEN:
03.06.23 FI – Tampere / Nokia Arena
24.06.23 IE – Dublin / 3Arena
26.06.23 UK – Glasgow / Ovo Hydro
28.06.23 UK – Leeds / First Direct Arena
30.06.23 UK – Manchester / AO Arena
03.07.23 UK – Nottingham / Motorpoint Arena
04.07.23 UK – Birmingham / Utilita Arena
07.07.23 UK – London / The O2
26.07.23 DE – Dortmund / Westfalenhalle
01.08.23 DE – Munich / Olympiahalle

Festivals 2023:
29.-30.04.23 BR – Sao Paulo / Summer Breeze Brazil
07.-10.06.23 PL – Gdansk / Mystic Festival
07.-10.06.23 AT – Nickelsdorf / Nova Rock
15.-18.06.23 FR – Clisson / Hellfest
05.-08.07.23 DE – Ballenstedt / Rockharz
13.-16.07.23 CZ – Zlin / Masters Of Rock
20.-22.07.23 FI – Laukaa / John Smith Rock Festival
29.-30.07.23 DE – Cologne / Amphi Festival
02.-05.08.23 DE – Wacken / Wacken Open Air
29.-30.09.23 UK – Sheffield / HRH Goth 2
14.10.23 DE – Cologne / Unter Schwarzer Flagge
17.-18.11.23 DE – Leipzig / Gothic Meets Classic

LORDFEST 2023:
09.12.23 DE – Hamburg (not on pre-sale yet)
Tickets available here: http://tour.lordofthelost.de

LORD OF THE LOST are:
Chris Harms – Vocals, Guitar
Pi Stoffers – Guitar
Class Grenayde – Bass
Gared Dirge – Piano, Synths, Percussion, Guitar
Niklas Kahl – Drums

LORD OF THE LOST online:
WEBSITE
FACEBOOK
INSTAGRAM
TIKTOK