Jono Moulds checks out the new album from Udo Dirkschneider for The Rock & Roll Circus. New album from U.D.O. - 'Game Over', out now on AFM Records.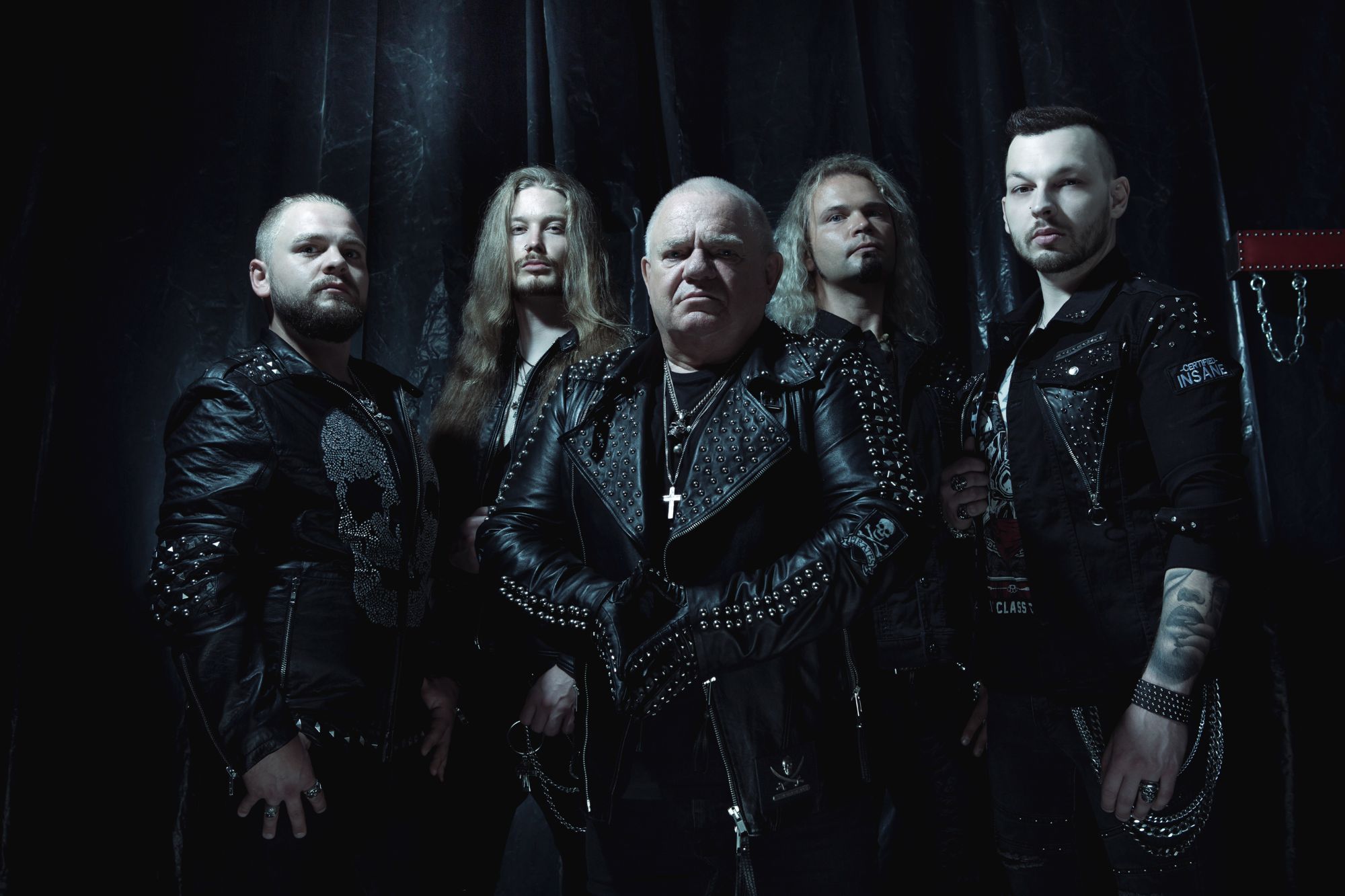 The title of the new studio album by the band around rock icon Udo Dirkschneider (original voice of the cult band Accept) has become a statement that has a lot to talk about.
Dirkschneider stands for clear, straightforward words. "Game Over" is the realistic, sober observation of an artist who has seen the world more intensely than hardly anyone else. Born in
Solingen, he has been on tour around the world for over four decades. He travelled to Russia at the time of the Iron Curtain, gave concerts at an altitude of over 4000 meters in Peru and experienced the planet and its inhabitants many times more privately than some of us would manage as a normal traveller. He processes a central thought on "Game Over": "We all, no matter where we live, just have this one planet. If something happens on, it always has international implications."


Hard to believe, that here I am listening to and even more surreally, writing an album review for the once frontman of 'ACCEPT', a band that featured prominently in my Rock 'n Roll youth. And so, we have a whopping '16 track' album titled 'Game Over', which as the introduction suggests, focuses in
on his current concerns for mankind in general, and the worrying state of climate change and World Peace (or lack of therein).

So, let's get straight onto track 1, which is 'Fear Detector' a melodious start is soon brought to a halt as there is a change in both key and vibe, as things start to 'metalize' (this needs to be proclaimed in an UDO vocal for full effect!!). Drums pound, guitars dip and dive as the familiar vocal of 'Dirkschneider' is let loose, as he spits gravel and molten metal at us through the opening verse. The track is everything you'd hoped for, incredible energy, as guitars solo at break neck speed along with
finger tapping and some top-notch whammy-bar dive bombing to satisfy one and all. Behind this flurry of guitar activity, there is a solid rhythm section ensuring that the pace and power are locked in place. A great start – was there any doubt!!!

Guitar 'chuggage' and some pinched guitar harmonics (that sound like squealing pigs!!!) open up 'Holy Invaders'. This is a mid-paced, thick and heavy track, with a subtle chord/riff sat behind the verse section, where 'Dirkschneider' roars' You cannot let yourself be canonised - in this cruel world''.
A nicely arranged harmonised guitar section is positioned just before the tracks guitar solo and pops up again half way through it. Love that. You can see a hoard of metal-heads a-banging to this tune.

A galloping introduction to 'Prophecy' and right from the off there's some serious 'metal melody' to be heard. 'Dirkschneider' sings the initial lines in a lower register, but this dissipates, as that growl and high pitch vocal re-appears. The chorus has a great hook, as they lay the statement down -''Hear my Prophecy – Let me be your fantasy'. That galloping vibe comes back to the forefront straight after the chorus which precedes the guitar solo piece. Top track this

We are 'revving' it up from second one on 'Empty Eyes'. This is another mid-paced stomper, which just goes to show, you don't have to play at 100mph to ensure that you still maintain power and thunder. The verses are sung over a constant drum beat, while the guitar carefully picks out accompanying high-gain chords to hit, and then allows them to ring out for support. The pre-chorus fills things up, as the band start to fire once again, before the chorus arrives, which once again is beguiling with that opening mythical sound dancing from the speakers. There is a great solo played over the riff within the outro. Another top tune.

Like someone pressing down on the spool of an 'old school' cassette tape whilst its playing (remember those??), 'I See Red' starts in an 'off the wall' manner. An initial riff kicks things off, but as I've said, it's brought to a premature end, as it's 'sloooooooowed dooooooown' and comes to a grinding halt. All that, before another arrives directly behind it (think of waiting an age for a bus and then, you guessed it, two arrive together). This is straight ahead ROCK, with big licks and balls out guitar work. There's more acid induced vocal to add to the tune, so all in all, a solid chunk of metal!!!

Up next is 'Metal Never Dies' which arrives with its war like chant, all before there is more high-gain guitar riffage to wrap your ears around. The initial verse lines are softly, but still menacingly sung, with a subtle hi-hat, a constant bass note and a few guitar chords played below it, but you know that's not going to last, as we move back into that more raucous sound, in every sense. You can easily see this as a song that the band will play live and get the crowd to participate in. There is a great bridge, as the lyrics state – 'Here I am stronger than ever – nothing can tear me apart – I'm gonna rock on forever – Metal will stay in my heart' About sums it up really \m/.

And so, onto 'Kids and Guns', which from the off, rocks, but this certainly has a commercial sounding edge to it, which is a strange juxtaposition in terms of the title of the tune and ultimately, the lyrics therein. I'm loving this song from the off, its infectious, but still retains enough power within the music and of course, the vocal. On top of that, I also like the bridge, where guitar and bass serve up some great dual 'riffomania'. This is top of the class so far for me. Great tune.

The ring of a telephone and the voice of a lady being harassed by a predator's voice welcome in 'Like A Beast'. This is back to a full-on metal attack, with more guitar riffs and licks being thrown at you. The pre-chorus has an abundance of vocal harmony supported by an underlying flurry of finger tapping guitar. The chorus is jam-packed and matches the title in every way, that being, fierce and unrelenting. There is a well structured guitar section, full of more 'riffalingus', that sits just before the swathe of a two-part guitar harmony, that then leads into a fully-fledged solo, with more tricks and flicks!!!

A mixture of acoustic guitar and piano combine to open up 'Don't Wanna Say Goodbye' as a hushed vocal can be heard over the strains of both instruments during the early verse sections, that is until, the voice engages with the lyrical content of the song and a more emotional vocal comes through.
This is no doubt an unusual departure from that classic metal sound we've heard up until this point on the album, but there is a beauty within its rawness and melancholic words 'My emptiness, my Killer, my Disease'. The chorus is further supported with backing vocal, that lifts the song, which is quickly followed by an overdriven guitar break that cut through the piano/acoustic guitar sound like a hot knife.

Another commercially sounding start to the song that is 'Unbroken'. An upbeat, riff-laden intro makes way for some drum heavy, tub-thumping as we head down the metal road that is verse 1. Then, there's a structure/arrangement change as we take receipt of the pre-chorus, before hitting the anthemic chorus, as we hear 'Show me a reason to change, give me a reason to change – still Unbroken!!!' Another tune that has all the attributes to be played within the live set. Bass guitar hails in the slow-paced, militaristic and heavy 'Marching Tank' as we are hit by a vocal outbreak of chanting - 'Oi, Oi, Oi!!' 'Dirkschneider' is on top form here as the pre-chorus has a vocal line that runs riot and at some pace. The chorus is as expected, that being, a war cry accompanied by a memorable hook. There is a great section where the pre-chorus is sung with only drums and sustained guitar lines behind it. Great track.

'Thunder Road' has a much more familiar feel to it, as the pace rises and we are back on the metal train bound for mayhem, with enough riffage on board to comfortably last until journey's end. The bridge proclaims – 'Ride out, wipe out' – 'Black out, step out' this is classic metal, straight out of the 80's playbook. The solo, yet again, has bags of melody and doesn't need to accelerate to any great speed to be effective and sit right within the pocket of the tune.

A definite 'Euro-Metal' feel/sound (is that a thing or is it just me??) to the beginning of 'Midnight Stranger' as some classic metal guitar 'chuggage' sets things in motion, soon followed by a lead break, that again, has a vibe and style from a bygone era (to the point where I nearly put on my old denim jacket, adorned with obligatory sewn on band patches/badges. Nearly, but not quite!!). This tune has a steady, but rumbling pace to it, whilst still packing a punch. A catchy bridge leads us nicely into the chorus, all before the mid-section of the track skews into a short solo, followed by some narrated, super-hero overtones. Another prolonged solo comes next, but this has some lovely harmony flurries. 'Speed Seeker' has a similar, steady opening, as guitars slide in together and throw down the riff gauntlet, as more guitar gymnastics are played prior to the opening verse – 'When
you're looking down inside – tell me what you see?'. Very much in the same vein as the last song, this has all the hallmarks/traits of that classic metal style; a big chorus, big guitars that create havoc as it winds its way down the rock road, with a heavy and vicious outro.

'Time Control' is anthemic with immediate effect, with some deep and resonant vocal chants of 'Woah'!! sounding like a battalion of warriors on the march through some forsaken wasteland (this is another tune that is a must for the live show). Heavy gain guitars strike a mix of riff and chords through the verses, before the short-lived bridge takes our hand and guides us into the chorus, ending with more choral chanting. Two guitar solo pieces unfold before we have the outgoing chorus, and of course, the vocal warriors hailing from afar.

And to wrap things up we have 'Metal Damnation' (of course we do!!), which, and as expected, has some more classic metal 'rifforama', high speed guitaring and that oh so familiar vocal growl. This does exactly what it says on the 'metal studded tin', that is, it's fast, molten flowing, classic metal!!! If you're going to finish off an UDO album, then make it bold and in your face. This does not disappoint. There's just about a bit of everything encapsulated within this song. Everything you'd expect and a bit more to boot.

And so, the rather large lady has cleared her throat and belted her last note out for the night. 'Game Over' has a staggering 16 songs on offer, which means that there is more than enough 'metal' on this album than you can shake a stick at, along with great value for your well-earned Buck, Euro or Pound (or any other monetary system that you care to hold allegiance to).
If you fancy a bit of 'old school' metal, then look no further than this. This is classic, this is heavy, but
most of all, 'THIS IS UDO'!!!!

Review by Jono Moulds
Check out the video "Prophecy" here:

The current line up consists of: -
Udo Dirkschneider - Vocals
Andrey Smirnov - Guitars
Sven Dirkschneider - Drums
Tilen Hudrap - Bass
Dee Dammers - Guitars